Discover more from Rationalist Judaism
Exploring the legacy of the rationalist Rishonim (medieval sages), and various other notes, by Rabbi Dr. Natan Slifkin, director of The Biblical Museum of Natural History in Beit Shemesh. The views are those of the author, not the institution.
Over 4,000 subscribers
Kosher Certification for Maccabees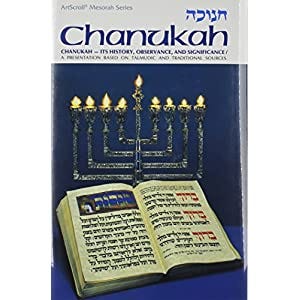 Over Shabbos I dusted off my ancient copy of ArtScroll's Chanukah: Its History, Observance and Significance - A Presentation based upon Talmudic and Traditional Sources, written by Rabbi Hersh Goldwurm and published way back in 1981. The subtitle is interesting, because some of the primary sources used are only traditional in the loosest sense of the term. Presumably sensitive to this concern, the preface to the History section includes the following explanation:

...Through an understanding of the history of the period, we can gain a deeper insight into the significance of Chanukah itself. With this goal, we shall approach our historical inquiry into the events of the period.

For information, we are indebted primarily to the books of Maccabees I and II the authors of which lived relatively close to the time of the miracle (in the case of I Maccabees), or drew upon contemporary sources. The authorship of these books is unknown, but they were undoubtedly written by staunchly loyal Jews. Although there is evidence that I Maccabees was originally written in Hebrew, both books were available only in Greek and Latin for over 1500 years and came down to us through gentile hands. For this reason, the two books were largely unknown to Jewish chroniclers and commentators until recent times... Despite the fact that the books of Maccabees are not mentioned in virtually any early classic Rabbinic work, we may assume that Jewish scholars would have accepted them, because they are cited by the great commentator to the Mishnah, R' Yom Tov Lipmann Heller (Tosefos Yom Tov, Megillah 3:6), and by the great halachist R' Eliyah Shapiro of Prague in his magnum opus Eliyah Rabbah to Orach Chaim 671:1. I know of only three other relatively early Jewish scholars who had access to Maccabees: R' Azariah min HaAdomim (De Rossi) in his Me'or Einayim (Imrei Binah ch. 16, 25, 25, 51, 55); and the disciple of R' Moshe Isserles, R' David Ganz (in Tzemach David, part I, year 3590). Nevertheless, it is fair to assume that such scholars would not have cited the books of Maccabees unless they were convinced of its reliability.

The reader should bear in mind that the period of Scripture was sealed prior to the events of Chanukah. No later book, even if it were historically accurate and true to the underlying spiritual theme of events it chronicled, could have been canonized. Consequently, the status of Maccabees as an apocryphal work does not, in and of itself, prove that it is not reliable.

In general, I'm not into the genre of "ArtScroll-bashing" - for the most part, ArtScroll is simply catering to the needs, desires and sensitivities of their readership, as well as understandably desiring to avoid trouble. But analyzing ArtScroll does afford an opportunity to understand the dynamics of the Orthodox community (as Dr. Yoel Finkelman has shown), and there are a number of observations to be made with regard to these paragraphs.

First, it's fascinating to see how sources are conferred with the status of "traditional," or its equivalent level of kashrus - something that I also have to do quite often. We are first assured that the authors of Maccabees were "staunchly loyal Jews." Then a justification is given for these works not being cited in classic Rabbinic literature. We are then told that prestigious later rabbinic authorities did make use of these works, and thus must have been convinced of their reliability. This also provides the importance assurance that had Chazal and the Rishonim had access to these works, "we may assume... that they would have accepted them." Finally, we are told that the stigma of being "apocryphal works" does not disqualify them "in and of itself," since they were written too late to be canonized. It's quite an elaborate set of justifications.

Also of interest is the statement that the citation of Maccabees by various Acharonim shows that they were convinced of its reliability (and hence we can also be convinced). What exactly does "reliability" mean in this context? Historical accuracy, or kosherness in Orthodox circles? It's hard to see how the citations by various Acharonim confer the former, so I assume that it means the latter, but I'm not certain.

Then, as I started to read the list of Torah scholars cited as endorsing Maccabees, I was intrigued to see R' Yom Tov Lipmann Heller as the first such authority cited. After all, he also quotes from R' Azariah De Rossi, a scholar whose name is anathema in many Orthodox circles, following the vehement condemnation of De Rossi by Maharal and (reportedly) by R. Yosef Caro. Reading on, I was flabbergasted to see that De Rossi himself is one of these authorities cited to show that Maccabees must be reliable! While it is encouraging to see that he is presented as someone who can be relied upon to show that something is reliable, it does raise some interesting questions. For if a source is "reliable" because it was quoted by R' Azariah, then we can also add a number of others to the list of works that Torah Jews can consider "reliable," including the works of Augustine, the works of Sebastian Munster, and the works of Annius of Viterbo (which are, ironically, completely unreliable).

Finally, if the Books of Maccabees are being quasi-canonized as reliable, traditional works, then what does this mean with regard to the reason for Chanukah lasting eight days? For II Maccabees explains the eight days of Chanukah not in terms of the miracle of the oil, but rather as due to the first Chanukah making up for the eight-day festival of Sukkos not having been celebrated in the Beis HaMikdash that year. And Josephus, who is also mentioned in the ArtScroll Chanukah, had a very surprising explanation as to why Chanukah is called "the festival of lights". This is a problem that has been hotly debated in recent years. For a variety of perspectives, see Rabbi Dr. David Berger's article, the comment thread on this post, R. Josh Waxman's discussion - and if anyone has any other useful links, please submit them.

Now, of course it is to be expected that an ArtScroll work is only going to present the view of the Bavli, that the reason for eight days of Chanukah is due to the miracle of the oil (which is also presented in Megillas Antiochus, of uncertain antiquity). But it is interesting that when presenting that account (on p. 55), it adds that when this happened, "they celebrated the rededication of the altar for eight days and offered up peace and thanksgiving offerings." Where did this come from?

It seems to me that this is incorporating the view of II Maccabees, that there was a reason for celebrating the initial eight days that had nothing to do with the oil, but rather was due to there having been an initial eight-day festival which Chanukah commemorates. ArtScroll doesn't give Maccabees' reason as to why they celebrated for eight days, but the fact of describing an eight-day celebration in that first year itself implies that there was a reason that was independent of any miracle involving the oil. (I don't think that quoting this reason is necessarily undermining the reason given by the Gemara; after all, Megillas Taanis also gives two reasons for the eight days.)

Note that much later in the work on p. 95, when discussing the famous question of the Beis Yosef regarding why we have eight days of Chanukah rather than seven, it quotes Megillas Taanis (in the scholia - later additions) that there was an eight-day rededication celebration, and then cites Birkei Yosef as saying that the extra day that we celebrate commemorates this rededication. But Birkei Yosef did not quote Megillas Taanis as saying that there was an eight-day rededication celebration, and with good reason: because it does not say any such thing! As well as describing the miracle of the oil, Megillas Taanis says that it took eight days to repair the vessels of the Beis HaMikdash - not that there were eight days of celebrating its rededication. (Furthermore, Birkei Yosef does not give this as a reason for an eighth day, supplemental to celebrating seven over the miracle of the oil, but rather he says that the eight days of repair are the reason for all eight days of the current festival, and that the question of the Beis Yosef is therefore redundant!) It therefore seems to me that on p. 95, ArtScroll has subconsciously replaced the view of Megillas Taanis with the view of II Maccabees.