Discover more from Rationalist Judaism
Exploring the legacy of the rationalist Rishonim (medieval sages), and various other notes, by Rabbi Dr. Natan Slifkin, director of The Biblical Museum of Natural History in Beit Shemesh. The views are those of the author, not the institution.
Over 4,000 subscribers
Kings Camp

Today, I flew out with my group to the Timbavati game reserve. Most of my group is staying in the spectacular Kings Camp lodge, which consists of eleven cabins, along with the dining room, etc. I was slightly surprised to see on the reservations list that I had been placed in a room together with Rabbi Yoni Isaacson, the tour operator. But I figured that since we are both here without our wives, it would be cheaper to house us both in the same cabin.

Upon entering my cabin, I was in awe of the decor - see the picture below. I was simultaneously horrified to discover that it was the honeymoon suite - with a king-size bed, and a bath that had already been filled with hot water and bubbles and candles placed around it, with a sign next to it saying "Natan and Yoni - Rejoice!"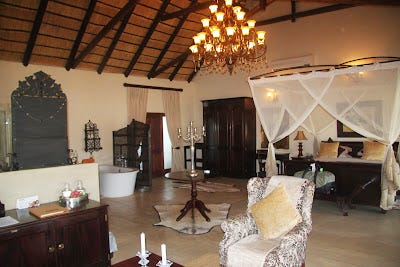 To my immense relief, R. Yoni informed me that he would be sleeping elsewhere. 
In the evening, we headed out on our first game drive. I've been on numerous game drives before, but this one was my best yet. We saw impala, steenbok (not the steenbok mentioned by Rashi in Chullin, which is an ibex, but rather a type of tiny antelope), nyala, buffalo, wildebeest, giraffe, vervet monkeys, baboons, civet, genet, warthog, hare, elephant, hornbills, vulture, zebra, leopard, and lion! Here are pictures that I took of buffalo, vulture, and lion: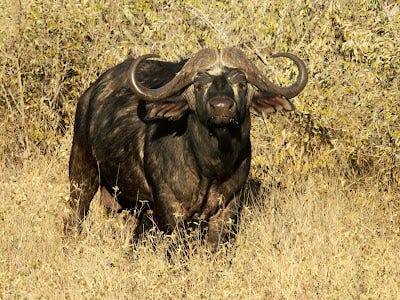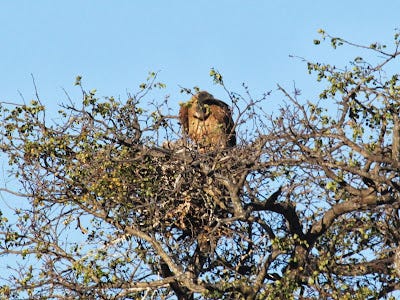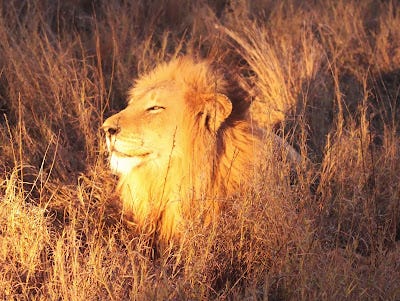 As I told my group, if you want to see the animals of the Torah today, Africa is the place to see many of them!
(It's also amazing to be writing this post on a wi-fi connection in the middle of the African wilderness!)