Discover more from Rationalist Judaism
Exploring the legacy of the rationalist Rishonim (medieval sages), and various other notes, by Rabbi Dr. Natan Slifkin, director of The Biblical Museum of Natural History in Beit Shemesh. The views are those of the author, not the institution.
Over 4,000 subscribers
King David's Groundhog Day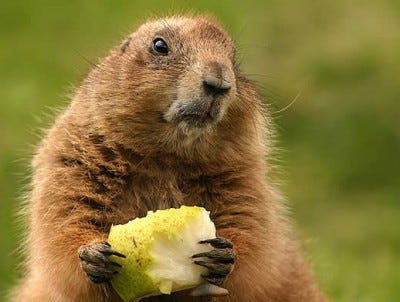 According to American folklore, a groundhog first emerges from hibernation on February 2nd. If it is cloudy, then spring will come early; if it is sunny, the groundhog will supposedly see its shadow and retreat back into its burrow, and the winter weather will continue for six more weeks.

Amazingly, the groundhog's hibernation is actually mentioned in the Midrash - at least, in the view of some.

"And the Lord God cast a slumber (tardemah) upon him" (Gen. 2:21)... Rav said: There are three types of slumber: that of sleep (shenah), that of prophecy, and that of marmita... (Midrash Rabbah, Bereishis 17:5)
The Midrash explains that the last type of slumber occurred with the camp of King Saul, when David sneaked in and removed Saul's spear and water-jug:

That of marmita: "Nobody saw or knew or woke up, for they were all sleeping; for a slumber of God had descended upon them" (I Samuel 26:12) (Midrash ibid.)
The slumber of the mysterious marmita is the deepest type of sleep - but what is a marmita?

Opinions vary. But several opinions (including Anaf Yosef, Rashash, and R. Yosef Schonhak) argue that it is the animal known in Europe as the marmot, which is known to North Americans as the groundhog. Marmots enter a deep hibernation during the cold winter; their heartbeat slows to around five beats a minute, while they only take one to three breaths a minute. The Midrash says that such a deep sleep was placed upon Shaul's camp by Hashem, so that David was able to steal in and out undetected. Nobody in Shaul's camp woke up; it was as though time itself was frozen.

Although the phenomenon of hibernation was known to ancient writers such as Aristotle and Pliny, I haven't been able to discover if there is indeed basis for interpreting the Midrash in this way. If anyone has further light to shed on this, please do so!