Discover more from Rationalist Judaism
Exploring the legacy of the rationalist Rishonim (medieval sages), and various other notes, by Rabbi Dr. Natan Slifkin, director of The Biblical Museum of Natural History in Beit Shemesh. The views are those of the author, not the institution.
Over 4,000 subscribers
Just the Vax, Ma'am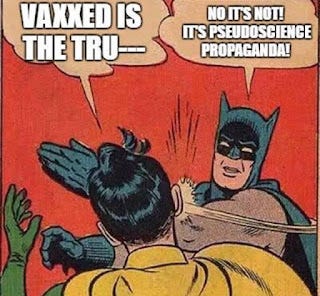 A legendary anti-vaxxer and conspiracy theorist neighbor of mine gave my cellphone number to a Mrs. Etie Teigman. She is the founder of the anti-vaccination group PEACH (Parents Educating and Advocating for Children's Health), which was the subject of a recent article in the New York Times for sending out a glossy booklet to dissuade people from vaccinating their children. Mrs. Teigman has been sending me a number of text messages. Here is the latest, in response to a post of mine where I ridiculed the notion that Bill Gates revealed his plans to kill millions of people via vaccines:

Someone just sent me your upshot of the vaccine hoax:
"Nevertheless, I am confident that the global medical and pharmaceutical community is correct about the importance of vaccines. And, flicking through the anti-vaccination publications, some things jumped out at me as examples of their deeply flawed epistemology. One was a quote from Bill Gates at a 2010 TED Talk, printed under the heading "Vaccination for... Depopulation?" The quote read, "The world today has 6.8 billion people. That's heading up to about nine billion. Now if we do a really great job on new vaccines, health care and reproductive health services, we could lower that by perhaps 10 or 15 percent."
If RABBI, DR. Slifkin you were doing the proper "bridge building" (head-heart) to grow in character as every human, & certainly, every Jew should be doing - you would understand that you could actually learn something from even the "PEACH" people (I actually founded PEACH).  The valuable trait to which I refer is called "humility". One of the major perks of humility, because I value others' knowledge, is ALWAYS learning something new from people vs arrogance in which your knowledge capacity is already overflowing & you have nothing new to learn since you're now the Uber-chacham.
Not only are you doing yourself & your family a colossal disservice by your unfounded confidence in a well established criminal entity & industry run by convicted felons many times over - BUT you have the harm caused to every one of your fawning readers on your already overburdened shoulders.  Do you really want to have to "pay" for all that harm?  There's a Judge, you know, & no human  gets away with ANYTHING, whether you "believe" or not (even self-proclaimed vaccinologist atheists like Drs. Stanley Plotkin & Paul Offit have plenty to fear).
Be a real chacham & take a long range view at what's happening...vaccine corruption has been completely revealed for those who care to see...Del Bigtree has BH over 40 MILLION fans...the damage from vaccine is beyond devastating- in YOUR own community & world wide  - so what are you going to say on your blog when The criminal arrests begin..."I told you so"?  You might try that pitiFOOL approach - but deep down you'll keep experiencing gut wrenching shame because you were afraid to hear & share the truth...the window to do teshuva is NOT forever remember...
You, and many, many guilt ridden doctors, rabbis, & pitiFOOLy irresponsible parents have their heads & hearts deep under the ground in denial on the open & shut case of vaccine criminal genocide.
Though the truth always rises to the top - and you, as well as all the other G-d deniers, will personally suffer unimaginably painful & humiliating shame... I still care for my fellow Jew enough to try once more - you would have immensely greater success & heroic fame by honoring our genuine gedolei haDor on the vaccine issue.  
You probably can't even wrap your mind around the degree of severity of the violations of shmiras halashon, onaas d'varim, & many aveiros you are committing by being mezalzel gedolei haDor with your blog.
We have THOUSANDS of mothers in our networks who are laser-focused in their powerful t'FEEL'ot to have you & your ilk considered as "malshinim, minim, & zaidim" & that the world should see middah k'negged middah. We also have nonJews in mind for the Bracha al ha'tzaddikim who are genuine world class heros who manifest G-dly middos.  
Why should you leave yourself out of the loop of real success?  Has your heart been so hardened & "vaccinated" with cruelty?  Give yourself a way out of the vax-schmutz by listening to Del Bigtree.  There are many others fighting the pHARMa-satan, but he's phenomenal, may H' continue to protect him!
Well, there you go! I think this shows that anti-vaxxers really truly believe that they are the ones saving lives and that it's everyone else who is harming and killing people. It also shows that at least some of them seem somewhat unbalanced.