Discover more from Rationalist Judaism
Exploring the legacy of the rationalist Rishonim (medieval sages), and various other notes, by Rabbi Dr. Natan Slifkin, director of The Biblical Museum of Natural History in Beit Shemesh. The views are those of the author, not the institution.
Over 4,000 subscribers
Jedi Masters vs. Gedolei Torah vs. Rishonim
Which is easier, to become a Jedi Master, to become a Gadol B'Torah, or to become a Rishon?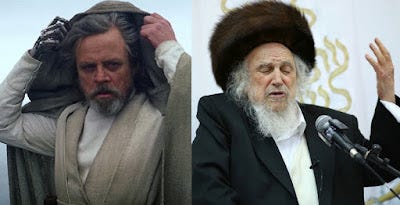 I'm not referring here to the acquisition of metaphysical abilities via the Force or kabbalah, or to the acquisition of wisdom and character traits which are presumed (though certainly not guaranteed) to accompany being Gadol b'Torah. I'm referring to the actual knowledge that needs to be acquired.

And let me specify that I am not discussing the Reform Jediism presented in the new Star Wars movies, in which you don't need any of the extensive study and training undertaken by Luke Skywalker. Rather, I am referring to traditional Jediism. In the latest movie, The Last Jedi, we visit the Ancient Jedi Temple and get a look at the library of classical Jedi sefarim, containing the ancient Jedi wisdom. And it contains...

Eight volumes.

Just eight! And Luke Skywalker confesses that he hasn't even read them! And, demonstrating an astonishing lack of respect, a certain ancient Jedi Master who turns out to be a Reformer agrees with Luke, noting that they aren't "page-turners"! What a pitiful reflection on contemporary culture, in which people assume that knowledge is to be acquired by flicking through bites of information online rather than by actually studying books cover-to-cover, even if they aren't page-turners.

So, with just eight books for a Jedi to study, it's much easier to become a Jedi Master than to become a Gadol B'Torah, in which there are hundreds and thousands of works to be mastered. And if it's harder to become a Gadol B'Torah than to become a Jedi Master, then kal v'chomer it is even more difficult to become a Rishon, those towering masters of Torah, right?

Wrong.

I'm going to say something which raised a lot of hackles when I first said it several years ago. But I'm going to say it again, because in the comments to the previous post, someone wrote that the reason why people have to learn in kollel for many years is that you can't learn Kol HaTorah Kula in just a few hours a day.

Nowadays, to become revered as a Gadol B'Torah, you'd have to learn an awful lot. You'd have spent time learning Tanach with some commentaries. You'd need to know Shas Bavli with every Rashi and Tosafos, which multiplies the study a hundredfold, along with major portions of Rishonim and Acharonim, the latter of which can be very intricate and require many hours of study. You'd also be expected to know Shas Yerushalmi, Shulchan Aruch, and to have studied lots of halachic literature. Plus, you would also have spent time on the way learning mussar sefarim and a host of other material. It's a lot to master; for several years, I lived next door to Rav Shmuel Auerbach's beis hamidrash, and I recall seeing him engrossed in study when I returned to my apartment at 11pm, and seeing him in the same position at 7am the next morning.

But the library of the Rishonim was much, much smaller. They hardly had any of this. They had Tanach, and manuscripts of the Gemara, and a few writings of the Geonim and some Rishonim. That was it! (And, of course, Chazal themselves had even less.) This isn't to say that the Rishonim were not geniuses and great scholars - of course they were. But it was much easier to master the material when there was much less to master.

Learning Kol HaTorah Kula only requires many years in kollel if you are defining Torah to include all the material that has accumulated over the centuries. But the complete Torah used to be much smaller. And let us not forget that Rambam wrote his Mishneh Torah with the intent that it completely replaces learning Gemara!

To be sure, given how Torah has developed, you're not going to be a towering scholar or teacher of Torah today unless you've learned a good portion of the material that has accumulated over the centuries. But to be an ordinary good learned Jew, there is much less that needs to be learned. Thus, Rav Eliezer Melamed writes that while it is important for everyone to gain a basic knowledge of Torah, which the community should fund, this should and need go no further than a few years in yeshivah. Once they have acquired an adequate basic general knowledge, they should study towards a career, so that they can be self-supportive. Only those who are directly studying to become rabbis or educators may continue their studies and be supported by the community, since they are dedicating themselves to a path of serving the community. For others, it is forbidden to continue their Torah study and receive communal support.

There's no obligation to become a contemporary Gadol B'Torah, which requires learning the accumulation of many centuries of development. The obligation is to have a thorough working knowledge of Torah, which requires much less effort. Though still more than Luke Skywalker was willing to exert!