Discover more from Rationalist Judaism
Exploring the legacy of the rationalist Rishonim (medieval sages), and various other notes, by Rabbi Dr. Natan Slifkin, director of The Biblical Museum of Natural History in Beit Shemesh. The views are those of the author, not the institution.
Over 4,000 subscribers
It's Here! Rationalism Vs. Mysticism is out!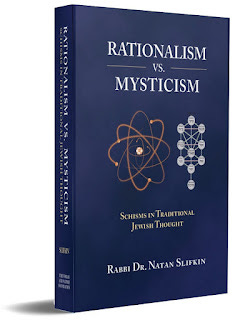 Mazal tov! After many years' work, Rationalism vs. Mysticism: Schisms in Traditional Jewish Thought has finally come off the press.
There is no question in my mind that this is the most important book that I have ever written. It won't be as popular as The Challenge Of Creation or The Torah Encyclopedia of the Animal Kingdom, but in terms of clarifying important matters of Jewish thought, it far eclipses them in significance.
You can buy it online at the museum website using this link, where you can also see the table of contents. Please note that for books sold on the museum website, every cent goes directly to supporting the museum. (And so please buy it directly from the museum website rather than elsewhere!)

As for shipping... well, it will take a while. The book literally just came off the press, and it has to get by ship to our US distribution office. And as far as Israel orders are concerned, the mail service here is currently disastrous. We are happy to mail the books out, but we will also be arranging pick-up points in various places, which will be much faster. (And, of course, the book can be collected from the Biblical Museum of Natural History, as well as from my home.) But we'll certainly get it to you before Amazon can!

Meanwhile, those who order the book will receive an invitation to an exclusive event, an online book launch via Zoom. The date of the event is still to be determined, but it will probably be soon, so order your copy now!