Discover more from Rationalist Judaism
Exploring the legacy of the rationalist Rishonim (medieval sages), and various other notes, by Rabbi Dr. Natan Slifkin, director of The Biblical Museum of Natural History in Beit Shemesh. The views are those of the author, not the institution.
Over 4,000 subscribers
Issues Surrounding Predators: It's All About Context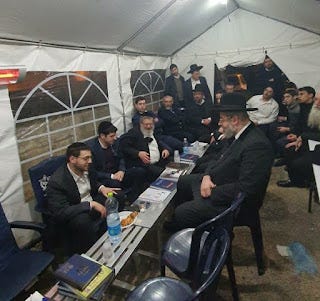 As a follow-up to the previous post about Chaim Walder, there are three issues that I would like to address.
First was the criticism of Chief Rabbi Lau for visiting Walder's family. I neglected to properly explain the criticism and many people did not understand it. Surely the family are not guilty? Surely they are also victims, in their own way, and are suffering greatly? Surely it's a good thing to comfort those who are suffering?
Indeed, this is true. They are not guilty. They have suffered and will continue to do so. It's a good thing to comfort those who are suffering.
But what all this misses is context.
There are lots and lots and lots of people suffering in Israel every day. People mourning for the loss of loved ones. People suffering abuse. And obviously the Chief Rabbi cannot and does not show support for anything more than the most miniscule fraction of them. What makes this family so special as to be honored with a visit from the Chief Rabbi - if not for the fact that the deceased is an important person?
Furthermore, Walder happens to be the subject of a huge scandal as to whether he is a tzaddik who was persecuted to death or an evil monster. By honoring the family with a visit while not making any statement about Walder, this lends support to the "persecuted tzaddik" narrative.
In addition, by not making any statement of support for the victims, it is a further slap in the face to them.
(Rav Lau did end up making a vague call for all victims of abuse to go to the police and support for victims of abuse - without mentioning Walder - but only after there was a national uproar about his visiting the mourners.)
So, while it is true that the family are innocent people who are suffering, nevertheless given the context, it was absolutely wrong for Rav Lau to visit them.
Another issue, a bizarre one, relating to context is Walder's suicide itself. Traditionally, suicide was always regarded as a terrible sin - a murder. Rambam writes that there are no eulogies or mourning for such a person. In recent years, when there is greater awareness of how many suicides are due to extreme mental torment and illness, such an approach is not taken. But in Walder's case, there are no such justifications. It was a premeditated strategy which he is on tape as explaining to his victims, done to avoid paying the price for his sins. And yet the rabbinic and political leaders of the charedi world are quite happy to overlook all this! This is due to the context of his being a charedi hero who was vilified by the secular press for behavior which the charedi community does not acknowledge the existence of.

The concept of context is also relevant to the question of what do with Walder's books. I haven't read them, but I'm told that there is nothing wrong with their content. And until yesterday, I wasn't sure what should be done with them. But after seeing how so many prominent people and publications are glorifying Walder, it's clear that they should be destroyed - and preferably in a very public way. Doing so sends out a crucial message - to his victims, and to society as a whole - that Walder is not a person to be glorified.
A neighbor of mine told me that he is arranging a public book-burning. I can see the merits of that idea. Again, not because of the content, but because of the context. Subsequently I realized that actually burning them in a fire is not a good idea, for several reasons, but destroying them, as publicly as possible, certainly is. If the rabbinic and political leaders and newspapers of charedi society can't call out evil, then it's up to us to do so.
(And, yes, of course I'm aware of the irony in that I wasn't happy when people declared that my own books should be burned. But even at the time, I always said that it is perfectly appropriate to ban books that are genuinely evil - I just didn't agree that my books fell into that category.)
UPDATE - I just found out that the books do indeed contain deeply insidious content. One story is about a girl who was relentlessly bullied at school, and the book praises her for never telling her parents, so as not to cause them distress. One shudders to think about why Walder wrote that and what effects it may have had.

(If you'd like to subscribe to this blog via email, use the form on the right of the page, or send me an email and I will add you.)