Discover more from Rationalist Judaism
Exploring the legacy of the rationalist Rishonim (medieval sages), and various other notes, by Rabbi Dr. Natan Slifkin, director of The Biblical Museum of Natural History in Beit Shemesh. The views are those of the author, not the institution.
Over 4,000 subscribers
Inverting Genocide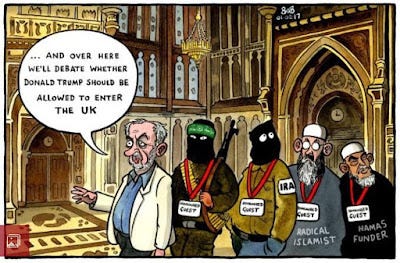 The latest uproar about Jeremy Corbyn surrounds his description of "Zionists" as being not properly British. While the antisemitism is obvious, I still don't get why all the fuss is being made about such statements and not about the vastly worse things about Corbyn.

A few days ago, footage emerged of Corbyn speaking at a 2014 protest outside the Israel embassy in London. There's fuss being made about a Hamas flag being waved behind him. But what about his actual words?! He said that "This is an occupation, this is a genocidal attack on Palestinian people."

Corbyn accused Israel of committing genocide! This is an extremely grave accusation. It is also utterly false, if words are to have any real meanings. Genocide has a meaning; it refers to the destruction of a race or nation. The killing of hundreds, even thousands of people as part of a war (and especially a defensive war, aimed at stopping the firing of rockets into towns) is not genocide. Britain killed thousands of Germans in World War II; that was not genocide. The same is true for all the people that Britain killed in Afghanistan.

Israel has a very powerful army; the Palestinians do not. Yet since the creation of the State of Israel, and since 1967, the number of Palestinians living in areas under Israeli control has increased enormously. The average lifespan has also increased tremendously, as has the level of literacy. For Corbyn to accuse Israel of "genocide" is the most absurd slander.

But do you know who does desire to commit genocide? Well, first of all, there's Hamas, whose charter calls for the genocide of all the Jews in Israel. And if they had Israel's weaponry, you can be damn sure that they would try to achieve it. Then there's Iran, which has been working at the genocide of Sunni Arabs, and has openly declared its desire to wipe out Israel. Yet Corbyn never speaks out against Hamas or Iran; instead, while claiming to be "pursuing peace," he participates in their activities and lends support to them.

Forget about Corbyn being an antisemite, it's much less significant than the fact that he slanders Israel as a genocidal regime, while he supports those brutal regimes that are truly genocidal!