Discover more from Rationalist Judaism
Exploring the legacy of the rationalist Rishonim (medieval sages), and various other notes, by Rabbi Dr. Natan Slifkin, director of The Biblical Museum of Natural History in Beit Shemesh. The views are those of the author, not the institution.
Over 4,000 subscribers
I Was Wrong, And I'm Sorry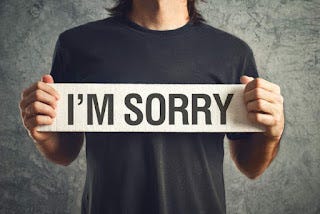 Like many people, I hate having to admit that I was wrong. It's particularly unpleasant for me because there is a whole crowd of people who hate me and who leap on such a thing gleefully. And these are probably people who have never, ever honestly examined issues which conflict with their worldview and concluded that they are wrong. Still, I wouldn't be able to live with myself if I didn't publicly admit to mistakes that I made. So, in this post, I want to admit to being wrong in not just one, but two of my posts from last week.

First was in my post about whether people in kollel can be considered as quasi-Levites. I wrote that according to Rambam, somebody in kollel is in no way an honorary Levite, for two reasons. One is that according to Rambam, it is forbidden take money for learning Torah. Second is that according to Rambam, the Levites were not learning Torah, they were teaching Torah.

Now, these last two sentences are indeed true. However, I went too far in claiming that this means that according to Rambam, somebody in kollel is "in no way" an honorary Levite. According to Rambam, such a person is indeed somewhat of an honorary Levite.

There are two pieces of evidence for this. One is that at the end of Hilchos Shemittah, where Rambam waxes lyrical about how anyone can be like a Levite in devoting themselves to God, he does not mention teaching, and he is including even non-Jews. Second is that Rambam elsewhere speaks about how Torah scholars (and there is no indication that he means specifically teachers) are allowed to receive certain financial benefits "just like Levites." (It should be noted, though, that he is specifically referring to the investment of funds, and assistance in business, rather than financial grants, which he expressly prohibits.)

And so, although according to Rambam somebody in kollel is not truly like a Levite - because he is not teaching - he is still somewhat like one, and is thus entitled to certain types of business assistance.

My second mistake was in my post critiquing telling the heir to give his father's charity funds to a yeshivah, instead of to conservation, as the father had requested. I wrote that it was extremely upsetting and unethical. After reading and digesting the comments, I still think that it was probably wrong, but I don't think that it reflect a lack of ethics, and it was wrong of me to condemn it so harshly.

The reason is that the answer was given from within the worldview that the father's soul in Heaven will receive no benefit at all from having left money for conservation, but will receive enormous benefit for the money being directed to yeshivos, and thus the soul is surely hoping that the money will be redirected. Now, one may disagree with that premise, but from the perspective of one who has that premise, it's not unethical.

But the reason why I still think it's wrong, even if not unethical, is twofold. First is that even from within a chareidi/mystical worldview, conservation is a cause with merit. There are numerous sources in my book Man & Beast from classical rabbinic works speaking about the importance of respecting and looking after the natural world. True, you won't find any explicit sources speaking about saving animals from extinction, but that's because, as discussed at length in The Challenge Of Creation, nobody believed that it was possible for species to become extinct! But you do find Rishonim speaking about how the prohibition of taking mother bird and young is because it is conceptually like not caring about the perpetuation of the species. Kal v'chomer one should care about the actual perpetuation of species!

Second is that the whole idea of changing from one's agreement with a person in order to do what the person "would surely want if he really understood things" is fraught with problems. It lends itself to abuse in all kinds of ways. And would we ever want people to do that with us? Imagine the following scenario: You gave money to a non-Jew (or a secular Jew) for kosher food, and they deceive you and give you cheaper but non-kosher food, and use the difference for a good cause, based on their sincere belief that if you really knew that kashrus didn't matter, you would want the money to be used more productively. Would you think that they acted ethically?

True, there are times when we are in a bind, because we have a halachic mandate - for example, if a relative asks to be cremated. But when there is no such mandate, and the person has not asked for the money to go to an evil or pointless cause, I think it would be very appropriate to honor their request, even if you consider that there is a better cause. But it is a difficult question.

So, apologies for my mistakes. And I hope that this post serves as further proof that I am open to changing my mind and admitting errors.