Discover more from Rationalist Judaism
Exploring the legacy of the rationalist Rishonim (medieval sages), and various other notes, by Rabbi Dr. Natan Slifkin, director of The Biblical Museum of Natural History in Beit Shemesh. The views are those of the author, not the institution.
Over 4,000 subscribers
How Many Giraffes were on the Ark?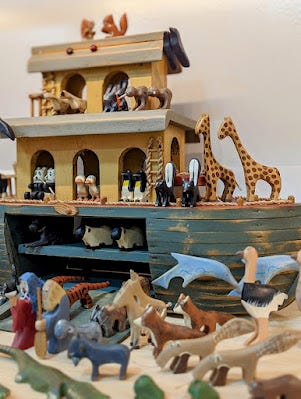 A quarter of a century ago, I heard the director of the Jerusalem Biblical Zoo speak about how every depiction of Noah's Ark has a pair of giraffes on the deck. Actually, in many of the Noah's Arks from around the world that we have collected for our forthcoming "Art of the Ark" exhibit at the Biblical Museum of Natural History, there aren't any giraffes at all. For example, South American arks tend to have llamas instead. The largest animals on our Chinese dragon ark are Asian water buffalo, and on our North American arks are bison and moose. For our European ark it's red deer, and for our Arctic ark it's reindeer. And if you wanted to adopt the view of Rav Azriel Aryeh Leib of Lomza and Rav Gedalya Nadel, according to which the flood was only a local phenomenon, then there likewise wouldn't be any giraffes.

Still, if you did want to depict giraffes on the ark, how many would there be? Two, right? Actually, it's not so clear. Here is Genesis 7:1-3:

וַיֹּאמֶר יְהֹוָה לְנֹחַ בֹּא־אַתָּה וְכׇל־בֵּיתְךָ אֶל־הַתֵּבָה כִּי־אֹתְךָ רָאִיתִי צַדִּיק לְפָנַי בַּדּוֹר הַזֶּה׃ מִכֹּל הַבְּהֵמָה הַטְּהוֹרָה תִּקַּח־לְךָ שִׁבְעָה שִׁבְעָה אִישׁ וְאִשְׁתּוֹ וּמִן־הַבְּהֵמָה אֲשֶׁר לֹא טְהֹרָה הִוא שְׁנַיִם אִישׁ וְאִשְׁתּוֹ׃ גַּם מֵעוֹף הַשָּׁמַיִם שִׁבְעָה שִׁבְעָה זָכָר וּנְקֵבָה לְחַיּוֹת זֶרַע עַל־פְּנֵי כׇל־הָאָרֶץ׃

Then God said to Noah, "Go into the ark, with all your household, for you alone have I found righteous before Me in this generation. Of every pure animal you shall take seven by seven, males and their mates, and of every animal that is not pure, two, a male and its mate; of the birds of the sky also, seven by seven, male and female, to keep seed alive upon all the earth."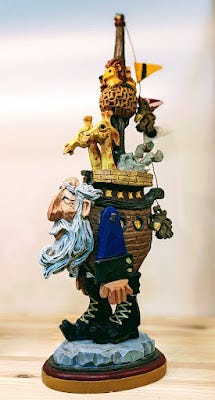 In contrast to the earlier instruction for Noah to take pairs of each animal, here he is told to take seven of every kosher animal (and every kosher bird). According to some this means seven pairs, and according to Sifsei Chachamim and Birchas Asher it means seven individuals. Now, giraffes are certainly kosher animals, along with deer and gazelles and ibex and many others. So this would indicate that were seven or fourteen of all of these animals!
On the other hand, if we look at the reason why there were sevens of kosher animals, we have a difficulty. Rashi, Ramban and others (who note that Noah kept Torah law) explain that the extra animals were for the purposes of offerings. But offerings are only brought from domestic animals, not from wild animals like deer and giraffes. So why would there be sevens of the wild kosher animals?

One might be tempted to explain that the Torah is only saying that there were sevens of domestic animals, not wild animals, taking the word behemah in its oft-used narrow sense. But the problem is that this verse, along with the others in this story, also uses the word behemah for all the non-kosher animals, both domestic and wild. Still, Malbim explains that this verse is only referring to Noah's personal domestic animals, not to the pairs of wild animals. Accordingly, there would indeed be two giraffes.

Kli Yakar, however, raises this question and provides a different answer. He explains that the extra animals were not to provide a supply for offerings - they were to provide a supply for eating. Perhaps we can expand on this and explain that kosher animals, which are prey animals rather than predators, also need to exist in larger numbers to maintain the predator population.
Accordingly, if there were giraffes on the ark, then there were seven or fourteen of them. But it's going to be pretty hard for me to find such a model for our exhibit!
(Meanwhile, if you're interested in the scientific challenges posed by the account of Noah's Ark, see the list of resources in this post. And in a few months, we will be opening an incredible exhibit on "The Art of the Ark" at the Biblical Museum of Natural History, featuring over sixty extraordinary artistic models of Noah's Ark from all over the world! Sign up for the museum newsletter to be notified when the exhibit is launched.)
(If you'd like to subscribe to this blog via email, use the form on the right of the page, or send me an email and I will add you.)