How Do You Stop Jews Stoning Jews?
Down the hill from the lovely neighborhood where I live is the world's number one hotbed of religious Jewish fanaticism: Ramat Beit Shemesh Bet, known as RBS-B. Earlier today, a religious IDF soldier was driving his car through that neighborhood when he was assailed by stones. He lost control of his car, crashed into a post, and had to be hospitalized.

It could have been worse. He could have been killed. He could have run over a child. God forbid, such a thing could happen next time. As I once wrote in a post, it may be only a matter of time before someone is killed.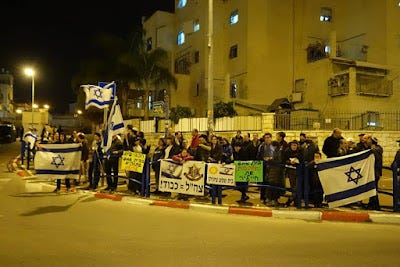 What does one do about this? I've been writing about it for years, but I don't know if that's achieved anything. A number of local activists organized a rally. Maybe that will make things better, by motivating locals and authorities to take action. Maybe it will make things worse, by inciting the zealots further. I honestly don't know, and I'm not sure if anyone else knows, either.

Meanwhile, while all this was going down, I was dealing with other stone-throwing religious hooligans in Beit Shemesh. I was in my office at the Biblical Museum of Natural History, and I happened to glance at the feed from the security cameras. To my dismay, I saw three little children with long peyos, who looked no more than seven years old, throwing stones at our outdoors petting zoo. I raced outside and confronted them.

"Yeladim, would you like it if I threw stones at your house?" I asked them.

"What, is this your house?" one of them asked me in puzzlement.

They didn't appear to grasp the message, but they stopped throwing stones.

A half-hour later, we had a scheduled visit of fifty children from a local Talmud Torah from a certain sect in RBS-B. Some of these communities refuse to visit zoos, since they are open on Shabbos. We not only present a rich Torah experience, but we also provide a Shomer Shabbos, "safe" environment for them - there are no dinosaurs or other hashkafically-challenging material, we switch off all the video screens, we hide any promotional literature with pictures of women, and the female members of staff stay out of sight. Today's group even asked our guide to conceal his smartphone.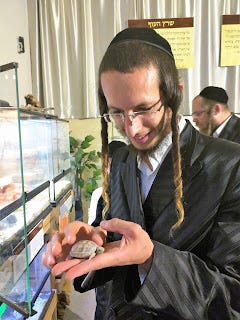 We run many such tours and it's never clear to me who finds the experience more fascinating, them or us. These are children from communities that don't visit zoos, that don't have pets, and that don't watch wildlife documentaries. They have never have had any significant exposure to the natural world, and it shows in the most unexpected ways. For example, in our record-breaking exhibit of shofars from different species, we have little plastic figurines of the animals that each shofar is from. Frequently, the children ask if the figurines are real animals!

I don't guide these groups myself; we have an American-Israeli charedi-lite guide for these groups (and a chassidic guide from the Kirya Charedit for the Yiddish-speaking groups). But I often step into the main hall to watch, and to assist with the handling of exotic animals that takes place at the end of each tour. Like all Israelis, these kids are often quite unruly compared with Anglos. And within each group, as with any group, there is a spectrum of personalities - there are the adorable, sweet, polite kids, and there are the ruffians.

Sometimes I wonder if I am dealing with a kid who, ten years down the line, will be throwing rocks at soldiers and religious Zionists. But these children inevitably have a certain measure of respect for the staff of the museum, even though we are not from their communities. And we have impressed (and perhaps surprised) them with our knowledge of animals and Torah. I'm not sure if anyone outside of their communities has ever made such an impression on them before.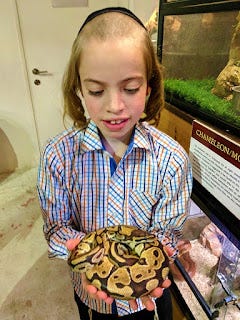 And when we show them how to handle the animals, which is a completely new experience for them, we teach them how to interact respectfully with others. These children, with no previous exposure to animals, often don't realize that animals are living creatures with feelings. When they bang on the cage to make the animal move, I ask them if they would like it someone banged on their house, and you can see how they are grasping the concept. When they ask if the turtle or lizard or snake will bite them, I tell them that if they treat the animal gently and with respect, it will reciprocate. And they understand, and they handle the animal more gently.

I don't know how much this blog impacts charedi society. I don't know how much counter-violence rallies impact charedi society. Sometimes I wonder if perhaps the Biblical Museum of Natural History, in the long run, has the gentlest but greatest impact.


We are currently working on taking the museum to the next level, by moving to a much larger building. If you'd like to support our efforts, you can do so at this link. Thank you and yasher koach!