How Aesthetic was the Ark?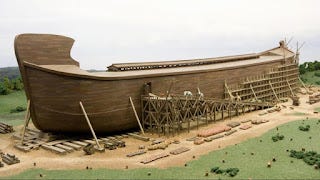 I would like to thank everyone who commented on the previous post, Building Noah's Ark, with ideas about how best to create a scale model of Noah's Ark for the Biblical Museum of Natural History. In the previous post, I discussed the factors of proportion, scale, form, superstructure, and animals. Since then, I realized that there are further factors to consider.
One is carpentry. Now, it seems that nails were invented about 5500 years ago, in Ancient Egypt. The ancients also knew how to use mortise joints to fasten beams together. But another, perhaps more common construction technique in ancient Mesopotamia involved lashing beams together with rope (see this paper on Ships and Shipbuilding in Mesopotamia). This in turn required lots of pitch for waterproofing - which is why God told Noah to apply pitch both on the inside and outside.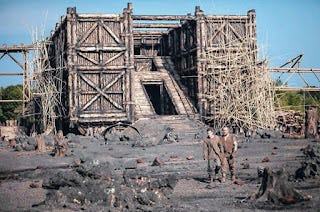 The other aspect to consider is aesthetics. Most contemporary models of Noah's Ark involve beautiful carpentry. But there's a fascinating video about the making of Noah's Ark for the 2014 film Noah with Russell Crowe. As I noted in the previous post, that version was accurate in terms of presenting the Ark as a box rather than as a boat. But the production designer also explains that they decided to show it as being constructed in a roughshod manner. This is not a sleek, beautifully designed luxury vessel. It's a purely functional emergency refuge constructed by a single family. 
(While this and other aspects of the 2014 film are impressive, overall I absolutely hated the film for its utterly miserable tone and its depiction of Noah as a homicidal maniac. And they hardly showed any animals!)

Putting these two factors together, the result is that rather than the Ark being a beautiful work of carpentry, the Bible is describing a giant crate made of logs roughly lashed together, coated in black pitch. Not a very attractive model to build! It might be educational, but it won't be very inspirational.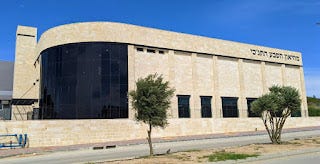 Perhaps we should exhibit multiple models and artwork? I'm also leaning towards making it resemble the ark-like architecture of the museum building itself, with curved corners and vertical strengthening pillars/beams. Since our model Ark will be situated near the donors' plaques, it might be fitting symbolism for those people helping us build a modern Ark!