Discover more from Rationalist Judaism
Exploring the legacy of the rationalist Rishonim (medieval sages), and various other notes, by Rabbi Dr. Natan Slifkin, director of The Biblical Museum of Natural History in Beit Shemesh. The views are those of the author, not the institution.
Over 4,000 subscribers
He Says I Was Wrong
In my article on what one can do for someone who has passed away, I told the following story: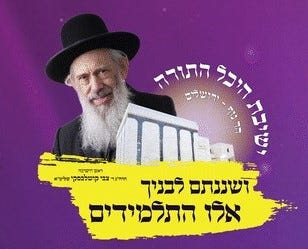 "A friend of mine told me that when he was studying in the yeshivah of Rav Tzvi Kushlefsky in Jerusalem, a student once asked if Rav Kushlevsky could dedicate that day's lecture to elevate the soul of his grandmother. Rav Kushlevsky replied that this was impossible; while his delivering the lecture would be a credit to his own grandmother, there was simply no way by which to transfer that credit to someone else's grandmother, who had no role in enabling the lecture to take place!"
A few weeks ago, Rav Tzvi Kushlefsky's yeshivah, Heichal HaTorah, ran a 1.2 million dollar fundraising campaign. It promised that if you donate $500 or more, they will "arrange for a masechta to be learned as a zechus/l'iluy nishmas the person of your choice."

Now, obviously nobody wants their $1.2 million campaign to lose its appeal. But surely this a direct contradiction to the clear position of the Rishonim that there is simply no way of transferring reward to a random person who did not earn it. And the Rosh Yeshivah himself acknowledged that it doesn't work! So I was convinced that whoever created this fundraising campaign had not discussed it with Rav Tzvi.

I don't know Rav Tzvi personally, but his late brother was one of my late father's oldest friends, and his late sister was Rebbetzen of my childhood shul. And I do know one of the rabbis in his yeshivah. So I reached out to this person for clarification. Eventually I received the following response:
"I spoke to Rav Tzvi Kushelevsky this Shabbos. Just to make sure that there was no misunderstanding I asked 3 times using different wordings. He said that if someone gives tzedaka or learns in someone else's memory it definitely helps the neshamah of the deceased. Since this would not have came about without the impetus from that person – it is considered a zechus for them. The confusion probably comes from the case where you quote - where someone was already giving a shiur. In such a case it does not help to do it in their memory since they were not the cause."
So, I can no longer claim that Rav Tzvi Kushlevsky supports the traditional position of the Rishonim (which is also seen in Chazal). I must also explain why, in my view, the Rishonim did not allow for such a possibility. If you are paying for Torah study (assuming that this is considered charity), then it is *you* that is the cause of the good deed, not the random person that you nominate to receive the reward! It might be that your grandmother inspired you to be charitable, and it could be that she gets credited for that - but she didn't inspire a complete stranger to learn Torah! (And if you're going to claim that a person gets the credit for anything that results from them, even if they didn't inspire it, it would mean that Haman gets credit for all the mitzvos of Purim!)

I will conclude by again quoting the Rishonim, whose words are unambiguous, and who rejected any possibility of arranging to transfer reward to someone else. Since the statements of the Rishonim are omitted from all contemporary yeshivish discussion of this topic, and are ignored by everyone, they can't be quoted often enough.
"There is no doubt that what one person does for another after their passing is of no benefit or aid, for each person is judged according to what they are at the time of their death. In accordance with the person's level and attainments at the time that his soul departs from his body, so will he attain elevations and merit light with the Light of Life, and there is no additional elevation or benefit in that which others do afterwards to benefit him…" (Maharam Chalavah, Responsa, #17)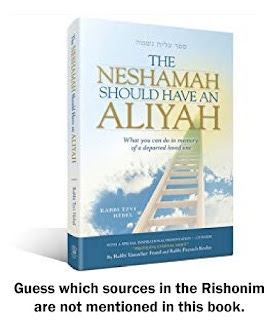 "A person cannot merit someone else with reward; his elevation and greatness and pleasure from the radiance of the Divine Presence is only in accordance with his deeds. Even if all the righteous people in the world were to seek mercy for him, and all the righteous acts were to be done in his merit, it would be of no help to him…" (Rashba, Responsa, Vol. 7 #539)

"These concepts are nonsense and one should not rely upon them. How can one entertain the notion that the reward of good deeds performed by one person should go to another person? Surely the verse states, "The righteousness of a righteous person is on him," (Ezek. 18:20) and likewise it states, "And the wickedness of a wicked person is upon him." Just as nobody can be punished on account of somebody else's sin, so too nobody can merit the reward of someone else. How could one think that the reward for mitzvot is something that a person can carry around with him, such that he can transfer it to another person?" (Rav Hai Gaon cited by Maharam Alashkar, Responsa #101)

"How can the merits of Reuven be of benefit to his brothers Shimon and Levi? What could his mitzvot do for them?!" (Responsa Binyamin Ze'ev 202)
I think that the truth of what the Rishonim write is obvious. But, as I wrote in yesterday's post, there are both noble and less-noble reasons for people to convince themselves otherwise. And unfortunately, while it can lead to benefits in terms of fundraising for important projects, it can also lead to negative consequences.
(Again: My study of this topic can be downloaded at http://www.rationalistjudaism.com/2014/02/what-can-one-do-for-someone-who-has.html)