Discover more from Rationalist Judaism
Exploring the legacy of the rationalist Rishonim (medieval sages), and various other notes, by Rabbi Dr. Natan Slifkin, director of The Biblical Museum of Natural History in Beit Shemesh. The views are those of the author, not the institution.
Over 4,000 subscribers
Happy to Hate and Kill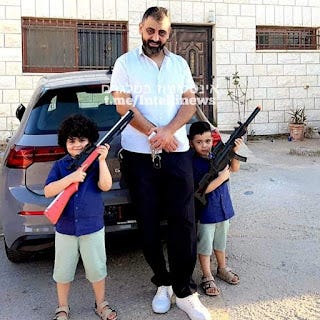 Last week, various media around the world reported about a Palestinian doctor, Abdullah Abu Tin, who was killed by an IDF sniper. What they did not report is that while his profession may have been healing people, his hobby - in which he was engaged at the time he was killed - was shooting at Israelis. And one can tell what kind of person he was by looking at the pictures that he posted on his social media account. One in particular show him smiling as his children pose with guns. This is someone who raises his children to be happy to kill innocent people.
Many of us take such things as further examples of how we are morally superior to the Palestinians. Personally, I would like to believe that we are indeed morally superior as a society overall. However, I'm worried that we are losing ground. Because a very similar picture was just posted by the rising political star Itamar Ben-Gvir: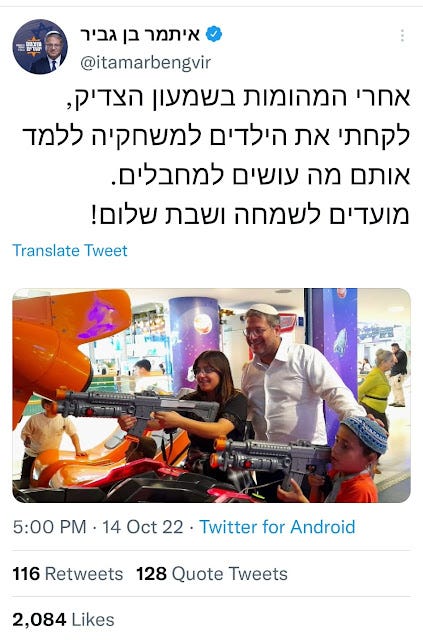 Now, some people will immediately point out that there is a significant difference. Abu Tin's kids are presumably being taught to be excited at the prospect of killing innocent civilians, whereas Ben-Gvir's kids are being taught to be excited at the prospect of killing terrorists. 
But is this difference all that significant - and is it even true? Killing terrorists is something that we need to do and should be proud to do, but it should not be presented to children as a fun activity to be excited and happy about. And frankly, it seems very likely that Ben Gvir and his ilk teach kids to be happy about killing all Arabs, not just terrorists. Remember, this is someone who had a picture of Baruch Goldstein displayed in his home. It would be naive to believe his claims that he has reformed from his even more extremist past.

And then there is Ben-Gvir's political partner Betzalel Smotrich. I was horrified the other day to see a prestigious rabbi in the Anglo religious-Zionist world, associated with Mizrachi and HaKotel and other such institutions, declare his support for Smotrich, and proclaim him to be an example of a "true Ben Torah." I don't suppose that fans of Smotrich will be persuaded that he is problematic due to his extreme racism and likelihood for rashly leading Israel into political and security disaster. But how can they think that he is a "true Ben Torah"? This is someone who condemns religious Jewish politicians with whom he has political disputes with the most disgraceful language, and declares that they should be banned from davvening in shul!
The aforementioned rabbi claimed that there are many example of great figures in our history who talked in such ways about their opponents. That is undeniably true, but to the small extent that they talked in such a way, it detracted from their overall greatness. Smotrich doesn't have any greatness, and such hateful rhetoric defines him - hating Arabs, hating gays, hating religious Jews with different political views.

The rabbi also claimed that "most of the [Zionist] Gedolim support Smotrich." Now, I think that many of them support him reluctantly rather than whole-heartedly - they certainly don't behave in the way that he does. And even if they do support him, so what? There is simply no way to parade Smotrich as a "true Ben Torah." Saying "but the Gedolim!" is something for charedim who take the (non-traditional) approach of negating one's own brain, not for Religious Zionists.
The strangest thing about all this new religious Zionist support for far-right politicians is that it's all so unnecessary. This isn't the 1990s. There is no major political party or politician - certainly not Ganz or Lapid - who is either likely to, or even remotely interested in, ceding territory to the Palestinians. After the Second Intifada and the consequences of the Gaza withdrawal, the Left wing in Israel is finished. There are no significant differences whatsoever between any of the main political parties with regard to national security. For a change, we have the luxury of voting based on other considerations - voting for those who care for the country rather than power, economic improvement, preventing future national disaster by encouraging charedim to give their children a basic education. Why give up that opportunity to make important improvements to the country, just to promote people who thrive on hatred and don't think or care about the consequences?
(If you'd like to subscribe to this blog via email, use the form on the right of the page, or send me an email and I will add you.)