Discover more from Rationalist Judaism
Exploring the legacy of the rationalist Rishonim (medieval sages), and various other notes, by Rabbi Dr. Natan Slifkin, director of The Biblical Museum of Natural History in Beit Shemesh. The views are those of the author, not the institution.
Over 4,000 subscribers
Happy Daf Salamander Day!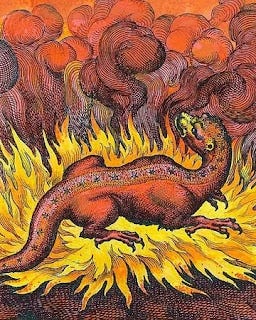 Tomorrow, Daf Yomi reaches the topic of spontaneously generating salamanders! The Gemara says as follows:
Rabbi Avahu said in the name of Rabbi Eliezer: The fires of Gehinnom have no power over a Torah scholar; this is deduced a fortiori from a salamander. If a salamander, which is [only] a product of fire, when a person smears himself with its blood, fire has no control over him, then a Torah scholar, whose entire body is fire, as it is written, "For are My words not as fire, says Hashem," how much more so! (Talmud, Chagigah 27a)
The Gemara here makes two claims about this creature: that it is a "product of" fire (i.e. generated from it), and that its blood (or perhaps some other bodily fluid) has fireproof properties.
What is this salamander? For millennia, the word salamander in many languages has referred to the creature still known as salamander in English. The name carried through from Ancient Greek, through Latin, through Old French. It was discussed by Rishonim and Acharonim. Therefore, it would seem to the same creature.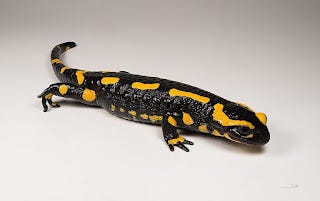 The description given by the Gemara, while not scientifically correct, also supports the identification of the Gemara's salamander with the creature known today as a salamander - specifically, the fire salamander. Found in Europe and Israel, this amphibian has a spectacular fiery pattern of orangey-yellow on a black background. It often hides in logs, and when these logs are thrown on a fire, the salamander will emerge. There is also reliable reports of amphibians in this family exuding liquids from glands on their skin which froth into a foam and render them temporarily fireproof. (For more details, see my book Sacred Monsters.) Thus, we have a convergence of evidence that this is the same creature being described by the Gemara.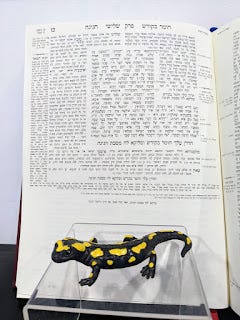 The Rishonim and Acharonim who discuss the salamander generally took it for granted that it was generated in fire, as the Gemara says, without seeing this as at all problematic. This is to be expected, since for most of history, spontaneous generation was a universally accepted belief. In fact, Rabbi Pinchas Eliyahu Hurwitz of Vilna (c. 1790) challenges those who deny spontaneous generation by pointing out that the Talmud attests to the existence of the salamander growing from fire rather than from parent salamanders.
(Chasam Sofer, followed by the Rogatchover Gaon, suggests that the salamander lives inside volcanoes, but sorcerers are able to bring this creature out from its home. They do this by creating an appropriate habitat for it by burning a fire in the same place for a length of time. The salamanders make their way to this fire, where they breed and can be harvested for their fireproof blood. Chasam Sofer's proposal avoids the problem of spontaneous generation, but his explanation is likewise contradicted by modern science.)
What do contemporary rabbis, who are aware of modern science, have to say about the salamander?
Rabbi J. David Bleich insists that spontaneous generation has not been scientifically disproven (!) but continues to insist that the Sages did not believe in it anyway: "Aggadic references to mice arising from dirt (Sanhedrin 91a) and salamanders from fire (Hagigah 27a) have no bearing on this discussion. Quite frequently, aggadic statements involving exaggeration and hyperbole are allegorical and intentionally inaccurate."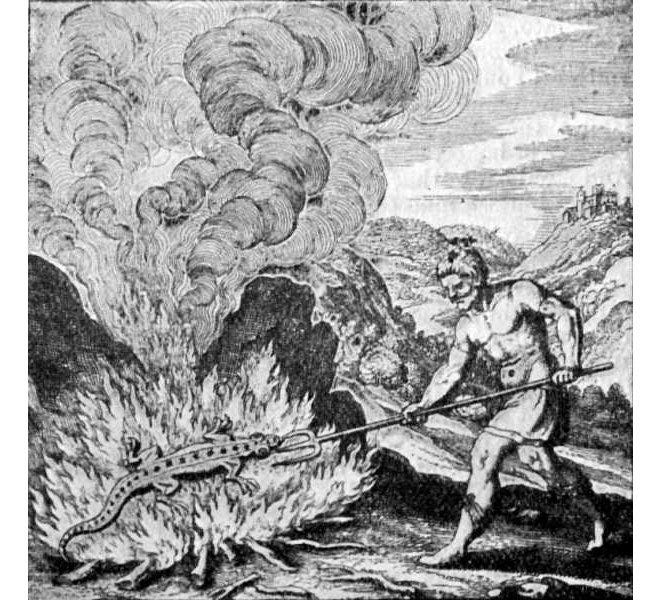 The problem is that this cannot remotely be reconciled with the Gemara's statement about salamanders. It's not an exaggeration or hyperbole - it is a description of how this salamander lives and dies. There's nothing which indicates it to be allegorical or intentionally inaccurate. And it was certainly understood as a factual, accurate account by all the Rishonim and Acharonim. Moreover, R. Bleich fails to cite the following source from the Midrash Tanchuma:

There are creatures that thrive in fire, and not in air, such as the salamander. How so? When glassmakers heat the furnace for seven consecutive days and nights, out of the thick of the flames emerges a creature that resembles a mouse, which people call a salamander. If a person smears his hand with its blood, or any other of his limbs, fire has no power over that part of him, because a salamander is generated from fire. (Midrash Tanchuma, Vayeshev 3)
This is clearly a non-allegorical, non-hyperbolic description that is intended to be accurate. R. Bleich ignores this, presumably because it refutes his claims about Chazal's infallibility and about their not believing in spontaneous generation.
Rabbi Moshe Meiselman, despite publishing an 800-page allegedly authoritative book on Torah and science, simply doesn't mention salamanders. However, like Rabbi Bleich, he does insist that the Sages did not believe in spontaneous generation. Presumably, this is why he avoids discussing the case of the salamander, which would undermine his claim that any definitive statement by the Sages about the natural world must be correct.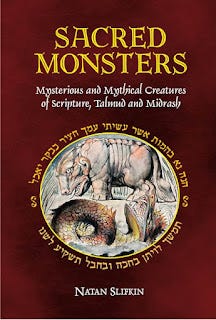 For the rest of us, we can comfortably adopt the approach of all the Gaonim and Rishonim and Acharonim who followed in the footsteps of Chazal themselves. Chazal did not consider themselves to be infallible authorities about the natural world. And there is no need for us to consider themselves that way. There was a universal belief in antiquity that salamanders are generated from fire, and live within it, and Chazal likewise believed that and incorporated it into their theological worldview.
If you attend Daf Yomi shiur, please let us know how the maggid shiur addressed this topic.
(If you'd like to subscribe to this blog via email, use the form on the right of the page, or send me an email and I will add you.)