Discover more from Rationalist Judaism
Exploring the legacy of the rationalist Rishonim (medieval sages), and various other notes, by Rabbi Dr. Natan Slifkin, director of The Biblical Museum of Natural History in Beit Shemesh. The views are those of the author, not the institution.
Over 4,000 subscribers
Happy 99th Birthday!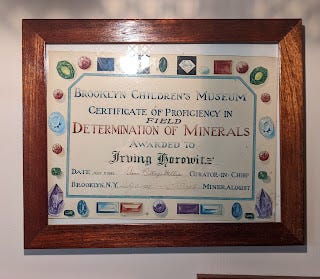 Yesterday I had the honor of wishing a happy 99th birthday to a very special person: Mr. Irving Horowitz of Queens. 
Our chapter in Mr. Horowitz's story began 86 years ago, in the mineral club of the Brooklyn Children's Museum. This club was started by Mr. Jack Boyle, the Museum's first mineral curator, to spark kid's curiosity about Earth. He took the kids on field excursions to mine and collect specimens, gave them access to the Museum's mineralogy lab with tools, and had them print a mineralogy newsletter "Pay Dirt" - on a printing press.
This club inspired an interest that led its young members to lifelong achievements and contributions. One of its members, who had been introduced to Uranium in the club, became a nuclear engineer. A girl in the club became one of America's first female geologists. From his mapping and charting skills learned in mineral club, Irving Horowitz helped make aeronautical charts and maps for the Allied forces during World War II. Mr. Horowitz taught earth sciences for more 50 years in NYC public schools and Brooklyn College and rewrote the textbook used to prepare students for the Earth sciences regents exam.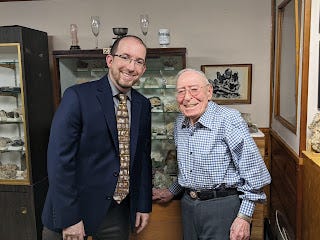 Mr. Horowitz has been collecting and teaching about minerals ever since. And last year, his son, Michael Horowitz reached out about displaying part of his collection, his lifelong love and work, as the beginnings of the Museum's mineralogy exhibit. His goal is to share his love of this aspect of the natural world and its beauty -- here in Israel. The minerals arrived a few weeks ago, and we are in the process of setting up this remarkable exhibit!
We are grateful and humbled for the opportunity and the work ahead as we begin to catalog and prepare the display and exhibit. Happy 99th birthday, Mr. Horowitz. And thank you!