Discover more from Rationalist Judaism
Exploring the legacy of the rationalist Rishonim (medieval sages), and various other notes, by Rabbi Dr. Natan Slifkin, director of The Biblical Museum of Natural History in Beit Shemesh. The views are those of the author, not the institution.
Over 4,000 subscribers
Guns, Girls and Gemaras
Earlier this year, I was shopping at one of the heimishe Shabbos food stores in Ramat Beit Shemesh and loaded up my cart with a mountain of jars of variously flavored herrings. The cashier, a young charedi Israeli man, surveyed the stack, and perceptively said "Mazel tov! What's the occasion? New baby?"
"Siyum masechta (completion of a tractate of Gemara)" I replied.
"Mazeltov! Kol hakavod to you," he responded.
"No, not me," I clarified. "My daughter."
His eyes bugged. To his credit, he managed to recover his composure. "Um... um... very nice!" he stammered.
Feeling a little mischievous, I decided to share some further information.
"Yes, it's wonderful" I said. "And soon she's joining the army."
The poor guy.

It was a lot for him to wrap his head around. And I could sympathize. Certainly if you would have told me, back when I held my firstborn baby, that nineteen years later she would be learning Gemara and joining the IDF, I would have been shocked and horrified. And even today, while I am immensely proud of my daughter, her chosen path is still jarring for me (and is not that of the high school to which we sent her).
In the past few years I've learned a lot about what it means to raise teenagers in socio-religious circles very different from that in which I was raised. One thing that I've learned is that my wife and I have very little say in the matter. Some of our children in particular are extremely strong- and independent-minded (I have no idea where they got that from). And I'm in a discussion group with both religious and formerly-religious people, and one thing that the latter group all say is that parents and teachers who tried to force them into a mold did not help at all.
But it's not just about biting my tongue. I've also learned that there are worthy paths in life which are quite different from the limited options of which I was previously aware. 
The high school that our daughter attended encourages the girls to follow their schooling with a year in sherut leumi, national service. Our daughter, who has been co-founding and running amazing chessed and social programs for several years already, decided that she wanted to push herself to do something more. When she told us that she was thinking of enlisting in the IDF, I told my wife that we should not try to dissuade her, because (A) she obviously wasn't going to actually follow through with it, and (B) arguing with her would just make her even more determined to go.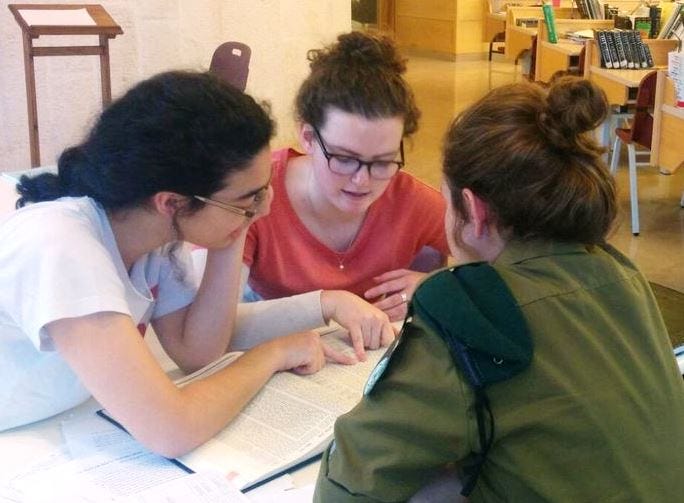 But then she decided to attend the Lod branch of Ohr Torah Stone/ Midreshet Lindenbaum, a post-high school seminary which also includes a sort of hesder-type program for girls to enlist in the IDF. After their Torah studies and spiritual strengthening in the midrasha, the girls in this program join the army. This is done as part of a cooperative effort between the midrasha and the IDF, in which the IDF respects their needs and they continue to have shiurim and Shabbatonim with the midrasha teachers. As she progressed through the past year, my daughter decided that she really did want to join the army, and she enlisted this week.

In shul this past Shabbat, I received an aliyah - ironically for the very Torah portion that speaks about the religious obligation to fight in wars and those who are exempt from it. The Gemara notes that such exemptions are only for optional wars; in the case of a milchemet mitzvah, even a bride goes to fight. The gabbai recited a misheberach for my daughter to be safe and successful in engaging our enemies. But the formulation of the misheberach was not really suitable. The armies and wars of today are not like those of Biblical times, when victory largely depended on the number of people physically fighting and everyone would be taking up arms. The 21st century army is a highly specialized organization in which most people are in technological, administrative or other non-fighting roles. Religious girls in the IDF are not generally going into combat; our daughter was in more danger spending the past year in the city of Lod! After a few weeks of (very) basic training, she will be serving in a teaching role.

Ten years ago it was almost unheard of for religious girls to enlist in the IDF. Nowadays it is becoming ever more common. My neighbor's daughter just completed her service and is spending Elul in midrasha to spiritually recharge before returning to the IDF to serve as an officer. This week, when we dropped off our daughter at the military base, there were dozens and dozens of religious girls there. The IDF very much wants them to join, since they are idealistic and superb assets, and so the army makes efforts to accommodate them religiously. My daughter told me that at Shacharit yesterday there were about eighty girls - who had to wake up an hour early to attend minyan after an exhausting day.

To be sure, there are numerous spiritual challenges, and the girls still need to exercise great strength and vigilance. It's still a risky path, which scares not only my wife and I, but also our daughter. Still, sending boys to combat is also risky, but our community does that too - not only out of a sense of national obligation, but also because there is simultaneously much for them to gain from it.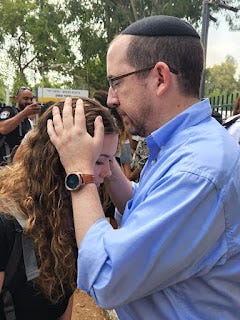 I pray that Hashem watches over her, and helps her to help Am Yisrael. And I hope and trust that she will grow immensely from the experience.

מִי שֶׁבֵּרַךְ אֲבוֹתֵינוּ אַבְרָהָם יִצְחָק וְיַעֲקֹב, וְאִמּוֹתֵינוּ שָׂרָה רִבְקָה רָחֵל וְלֵאָה, הוּא יְבָרֵךְ, יִשְׁמֹר וְיִנְצֹר אֶת בִּתֵּנוּ הַיְּקָרָה בְּבוֹאָהּ לְהִתְגַּיֵּס לִצְבָא הַהֲגַנָּה לְיִשְׂרָאֵל וְלַעֲמֹד עַל מִשְׁמַר אַרְצֵנוּ.
מֶלֶךְ מַלְכֵי הַמְּלָכִים יַעֲמֹד לִימִינָהּ, יְחַזְּקֶהָ וִיאַמְּצֶהָ, וְיַצְלִיחַ אֶת דַרְכָּהּ בְּהִתְיַצְּבָהּ לְהָרִים אֶת תְּרוּמָתָהּ לְטוֹבַת הָעָם וְהָאָרֶץ, וְתִזְכֶּה לַעֲסֹק בַּעֲבוֹדַת קֹדֶשׁ הַמּוֹעִילָה לָרַבִּים.
הַקָּדוֹשׁ בָּרוּךְ הוּא יְמַלֵּא אֶת מִשְׁאֲלוֹת לִבָּהּ לְטוֹבָה, וְיִשְׁלַח בְּרָכָה, רְוָחָה וְהַצְלָחָה בְּכָל מַעֲשֵׂה יָדֶיהָ.
אֲדוֹן הַשָּׁלוֹם יִפְרֹשׁ עָלֵינוּ וְעָלֶיהָ אֶת סֻכַּת שְׁלוֹמוֹ, וִישִׁיבֶהָ לְבֵיתָהּ בְּשָׁלוֹם וּבְשִֹמְחָה, עִם שְׁאָר חַיָּלֵי וְחַיָּלוֹת צְבָא הַהֲגַנָּה לְיִשְׂרָאֵל, בַּעֲבוּר שֶׁאָנוּ מִתְפַּלְּלִים עָלֶיהָ וַעֲלֵיהֶם, וְכֵן יְהִי רָצוֹן, וְנֹאמַר אָמֵן.
If you'd like to subscribe to this blog via email, use the form on the right of the page, or send me an email and I will add you.