Discover more from Rationalist Judaism
Exploring the legacy of the rationalist Rishonim (medieval sages), and various other notes, by Rabbi Dr. Natan Slifkin, director of The Biblical Museum of Natural History in Beit Shemesh. The views are those of the author, not the institution.
Over 4,000 subscribers
Guest Post: How People Get Sucked In
Dear Rabbi Slifkin, 
I wanted to reach out to you about your stance on Yaron Reuven. I wanted to share my experience with you with regard to Yaron Reuven, maybe it can add some insight into what you have been saying for some time. 
I picked up one of his CDs from a pizza shop about a year ago. I wasn't looking for Kiruv or anything, I was born and raised a religious Jew and have learned for many years. I was just looking for something to listen to in the car on the way to shul and back that wasn't music. I figured Torah was Torah and why not?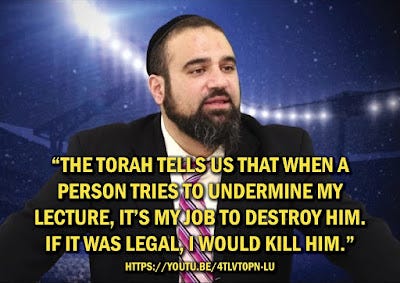 At first I didn't see much wrong with what he was saying. His delivery was a bit different than what I am used to (many of my Rebbeim got Smicha from YU, so they are pretty different from someone like Yaron Reuven), which I didn't think was a bad thing. He was a bit more Charif than most, but nothing too crazy (so I thought).

As I continued listening, I realized a trend in his "shuirim". Most would start off mentioning a Mishnah in Perki Avos, then he would go on a tangent about some Rabbis or people (he wasn't specific about which Rabbi he was talking about) he thought were awful and were leading people astray. I didn't think much of it, maybe he was right, how would I know, he wasn't being specific. Over time I realized he went on these tangents a lot, like, a lot alot. Basically every "shuir" was bashing specific groups (like Chabad or Satmar) and saying how awful they are. For a shiur that is meant to be about bettering myself, I felt more like "well, at least I'm not as bad as these people."

I then started realizing he was quoting Gemaras completely out of context and making conclusions based on his own assumptions, all the while calling it "the Torah" and saying stuff like "none of what I say is my own opinion, it's all the Torah!" The irony of that statement is he is the most opinionated person I have ever listened to.

A specific example of misquoting a Gemera (which he did on multiple occasions) was the story of how Yashu went off the derech. Now, I am no fan of Yashu, I'm an orthodox Jew who davens with a minyan and learns daily, I am in no mean a Yashu fan, but the Gemara he quotes is entirely out of context. He uses the story in Sotah 47a to trash on Yashu. The problem with his explanation is that he completely ignores the context of the Gemara, which was discussing what Yashu's Rabbi did wrong (the Gemara immediately before it discusses what Elisha did wrong and how he was pushed for it). Instead of teaching the lesson of "don't push away a student with both hands" he uses the story to trash Yashu. 
Him ignoring the message of the Gemara has practical ramification. Yaron himself pushes away people with both hands. Calls them Kofrim, Minim, etc, and way worse if they disagree with him. The exact Gemara he taught incorrectly is the Gemara he himself should be learning! No wonder he didn't mention that part!  
He also has a very narrow understanding of the concept of "Tinok Shenishbah" which is a well debated concept and who falls into that category. He says it only applies to people who have never heard of Judaism before. I am not an expert in the area, but I have learned before that the definition is much broader than that. By narrowing it so much he causes people to view any non-religious Jew, who was born and raised non-religious as "someone who hates G-d" or vice versa. 
He also mentioned multiple times that someone who sleeps with a Nidah is doing something worse than sleeping with their own mother. Now, I have been through all of Shas and nowhere does it say that….. Sooooo, I don't know where he gets that from, he doesn't quote any source for it. I reached out on Facebook for clarification, but I haven't heard back from him….. Doubt I ever will.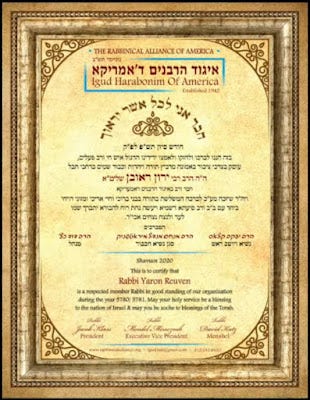 What really got my attention was a shiur (from a couple of years ago) where he started by mentioning that "the leadership of BRS (Boca Raton Synagogue) was making a horrible mistake by bringing a Christian missionary to speak there." As someone who has been listening to Rabbi Efrem Goldberg for years, and who I have met personally, I was very confused about what he was talking about. I immediately googled it and found what had happened. Yaron was lying about what had happened and slandering the entire BRS community in the process. I may have known to look up what the truth was, but many aren't going to do that. Especially after listening to one of Yaron's 4-hour "shiurim". It was then I found your articles and realized how much worse the problem actually was and that I wasn't the only one thinking "what wrong with this guy?"

His video about Rabbi Dweck (posted last week) where he bashes him for saying Dovid and Yehonatan were gay lovers (which I heard the audio of what Rabbi Dweck says, and its not true at all). I compared the audio Yaron played in his video to Rabbi Dweck's actual words and Yaron skips the part that Rabbi Dweck explicitly states Dovid and Yehonatan were NOT gay and that was the entire point of his shuir! I know Yaron did something similar with Rabbi Sacks shiur about the exodus. (I got into a debate with some of his followers on that video, they didn't seem like they were going to listen to reason).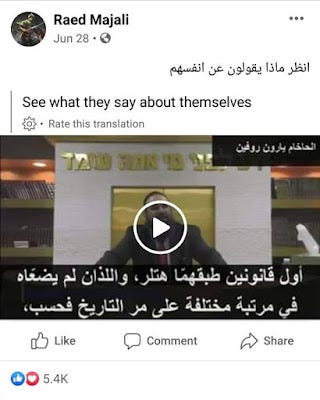 The point of my message is to explain my experience with listening to Yaron. It started with a refreshing new way of discussing Torah, which quickly became about people bashing and hatred. I can understand why people listen to him and believe everything he says. He's very charismatic and entertaining, but, as you know all too well, also very dangerous. 
I hope you find my experiences and examples worth reading. I hope you can use them to help prevent further damage. 
Note from NS: Someone produced a powerful video which compiled some of the most damning of Yaron Reuven's statements. However, Reuven has managed to get it taken down from YouTube whenever it is posted. If someone knows how to host it online, or is willing to fight YouTube regarding it being fair use, please be in touch; I can send you the video. It can also be shared on WhatsApp.