Discover more from Rationalist Judaism
Exploring the legacy of the rationalist Rishonim (medieval sages), and various other notes, by Rabbi Dr. Natan Slifkin, director of The Biblical Museum of Natural History in Beit Shemesh. The views are those of the author, not the institution.
Over 4,000 subscribers
The Gedolim's Authority is Tested
Over the last few years, we've seen the Charedi Gedolim issue a number of bans. Making of a Godol, zebu, One People Two Worlds, my books, Indian sheitels, Lipa, and probably others that I've forgotten. But the latest is particularly significant: a ban on Mishpachah and similar weekly magazines.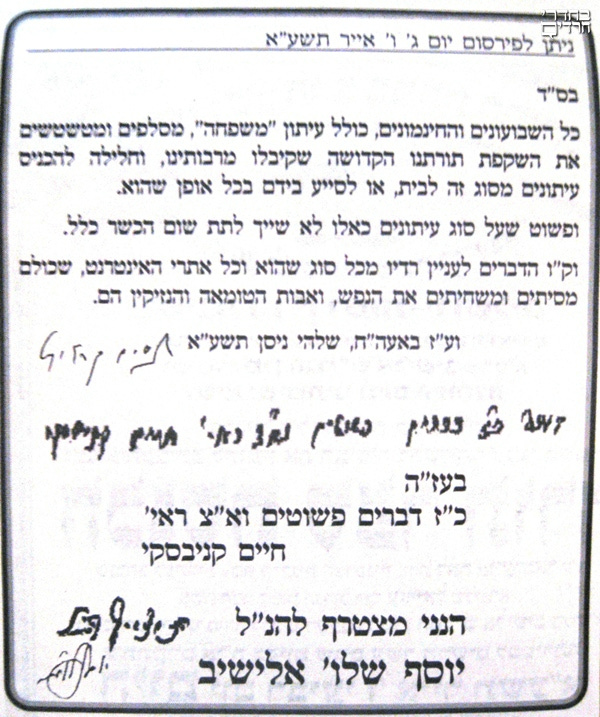 You could see this one coming a mile off. As I wrote on a previous occasion, while there's much to criticize about Mishpachah, it's certainly dramatically pushing the envelope of acceptability in Charedi circles. They feature positive articles on people who are not Charedi, as well as indicating that it's acceptable lechatchilah to work for a living. The English edition has printed all kinds of subversive articles, such as Jonathan Rosenblum's "Bans are not Chinnuch." Of course, it's always written in such a way as to be superficially loyal to the Gedolim, and Mishpachah has many fawning articles and obedient declarations about them, but it's not hard to see the underlying agenda to transform the charedi world.

Still, as usual, there are also other factors at work. According to this article at B'chadrei Charedim, the ban was orchestrated by Yated Ne'eman, who are panicking at losing readership and advertising revenue to the competition. But Yated has apparently shot themselves in the foot; they printed Rav Nissim Karelitz's signature even though he (allegedly) specifically asked them not to print it if Mishpachah was being named. So much for obedience to the Gedolim!

Nevertheless, the ban have several signatures, and the main victory for them is getting Rav Elyashiv's signature. Which leaves the charedi world in a quandary. With previous bans, everyone always folded. The only exception was me, but in my case I was anyway leaving/ being thrown out of the Charedi world. You can't stay in the Charedi world and yet overtly reject the authority of the Gedolim. Mishpachah has always officially said that we charedim follow the Gedolim. So what happens now that the Gedolim say that Mishpachah is forbidden?

I don't think that Mishpachah itself will fold. They'll weather the storm. But will people stop buying it? Probably not too many. Most people know how these things go down; that it's all about power and control. But how can Mishpachah continue to write about the Gedolim as authoritative Daas Torah, while ignoring what the Gedolim have specifically said about them? And how can the people who in other cases (such as mine) said that we have to follow the Gedolim, continue to read Mishpachah?

Many people realized a long time ago that the Emperor has no clothes. Yet they continued to act as though he did. But now, it's going to get much more difficult to pretend that everyone still believes him to be clothed.