Discover more from Rationalist Judaism
Exploring the legacy of the rationalist Rishonim (medieval sages), and various other notes, by Rabbi Dr. Natan Slifkin, director of The Biblical Museum of Natural History in Beit Shemesh. The views are those of the author, not the institution.
Over 4,000 subscribers
From Zoologist to Rationalist
Today is my Jewish birthday. It's a big one - I am now forty years old. The Mishnah in Pirkei Avos states that forty is the age of understanding. According to some, that means that I can now study kabbalah! But I don't think that I'm going to switch from being a rationalist to a mystic.

This has been a big year for me. With much help from Hashem and others, I finally fulfilled a dream that I have had since childhood, and opened an animal institution - The Biblical Museum of Natural History. I also finally published a book that I started writing when I got married fourteen years ago, The Torah Encyclopedia of the Animal Kingdom. The next work that I hope to publish is a book about rationalist Judaism. It will include my various monographs on this topic, as well as a lengthy discussion of the topic of rationalist vs. mystical Judaism in general, and an important monograph that I have yet to write, on rationalist vs. mystical approaches to Torah study. In this post, I would like to share some thoughts which I plan to include in a preface to this book.

*   *   *

It might seem odd that someone such as myself is studying and writing and teaching about rationalist Judaism. After all, I am an amateur zoologist with a lifelong passion for the animal kingdom, and my regular job is running the Biblical Museum of Natural History. What is the connection between animals and rationalist Judaism?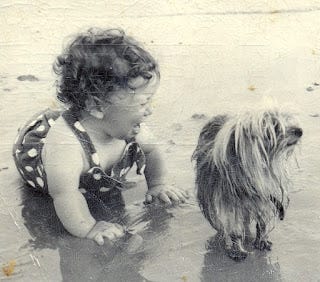 My first encounter with the animal kingdom. Not very positive.In fact, there was a direct trajectory from one to the other. The fascination that the animal kingdom holds for many people, including myself, is that it is extraordinary, and simultaneously real. It is extraordinary in its diversity of shapes and sizes and colors and forms and behaviors. Like many people, I am therefore drawn to the more unusual and exotic animals. At the same time, there is the fascination of these creatures being real. Animals are not abstract concepts – they are living and breathing creatures.

Therefore, while I was always interested in virtually all animals, there were some that were particularly interesting. Dinosaurs, for example, while no longer living, are extraordinary creatures that are still very real in that their bones can be seen and touched. And I have also long been interested in the distinction between real and imaginary creatures. Is there such a thing as Bigfoot? The Loch Ness Monster? There are some cryptozoological creatures whose existence cannot be absolutely determined one way or the other, but with others we can be sure that they do not exist.

Because of these interests, when I began exploring the intersection between Torah and the animal kingdom, I was particularly drawn to certain topics. Dinosaurs are real and exciting – how do we reconcile them with the Jewish calendar? There is overwhelming evidence that all animals are descended from a common ancestor – how do we reconcile this with the Torah? Salamanders that are generated from fire and mice that grow from dirt are captivating notions, but they certainly do not exist – how do we account for the Gemara's descriptions of them?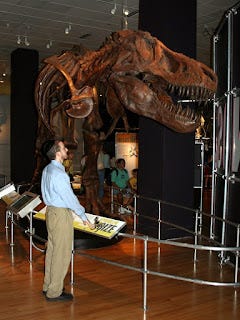 The skeleton of a Tyrannosaurus rex.
When did it live?I was naturally fascinated by these questions. And due to the scientific approach that I inherited from my father, of blessed memory (who was an outstanding scientist, as well being extremely intellectually honest), I couldn't accept that dinosaurs never existed, or that they lived just a few thousand years ago, or that spontaneous generation really does take place, or that Chazal never actually believed in it.

These questions intensely bothered me. I was also distressed by the inability of my teachers in yeshivah to deal with them. And so I was thrilled when I got to know Rav Aryeh Carmell, ztz"l, who introduced me to the approaches of Rambam, Rav Hirsch and others who provided reasonable approaches to such topics. They stated that the account of Creation need not be taken entirely literally, and that the Sages of the Talmud, notwithstanding their greatness in Torah, held the beliefs about the natural world that were common to their era. I published books to share these approaches with others, who were likewise fascinated by the subject matter and relieved to find reasonable approaches.

Then, as is well-known, my books on these topics were banned. This came as a great shock to many people, including myself. To be sure, I knew that these approaches were not exactly common in the yeshivah world. But how could they be branded as unacceptable heresy? To my mind, these approaches were (a) of impeccable credentials, (b) unobjectionable, and (c) obviously true! How could my ideological opponents, who were far greater in Torah learning and intelligence than me, believe these approaches to be inauthentic, entirely unacceptable, and absolutely false? How could they deny that there was an age of dinosaurs, and not even be interested in thinking about this question? How could they insist that there are creatures that spontaneously generate?

I embarked upon a long process of analysis, study and reflection in order to understand this. What I finally understood was that there are two fundamentally different worldviews regarding epistemology – the nature of knowledge and where it comes from. These are the rationalist and the non-rationalist approaches. They are so far apart from each other that if a person is embedded in the non-rationalist approach, no matter how learned and intelligent he is, the rationalist approach will seem to be entirely false and heretical.

And yet, as I discovered in the course of my studies, the rationalist approach has a rich heritage to it. It was most prominently presented by Rambam, but it was dominant among the Rishonim in many ways. It is fascinating and disturbing to see how an approach that was once dominant in Jewish thought has declined over time to the point that there are great Talmudic scholars of today who do not realize that it ever even existed and vehemently oppose it. Yet this approach presents an authentic and effective lifeline to the many people who have been seriously turned off by the prevailing modes of thought in the Orthodox Jewish community.

Many people care about saving animals from extinction. Let us also save rationalist Judaism from extinction.

*   *   *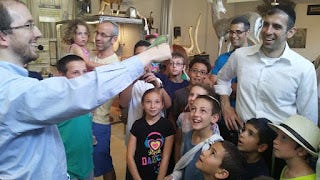 Just look at the expression on these visitors' faces
 as they encounter an amazing three-horned chameleon!Dear Friends: Perhaps you would like to make a donation to The Biblical Museum of Natural History? The museum is a wonderful institution which inspires, educates and enthralls thousands of people, from all sectors of society. It gives them a unique appreciation for Torah, the animal kingdom, and Biblical Israel. As with cultural institutions in general, and zoological establishments in particular, our costs far exceed the revenues from ticket sales, and we are mostly funded via private donations from people who appreciate the importance of our mission. The museum is supported via The Torah and Nature Foundation, which is registered in the United States as a 501(c)(3) charitable organization. Donations can be sent to the following address:

The Torah and Nature Foundation
9200 W. Sunset Blvd., Suite #700
West Hollywood, CA 90069-3603
You can also make a US tax-deductible donation online, using either a PayPal account or a credit card, by clicking on the following link:


I would like to take this opportunity to thank all of you, dear readers, for your interest and support of my work. May Hashem bless you with health, happiness, and success!