Discover more from Rationalist Judaism
Exploring the legacy of the rationalist Rishonim (medieval sages), and various other notes, by Rabbi Dr. Natan Slifkin, director of The Biblical Museum of Natural History in Beit Shemesh. The views are those of the author, not the institution.
Over 4,000 subscribers
From Bais Yaakov to MD, Conclusion
From Bais Yaakov to MD: 
A Post-Charedi Bais Yaakov Graduate Speaks Out 
Guest post by Dr. Efrat Bruck
Part Four (read part one

here,

part two

here

, and part three

here

)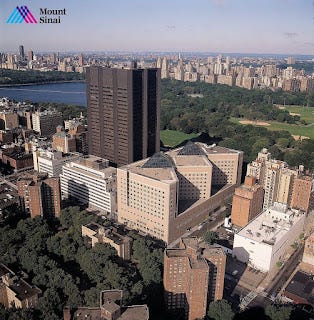 7. The Daas Torah-Hashgachah-Bashert Triad that conveniently keeps people in. 
Daas Torah, as understood by charedi society, is central to its viability and function. It means that those who have studied Torah, especially to the exclusion of other secular subjects, have if not direct ruach hakodesh, the optimal ability to answer questions both halachic and non-halachic. I'm using hashgachah loosely here to refer to the general concept of things happening with the intention of pushing our life in a particular direction and bashert as referring to large events, like the person you mar
ry, the job you land etc… If you put these three concepts together, as interpreted by charedi ideology, you end up with an extremely convenient way to keep people in the charedi fold. 
I went to a Seminary that even by charedi standards would be considered very right-wing. I was miserable and while I wasn't clinically depressed, I came very close to it. Instead of acknowledging that I was in an ill-suited environment due to circumstances that were beyond my control, and instead of focusing on how when year was over, I would be able to choose a more appropriate environment for my well-being, I found myself doing what I was taught by all my high school teachers. I decided that it was bashert for me to have gone to that seminary, and it must have been so that I can "grow". I doubled down on my learning, tznius, and emunah, pushing myself further into what was actually causing my misery.
In my early 20's I dated a young man who attended a charedi Yeshivah, but had hashkafos that were not quite "proper". He had a rationalist bent and told me scandalous things, for example, that the Chazon Ish's medical knowledge was not from his Torah-learning, but from his having read many medical textbooks in his youth. He also admitted to having watched a PG-13 movie the other day. When family members found out, they tried aggressively to push me away from this shidduch. They told me to go ask Daas Torah, which I did. The Rav's position was very clear. This young man was poisonous. "Do you know what happened in Spain in 1492?" he said to me. "All those Jews who tried to 'understand' everything rationally converted to Christianity. It was those with 'simple emunah' who chose to leave." Then he went on to tell me what I speak about in #1, that men who watch movies make terrible husbands because they have a warped view of women and "you can never satisfy them in the bedroom".
What can a 21-year old girl say to that? Our prefrontal cortex is not fully developed until we are 25, so today I give myself some grace for my decision, but of course I dropped the shidduch immediately. I was consoled by something we had learned back in Seminary. It's all bashert. Which Rav's doorstep you land on. How he understands your question. What his answer is. It was all meant to be and for my best. That was the answer we repeatedly got when we asked: "How can two people come to a Rav with the same exact question and get two different answers?"
This story repeated itself again when I was 23. Similar type of shidduch, I went to ask a Rav #2, and because the boy's hashkafos were somewhat out-of-bounds with charedi ideology, the Rav decided that the boy wouldn't be a good father - "modern boys like him don't prioritize their families" – (see #1 again) and "he won't say divrei Torah at the Shabbos table." The 3rd time this happened (I had just turned 25!) I went back to Rav #2. The Rav listened and said, "The only way this shidduch would work is if this young man doesn't follow his [non-charedi] Rosh Yeshivah and learns to be normal and fit in with the frum velt." 
It was like a bolt of lightning lit the neurons in my brain on fire all at once. It finally clicked. He, the Rav, was normal, frum, and real. Everyone outside of those boundaries was not a normal frum Jew. The egocentricity of it all stared me in the face, and I realized that this was no longer an isolated incident, but a deeply ingrained pattern. I also started to connect the Daas-Torah-hashgachah-bashert dots; you have a problem that challenges charedi boundaries, you go to Daas Torah who will make sure you stay safely in those boundaries, and then it was all bashert. I politely ended the conversation. I was done with Daas Torah making decisions for me. I married that boy a few months later.
The truth is, my doubts about Daas-Torah were sown 2 years prior when I spent a summer in Israel. I volunteered to help stay with the wife of a Gadol a few times a week, as both she and the Gadol were advancing in their age and needed 24/7 assistance. I was there during the hours that people came to ask the Gadol questions. He was hard of hearing and the entire process was very taxing for him. The gabbai would speak loudly right into his ear and sometimes, even then, he wasn't able to process what was being said. One day, a women came in, and was trying to ask if she can read "secular books" to help her son who was diagnosed with ADHD and struggling in school. The gabbai tried to explain the question, but it was obvious that the only part the Gadol was able to grasp was the "secular books". He waved his hands assertively and said, "secular books aren't good". And that was that. The woman walked out and I can recall the pained, desperate look on her face to this moment. I wanted to run after her and say, "Go ask someone else, the Rav doesn't hear well!" I was angry at the Gabbai for not taking responsibility for the situation and I'm also angry at myself for not telling the woman anything. 
It was also during that summer that I went to speak to a Gadol about my disappointment at not being allowed to learn Gemara. He told me, "This is how Hashem made the world and there's no reason to question it." My respect for his Torah scholarship, leadership, and other accomplishments were not necessarily diminished. But a special, divinely-inspired answer - that was not. 
Somehow, I had experiences that made me question the Daas-Torah-hashgachah-bashert triad. But it is an extremely effective way to keep people contained within charedi society, even when there are significant elements of the lifestyle that are bothering them. 
My story is not unique. I have heard many examples of people who were impacted by Daas Torah swaying them on major life decisions that were not tied to any halachic questions. Whether or not the current charedi version of Daas Torah was instituted intentionally or not is debatable, but it has become an integral pillar of charedi society and remains vital to its function. How else do you systematically keep people contained in a structure that relies on insularity and a set of ideas that is challenged when they poke their heads out of the bubble? There must be checkpoints to guard people's exits. What I describe here is an example of how Daas Torah personally affects people's lives on a micro level, but there are also hugely significant effects on a societal, or macro, level that warrant a dedicated discussion of their own.


About the Author:
Efrat Bruck, MD, graduated from the Icahn School of Medicine at Mount Sinai in New York City and is now an anesthesiology resident at the Mount Sinai Hospital. Before medical school, she taught Judaic studies, Hebrew, and Biology to 1000 now-alumni of Be'er Hagolah Institutes, in Brooklyn, NY. Dr. Bruck has worked as a content specialist for Khan Academy and created over 30 MCAT preparation videos on topics in molecular biology, DNA, and genetics that have also recently been translated into foreign languages.  Her videos have been published on the AAMC (American Association of Medical Colleges) website, Khan Academy, and YouTube, accruing millions of views on the latter. Dr. Bruck has published research in Nature, the Journal of the American Society of Nephrology, and Obstetrics and Gynecology.
Dr. Bruck founded and leads the JOWMA PreMed Society that aims to advance Jewish women, from all backgrounds, in medicine. Dr. Bruck is a fierce advocate for premed students from insular and underrepresented backgrounds and strives to provide them with the resources and tools necessary to compete. (www.jowma.org/pre-med). She was among two out of 200 graduating MDs, PhDs, and MD/PhDs at Sinai's recent commencement to be awarded the Patricia Levinson Award for the Advancement and Inclusion of Women in Medicine. Dr. Bruck, along with her colleagues at JOWMA, is also currently in the process of constructing a cultural competency curriculum that will help healthcare professionals in New York City hospitals provide culturally sensitive medical care to Jewish populations across the entire spectrum of Orthodoxy.   
Dr. Bruck's experiences in education, acceptance to nearly 10 US MD programs, and service on the admissions committee of the Icahn School of Medicine at Mount Sinai have led her to have a highly successful track record helping premeds navigate the medical school application process. She is the founder and CEO of MDInspire, a medical school admissions consultancy that provides professional consulting for fees that are reasonable and a fraction of the standard costs. Dr. Bruck specializes in helping people weave their stories seamlessly through their application, building stellar personal statements and activities sections, interview preparation, and coaching students on how to study smarter, not harder. For more information, please visit: www.MDInspire.com.
The views expressed in this article are those of the author alone and do not reflect the opinions or positions of JOWMA.