Discover more from Rationalist Judaism
Exploring the legacy of the rationalist Rishonim (medieval sages), and various other notes, by Rabbi Dr. Natan Slifkin, director of The Biblical Museum of Natural History in Beit Shemesh. The views are those of the author, not the institution.
Over 4,000 subscribers
Facts or Faces?
When there's a war, how do people decide whether to support one side or the other (or neither)? They can use their intellect or their emotions. Many media outlets try to appeal to people's emotions. This is very much taken advantage of by those in Gaza sworn to Israel's destruction. They know that nothing wins condemnations of Israel like pictures of dead children. It's their most powerful weapon. When people in the West see pictures of dead children, they automatically assume that the side with the dead children are the Good Guys. This is the case even if that side has launched rockets indiscriminately at civilians and is all too happy for their own children to die and earn them political points.

Accordingly, it's essential for Palestinians to get such a picture out, whether it's real or not. And since Palestinian society is not free, it's very easy for them to concoct a story. It takes a while for the truth to come out, and the political war is won before that happens.

In the second day of the Second Intafada, the killing of 12-year-old Muhammad al-Durrah brought enormous political support for the Palestinians, and Israel made the mistake of initially taking responsibility, even though subsequently it turned out that Israel probably was not responsible. And then there was the "massacre" of hundreds or even thousands of Palestinians at Jenin that never actually happened. It was simply a fabrication - but by the time the truth came out, the damage had already been done. There's a long history of blood libels against the Jewish People, and these are just the latest incarnation.

Therefore, when just a few hours ago pictures were released of the "first casualty" of the latest conflict, a five-year-old girl in Gaza called Alaa Qaddum, I think that the first response should be to point out that such claims have no credibility, in light of the fact that previous such reports were simply fabricated.
At the same time, I think that there's another response that can be made. A left-leaning friend of mine posted a picture of the alleged five-year-old victim, to stir the heart-strings about the terrible effects of military action. I responded by posting this picture: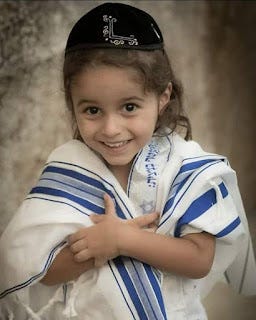 I added that this is a picture of the first Israeli child whose life was saved via this military action. The rocket that would have killed him, and the terrorist that would have fired it, were destroyed by Israel.
You can argue with facts and logic or by tugging at emotions. If people want to argue by tugging at emotions, then two can play at that game.