Discover more from Rationalist Judaism
Exploring the legacy of the rationalist Rishonim (medieval sages), and various other notes, by Rabbi Dr. Natan Slifkin, director of The Biblical Museum of Natural History in Beit Shemesh. The views are those of the author, not the institution.
Over 4,000 subscribers
Extraodinary Apologies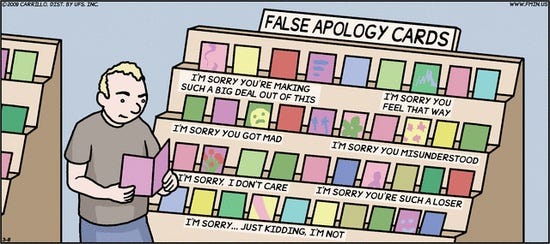 Rabbi Yosef Mizrachi and Rabbi Yaron Reuven have both issued apologies!

Well, sort of.

First, a recap of the back story: For years, Mizrachi was publicizing statements about various suffering being due to specific sins (Downs Syndrome children are being punished for their sins in a previous life, blind people are being punished for watching pornography in previous lives, people contract cancer as a result of sexual licentiousness and "dirty thoughts," etc.) As a result, sixteen rabbis, from a broad spectrum of Orthodoxy, signed a public letter (not a ban) urging shuls to think twice before having him as a guest speaker. In response, Mizrachi hurled abuse at them, calling them "evil wicked haters of G-d." Subsequently, he and Reuven came up with a "Black List" (sic) of fourteen rabbis who are reshaim and heretics, including some of the 16 rabbis who had criticized him, along with several others - among them, the former and current Chief Rabbis of Britain. Mizrachi and Reuven produced (with the Igud HaRabbonim symbol) a notorious video, "Erev Rav Inside Anglo Judaism," in which they thundered about people who deserve to be stoned to death and segued to the "Black List of 14 Heretics."

And now the story continues. Mizrachi, in a video uploaded to YouTube last week, recounts a phone conversation that he had with Rabbi Efrem Goldberg, the outstanding leader of Boca Raton Synagogue. (You can see Rabbi Goldberg's take on this conversation at this link.) Brokered by a senior rabbi from the OU, the conversation was aimed at reconciliation. Rabbi Goldberg apologized for not reaching out to Mizrachi before issuing criticism, and Mizrachi conceded that he should attack ideas, rather than attacking people, but claimed that because his audience is so unlearned and won't recognize heresy when they hear it, he had to spell out for them which rabbis are spreading heresy(!). Nevertheless, he said that he won't do it again, and things should be kept respectable. Extraordinary!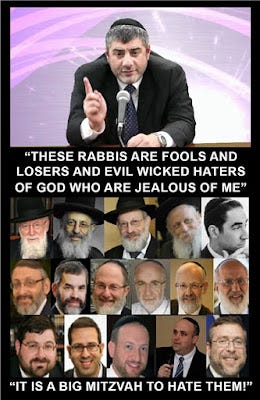 Yet there are two serious problems with this so-called "apology." First is that Mizrachi evades all responsibility. He introduces it by saying that "sometimes when two rabbis are arguing, they don't get punished; the ones who get punished are all the fools who constantly spread poison to the argument and make it worse." But it wasn't his followers (that he calls "fools") who spread the poison - it was Mizrachi himself! He was the one who referred to his critics as "evil wicked haters of G-d" whom "it is a big mitzvah to hate" and who deserve the death penalty. As my friend Rabbi Scott Kahn put it, "As if he didn't pour the gasoline and light the fire. Only the "fools" who actually take him seriously are going to be punished!"

Second, if Rabbi Mizrachi truly regrets referring to respected rabbis as "evil wicked haters of G-d" and "heretics who deserve the death penalty," then it's not just Rabbi Efrem Goldberg to whom he should be apologizing - it's all the people in the lists of 16 and 14 rabbis.

Still, for someone with such an inflated and fragile ego as Yosef Mizrachi, I think that this apology does represent progress. It remains to be seen whether there will be a significant change in his lectures. It's not very promising that just a few days ago, Mizrachi posted a video on his Facebook page, co-produced with Reuven, about "The Final War Against The Erev Rav," even though he doesn't mention any specific names.

Meanwhile, Yaron Reuven, the self-styled "Speaker of 100% Backed-Up Truth," was called out on two specific and very blatant slanderous statements. One was his false claim that Rabbi Sacks had denied the historicity of the Exodus, and the other was his false claim that I had personally been put in cherem. He responded by releasing a video about "apologies," in which he admitted that he might not have been correct!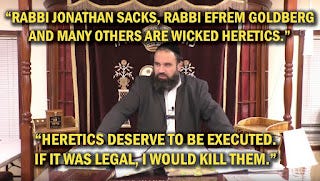 And yet his apologies were likewise severely lacking. First of all, while admitting that Rabbi Sacks did not actually deny the Exodus, he stresses that Rabbi Sacks is nevertheless a heretic for other reasons, and comes up with whole new piece of slander: that Rabbi Sacks described Chava, Adam's wife, as a prostitute! (This absurd slander results from his misunderstanding a statement by Rabbi Sacks about the Mitochondrial Eve of 200,000 years ago; what Rabbi Sacks actually said was that this Eve was not the Chava of the Torah, because, to paraphrase a medieval play, the wench is long dead!)

His "apology" to me was also deeply problematic. Although he describes what he did as an apology, he didn't actually apologize. What he does is admit that it might not actually be true that I was put in cherem. But this is accompanied by a lengthy insistence that his accusation is unlikely to be false, because if Rav Elyashiv had indeed said that I'm not in cherem, then there would be evidence of that. Not much of an apology! And of course it goes without saying that his argument is absurd. First of all, he can simply contact Rav Aharon Feldman, who heard the details explicitly from Rav Elyashiv. Second, his claim that a "denial from Rav Elyashiv that I am in cherem would be accompanied by a detailed halachic pronouncement" is upside-down - rather, it is putting someone in cherem that would be accompanied by a detailed halachic pronouncement! Reuven can't produce one, and never saw one - because it doesn't exist.

And here's the greatest irony. Earlier in this video, Reuven stresses the seriousness of the punishment for heresy - nidduy/cherem - so that people will take his condemnations of various rabbis more seriously. He says that it's so serious, that if you say that someone is in nidduy, and it's not actually true, then you yourself have to go into nidduy! Well then, Rabbi Reuven, you have hereby declared yourself to require being put in nidduy!

But it gets even wilder. The title that Reuven picked for this video in which he is forced to retract his slander against Rabbi Sacks and myself? "Apologies to Resha'im"!

These two rabbis attract thousands of followers. They indoctrinate them with sickening theodicy and hatefulness to others, and incitement to violence. If they do not change their ways, they should be condemned and shunned.


If you'd like to subscribe to this blog via email, use the form on the right of the page, or send me an email and I will add you.