Discover more from Rationalist Judaism
Exploring the legacy of the rationalist Rishonim (medieval sages), and various other notes, by Rabbi Dr. Natan Slifkin, director of The Biblical Museum of Natural History in Beit Shemesh. The views are those of the author, not the institution.
Over 4,000 subscribers
Exotic Biblical Dinner!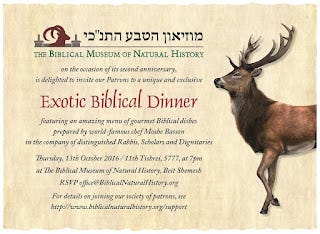 A special announcement from The Biblical Museum of Natural History!

On the occasion of our second anniversary, we are delighted to invite our Patrons to a unique and exclusive Exotic Biblical Dinner, featuring an amazing menu of gourmet Biblical dishes, in the company of distinguished rabbis, scholars and dignitaries!

The dinner is being prepared by the famous chef Moshe Basson, known as "Israel's Biblical chef." The menu will feature wild animals, birds and other dishes that are mentioned in the Bible, with presentations by museum director Rabbi Dr. Natan Slifkin, Rabbi Dr. Ari Zivotofsky, and other scholars and dignitaries. The dinner will take place in the museum's main hall (which will be modified for the occasion), providing a truly unique setting for this extraordinary experience!

There is an extremely limited number of spaces available for this elaborate and exclusive event. Invitations are limited to patrons of the museum. To find out more about joining the museum family as a patron, and supporting our education programs, click here.

The dinner will take place on Thursday, 13th October 2016 / 11th Tishrei, 5777, at 7pm. For more details, write to office@BiblicalNaturalHistory.org.