Discover more from Rationalist Judaism
Exploring the legacy of the rationalist Rishonim (medieval sages), and various other notes, by Rabbi Dr. Natan Slifkin, director of The Biblical Museum of Natural History in Beit Shemesh. The views are those of the author, not the institution.
Over 4,000 subscribers
Everyone is Exotic
I have to say, I am very grateful to Hashem for my job. Being the Zoo Rabbi means that I am able to teach in the most incredible settings. Yesterday, my group came to Zambia. We visited Victoria Falls, also known as "The Smoke That Thunders," which was breathtaking. Somehow, a few of us got separated from the rest of the group. Eventually I noticed them on the other side of the ravine, at the extreme right edge of the falls (which are about a mile wide). Look for them in the following picture, somewhere over the the rainbow: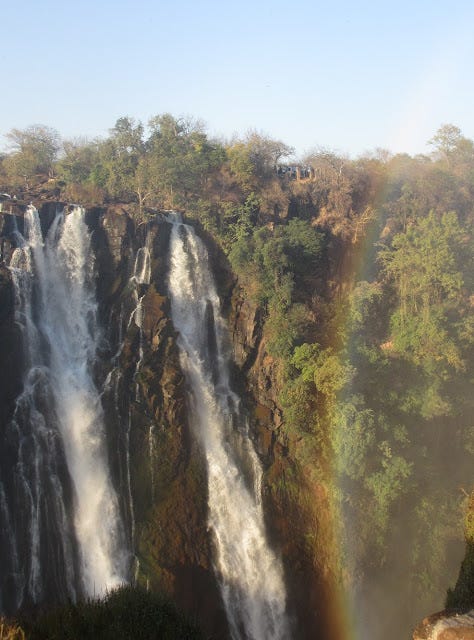 We spent the night at the magnificent Royal Livingstone Hotel, which is right next to the falls. It's a colonial-style hotel, which means that many of the staff wear British shorts and those funny round hats. There are also staff wearing traditional Zambian dress, which consists of berets and gaudy red dresses - for the men!

The hotel is situated on the banks of the Zambezi river. Electrified wire and sharp rocks had been placed between the hotel and the river, to prevent hippopotami from wandering into the hotel grounds and killing people. There was, however, a near-infinite amount of monkeys in the hotel, although they didn't appear to have started work on their Shakespeare scripts. Here's a photo that I took of one of them, which appears to be an albino: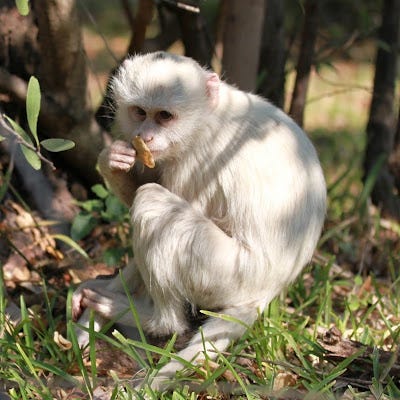 This morning, I woke up before dawn. Hoping to spot some wildlife, I decided to go for a walk. Upon opening the door to my room, I got quite a shock: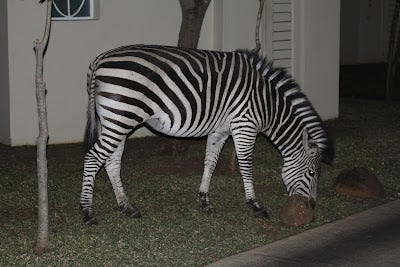 Yup, there was a zebra right outside my room. It didn't seem as surprised to see me as I was to see it.

But the most fascinating experience occurred at shacharis. We made our minyan in our private kosher dining room. The hotel staff, who were setting up breakfast, were absolutely fascinated by our tallesim and tefillin. One of them brought a camera and started shooting pictures of us!

If you're a Zambian man wearing a gaudy red dress, living in the jungle surrounded by monkeys and zebras, then it's Orthodox Jews who look exotic. It was a good lesson in how "normal" is a relative term!