Discover more from Rationalist Judaism
Exploring the legacy of the rationalist Rishonim (medieval sages), and various other notes, by Rabbi Dr. Natan Slifkin, director of The Biblical Museum of Natural History in Beit Shemesh. The views are those of the author, not the institution.
Over 4,000 subscribers
Does Shechitah Prove Torah MiSinai?
There have been many attempts to prove the Divine Origins of Torah using "scientific" arguments. As a young yeshiva student I automatically believed them, until an outreach organization asked me to research and defend the validity of one of them (the "Four Animals Proof.") Much to my horror, I discovered that it wasn't actually valid. The turmoil that this put me through convinced me that is is very foolish and dangerous to try to prove the truth of Torah with arguments that do not withstand scrutiny.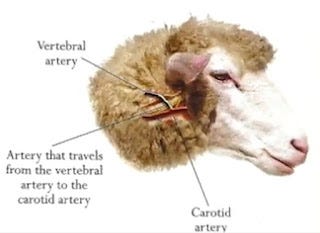 Several people sent me a beautifully-produced video which presents a new such argument. It goes like this: The physiology of all kosher animals is uniquely different from that of non-kosher animals. In kosher animals, both the carotid and vertebral arteries run at the front of the neck, and are thus slit along with the trachea and esophagus during shechitah. This ensures that the animals immediately lose blood flow to the brain and die a swift and painless death. What human could have known about this, thousands of years ago? It's proof of the Divine Origins of Torah.
Unfortunately, this argument is seriously flawed, on at least three counts.
First is that the argument doesn't even make any sense. Kosher animals are all, by definition, split-hooved ruminants. These common characteristics reflect the fact that they are all on the same branch of the mammalian family tree. Accordingly, they also happen to share other characteristics. For instance, while there is a halachic debate about whether shofars can be made from non-kosher animals, in practice you don't need to be worried about your shofar coming from a non-kosher animal. The reason for this is that kosher animals are the only ones that have hollow horns! This is not something amazing - it just reflects the fact that animals on the same branch of the (evolutionary) tree share the same characteristics. The Gemara points out other characteristics that these animals all happen to share, regarding their dental and muscular structure. And so if these animals all have the carotid and vertebral arteries in the same position, this would likewise simply be another consequence of their being in the same family, which happens to have a fortuitous benefit.

The second problem with this argument is that the laws of shechitah are not about cutting the carotid and vertebral arteries; they are about cutting the trachea and esophagus. If you can cut the latter without the former, the shechitah is perfectly valid. In fact, this argument sets up a dangerous false premise, that shechitah is painless. At a time when shechitah is under threat in many countries, we must not defend it with false claims. Shechitah is not utterly painless. However, it is minimally painful (when done properly), which is justifiable to maintain an important Jewish law.
The third problem with this argument is that it's not actually true! Kosher animals do not all have their carotid and vertebral arteries running through the front of their neck. The video shows a diagram of how this looks with sheep and goats, and contrasts them with pigs. But sheep and goats are not the only kosher animals! With cattle, this is not the case. To quote from a veterinary handbook dealing with methods of euthanasia:
In sheep and goats, the throat cut may be used as the primary method of euthanasia if a captive bolt or firearm is unavailable. This is severing the carotid arteries with a throat cut completely interrupting the supply of arterial blood to the brain. Pre-injection with xylazine is recommended if available. The throat cut should not be used as a primary method of killing cattle. In cattle, bleeding is a follow-up procedure, only to be used on unconscious animals after a firearm, captive bolt or blunt trauma have been used. This is because cattle have two different sources of arterial blood supply to the brain: the carotid arteries and the vertebral arteries. The vertebral arteries are enclosed in the spinal canal at the anterior neck and are not severed when the throat is cut. 

You can also read a more technical description at this link. And as Temple Grandin points out, this difference between cattle and sheep unfortunately means that cattle, especially calves, can remain conscious for several minutes after shechitah. (I wish to stress again that this is not a reason to oppose shechitah. Such suffering in death is negligibly minimal compared to the suffering in life that modern farmed animals undergo.) According to the video's explicitly stated premise, that it would be forbidden to do shechita if there is still blood flow to the brain, this would mean that it is forbidden to shecht cattle!

Now, it's not particularly difficult to find out that cattle and sheep are different in this regard. It's all available via a Google search. It's very frustrating when people make claims that they haven't even bothered to research. It's negligent and irresponsible.
Whoever made the video probably believes that they are performing a great service for Jewish faith. Alas, they are not. As Rambam (Moreh Nevuchim 2:16) says: "when the fallacy of proofs is demonstrated, faith in the proposition itself is weakened." Be careful what you claim!
(On a completely different note: If you are traveling from NY or NJ to Israel, or even better, if you are making a lift, and can bring some amazing model Noah's Arks for a new exhibit at the Biblical Museum of Natural History, please be in touch!)

(If you'd like to subscribe to this blog via email, use the form on the right of the page, or send me an email and I will add you.)