Dirt vs. Rocks
Sometimes, sociological insights come when you're not expecting them.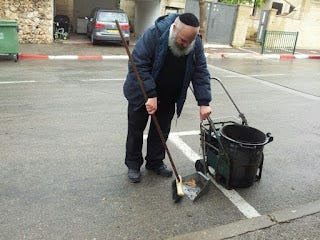 With the vastly larger new premises of the Biblical Museum of Natural History, it's become necessary to find a serious solution to cleaning the floors. Obviously it's a very low paid and not especially prestigious job, but it has to be done. The administration team brought in various companies and people to try out the role. One day I walked through the exhibit halls to notice a pair of charedi men cleaning the floors. When they realized that I am the museum director, one of them eagerly stopped me to engage in intricate discussion on the identities of the Shemonah Sheratzim!
It was a great and stimulating discussion, but I left it saddened. This guy presumably had a wife and children to support. And he was brilliant. He had an amazingly sharp mind and a thirst for knowledge. Yet all he could do to make a parnasah was to clean floors!
We then had another applicant submit his resume for the same position. He'd attended a proper high school in chutz l'aretz. But then he'd spent fourteen years in yeshivah and kollel, and now could seek no more advanced career than cleaning floors. I am pretty sure that when he was first brainwashed into not attending college and devoting himself to learning, he did not see his life ending up that way.
I was commenting on these cases to a rabbinic mentor of mine and he told me to look on the bright side. It could be worse! At least these men were finally looking for an honest job, even if a lowly and very poorly-paid one. Better that, than just staying in the kollel framework and going knocking on doors to collect charity.
A disturbing article that I just saw in the news demonstrated that there are other, even worse alternatives. Among those engaged in violent, racist anti-Arab protests last week were numerous young charedi men who have dropped out of the regular yeshiva framework. While I was not surprised at the phenomenon, I was very surprised by the numbers. The article stated that according to a study conducted by the Knesset Research and Information Center, there are more dropouts from ultra-Orthodox educational institutions than other schools; in 2018, the drop out rate among Haredi students was 4.6%, compared to 1.4% among the general public. But it noted that "experts say the real numbers are much higher and estimate that at least 20% of Haredi students do not complete their religious education." The article continued:
The coronavirus pandemic has also played a role in the increased disenfranchisement of Haredi youth.
Lockdowns and health mitigation directives forced the closure of yeshivas, sending students onto the streets - where drugs, alcohol and other deviant anti-social behavior were prevalent.
The youths, who found themselves cast adrift from the strict environment to which they are accustomed, often suffered from depression. Many of them came from poverty-stricken homes, often from families who transitioned to ultra-Orthodox lives but remained on the sidelines of Haredi society.
Having left their education, they struggled to be productive members of society and instead became an added burden for their parents. The Haredi educational institutions could not (and perhaps would not) provide a solution to this phenomenon, and without an alternative, the young dropouts found solace in far-right organizations and joined in their violent activities.
All this should remind us that the stereotypical images of charedim, those who remain in learning forever, are not the only types of charedim who exist. And nor do all those who leave that path end up in high-tech. Some of them can do nothing other than clean floors. And others don't even make it that far.

If you'd like to subscribe to this blog via email, use the form on the right of the page, or send me an email and I will add you.