Discover more from Rationalist Judaism
Exploring the legacy of the rationalist Rishonim (medieval sages), and various other notes, by Rabbi Dr. Natan Slifkin, director of The Biblical Museum of Natural History in Beit Shemesh. The views are those of the author, not the institution.
Over 4,000 subscribers
Crazy Coincidence
This is wild!
In our exhibit of artistic model Noah's Arks, we have a section with arks by an artist who re-imagines the ark as different types of modern vehicles - an ocean liner, an airplane, a hot-air balloon, and so on. Two days ago I wrote to the artist with a suggestion of another vehicle that he should create: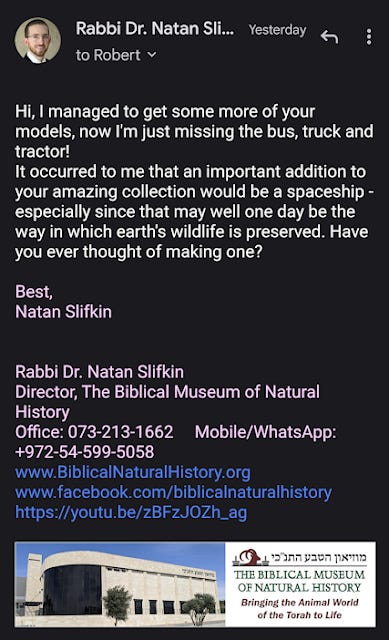 Then, yesterday, none other than Elon Musk posted the following: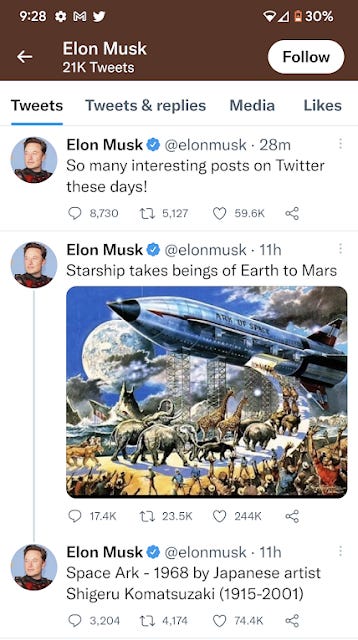 What a crazy coincidence!

Meanwhile, can anyone help with the following:
- Bringing a suitcase of model Noah's Arks from TEANECK
- Putting a nine-foot hammerhead shark in a lift from TEANECK
- Putting some seven-foot metal bars on a lift from anywhere in the US
- Bringing a suitcase of aquatic equipment from LONDON
If so, please email me. Will pay any fees involved!