Discover more from Rationalist Judaism
Exploring the legacy of the rationalist Rishonim (medieval sages), and various other notes, by Rabbi Dr. Natan Slifkin, director of The Biblical Museum of Natural History in Beit Shemesh. The views are those of the author, not the institution.
Over 4,000 subscribers
Counter-Terrorism for Dummies (TM)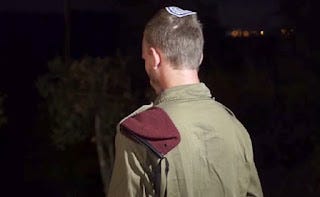 This will, I very much hope, be the last of my posts relating to my nephew's shooting of the terrorist in Neve Tzuf. If you don't want to read any more about this topic, feel free to skip to the end of the post to see a photo of an amazing animal that I met this week.

On Facebook, I posted a link to my previous post, Armchair Commandos, with the request that people should "please read this post to see why people who are criticizing my nephew for not killing the terrorist have no idea what they are talking about and are causing unwarranted distress." Incredibly, some people responded by criticizing my nephew without reading the post!

In that post, I deliberately did not explain the reasons why my nephew did not kill the terrorist. For I wanted to stress that the more fundamental point is that if you haven't trained as a soldier, don't know the Rules of Engagement or the reasons for them, AND haven't been in such a situation, then you are simply not in a position to judge what he did.

Some people said that it was wrong for me to try to shut down discussion and "argue from authority." After all, they said, everyone's entitled to their opinion. And wasn't I being a hypocrite - after all, when the Gedolim banned my books, I didn't accept the argument from authority!

The answer to that is that there's actually no problem of logic or reason with arguing from authority. The only question is, who is considered an authority! I would argue that the charedi Gedolim are not authorities in resolving conflicts between Torah and science. (Obviously, others disagree, but I have presented ample arguments as to why they are mistaken.)

When it comes to counter-terrorism, however, the IDF and my nephew are clearly greater authorities than some random Joe Shmo with a computer. This was made very clear by the silly comments made by people with absolutely no knowledge of these things. In order to explain why they are wrong, I will have to explain some of the reasons for the IDF's rules of engagement and my nephew's actions. But I am sick of arguing this with people, and it is extremely hurtful to my family (who read my posts and the comments). Aside from dealing with the trauma of the attack itself and the loss of their neighbors, my sister and her family have had to deal with the press hounding them and the most horrific comments made about my nephew being a coward(!!!) and suchlike. So if people want to post critical comments on the arguments that I will now present, do it on your own blog or Facebook page, not here!

So here are some sample criticisms and my response (I am not a soldier either, but at least I have read about the rules of engagement and spoken to my family):

"He should have shot to kill!"
Response: That is only in the movies, not in real life. In real life, except for certain very specific types of situations (e.g. with a sniper), there is shoot to hit or shoot to miss. The human head is a relatively small target compared to the body. To maximize their chances of hitting the terrorist, soldiers are trained to shoot for the largest target, which is their torso. (It's pretty amazing that my nephew managed to hit him - after suddenly running out of his house, scaling a wall and firing through the very small kitchen window!) Shooting them in the torso may or may not result in their death. So this is the perfectly logical reason why he did not "shoot to kill." Now, someone without military training would not necessarily know this. But what they should know is that they don't have military training and therefore should not criticize!
Even if it was possible to "shoot to kill," there are very good reasons why the IDF would not train its soldiers to do that. One reason is that there have been cases of mistaken identity - of terrorist attacks in which well-meaning defenders accidentally killed the wrong person. It's much better to have a practice of simply stopping the terror attack, and then evaluating what should be done. (There are also other reasons why "shoot to kill," even if possible, would not be a wise policy.)

"He should have shot him dead afterwards!"
Response: Really? At what point exactly should he have done this? My nephew shot the terrorist, the terrorist dropped, and then my nephew ran into the house. At that point, when every second counts, he did exactly the right thing - he checked to see if there were other terrorists (for which he would need every bullet!), and he tried to stop his neighbors from bleeding to death. When exactly should he have killed him?

When help came for the victims, should he have gone to the side and quietly put a bullet in his head? Aside from the fact that the consequences for my nephew would have been disastrous, why don't you demand that of everyone else who showed up? There is a government and there are courts and terrorists get put on trial. If you want the courts to apply the death penalty, then petition the government. Don't demand whoever happens to be around the terrorist - be it the soldier, the medic, or the prison warden - to act outside of the legal system.

Again, I understand that people are frustrated that this murderer is alive and might walk free one day. Believe me, my family is every bit as upset about that as you are - and probably a lot more so. But don't vent your frustration in misplaced criticism. And if you haven't been trained and experienced in combat situations, then you are not in a position to judge those who are.

Shabbat Shalom from Australia. Here is a photo of an amazing animal that I met this week: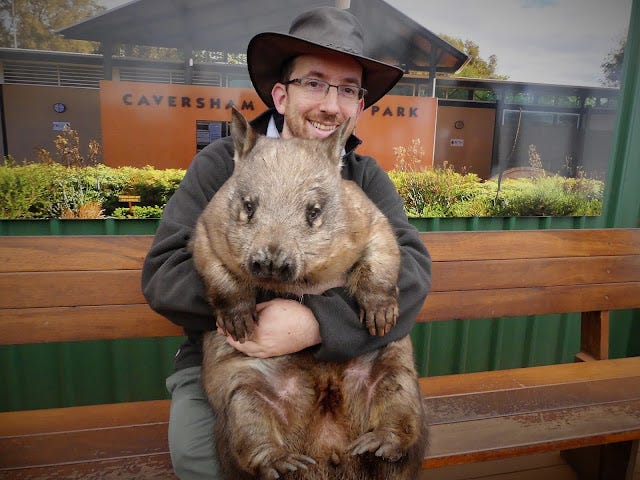 And here is a reminder about the Exotic Halachic Feast at The Biblical Museum of Natural History - which has a very limited number of seats available!