Discover more from Rationalist Judaism
Exploring the legacy of the rationalist Rishonim (medieval sages), and various other notes, by Rabbi Dr. Natan Slifkin, director of The Biblical Museum of Natural History in Beit Shemesh. The views are those of the author, not the institution.
Over 4,000 subscribers
Corbyn is no Peace Broker
Once again, people are missing the main problem with Jeremy Corbyn.

This past week saw a furor erupt over the photo of Corbyn apparently laying a wreath near the graves of the Munich terrorists in Tunis. It played out as an argument regarding whether or not he was aware that those were in fact the graves of the Munich terrorists. There's been lots of arguing about where exactly he was standing, and what he was told about those he was honoring.

But all this should not distract us from the bigger and much more black-and-white problem with his Tunis visit and how he portrays it. Corbyn, a winner of the Seán MacBride Peace Prize, claims to be all about bringing peace to the world. With regard to the Tunis event, he says that he was there in order to "search for peace in the Middle East." He stated "I was there because I wanted to see a fitting memorial to everyone who has died in every terrorist incident everywhere because we have to end it. You cannot pursue peace by a cycle of violence; the only way you can pursue peace [is] by a cycle of dialogue."

But this is a blatant falsehood. A lie. Jeremy Corbyn is a liar.

Jeremy Corbyn does not "want to see a fitting memorial to everyone who has died in every terrorist incident everywhere." He has no interest in seeing memorials to Jews who die in terrorist incidents; heck, he won't even visit Yad Vashem. He has never laid wreaths at the graves of Israelis killed in stabbings or bombings. He has never spoken out in sympathy for Israelis living under the terror of rocket attacks.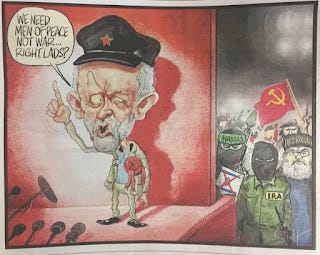 More fundamentally, Corbyn is not some kind of international peace broker, a British version of John Kerry, trying to get all sides to engage in dialogue rather than warfare. Rather, he straight-out supports one side: the Palestinian side, including its most militant components. He hates Israel even more than he hates America; he never has anything good to say about Israel and only mentions it to condemn it. He doesn't make any attempt to speak with Israelis and understand their perspective. And when he speaks with Palestinians, it is to offer support rather than to encourage them to forgo violence. He doesn't speak out against Hamas' tactics of targeting civilians while hiding their own combatants behind civilians. Instead, he actually encourages them to continue this practice, by condemning Israel rather than Hamas when the inevitable civilian casualties occur.

It's bad enough that Corbyn prefers regimes built upon fear and terror to free countries. But at the very least, he should not get away with pretending otherwise, and portraying himself as a man seeking to bring peace to the world.