Discover more from Rationalist Judaism
Exploring the legacy of the rationalist Rishonim (medieval sages), and various other notes, by Rabbi Dr. Natan Slifkin, director of The Biblical Museum of Natural History in Beit Shemesh. The views are those of the author, not the institution.
Over 4,000 subscribers
Compliments and Insults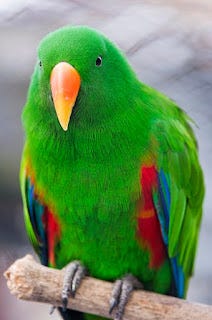 And now for something lighter.

At the Biblical Museum of Natural History, as part of the "Wonders of Creation" exhibit, we have a stunningly beautiful eclectus parrot called Hertzl. His role is to present an opportunity for visitors to pronounce the bracha that the Talmud prescribes on beautiful creatures, Baruch shekacha lo b'olamo, "Blessed is the One Who has such things in His world." This is a berachah that can be pronounced on either beautiful people or beautiful creatures, and the Poskim suggest that a parrot qualifies. Hertzl also talks very well, in both English and Hebrew.

The other weekend, I brought Hertzl home for Shabbos. On Sunday morning, I came downstairs to the kitchen, where Hertzl was in his mobile cage. He looked at me intently, and said, with great deliberation, "Baruch shekacha lo b'olamo."

*  *  *

I was duly elated by Hertzl's compliment, but my ego was suitably deflated later in the day. Someone posted an insult about me online: "Slifkin is an ugly retarded apikores."

And my immediate thought was, "Ugly???"