Chicken Wars II: The Empire Strikes Back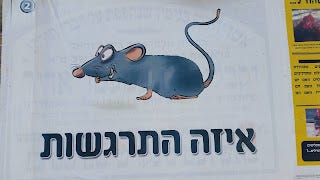 The ongoing chicken wars are astonishing in their intensity. The pashkevillim are plastered everywhere. This morning I saw one screaming that Jews everywhere are eating [the equivalent of] rats!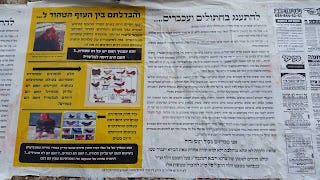 To briefly sum up the situation: Twenty years ago, Rav Shmuel Wosner expressed concern that the chickens being eaten by Jews everywhere were not the same as the traditionally eaten variety, but rather had been hybridized with birds of unknown heritage and thus potentially non-kosher. Following this, a certain group of people secretly raised huge numbers of a chicken called a Braekel, which they recently announced as being The One True Pure Chicken with no skeletons in the closet. It has received the endorsement of Rav Nissim Karelitz's Beis Din. This was accompanied with the claim that all the other chickens in the market are not properly kosher should no longer be eaten.

The anti-Braekel team, on the other hand, which includes Rav Landa of Bnei Brak, claims just the opposite. They say that the existing chickens on the market are perfectly fine, whereas the Braekel has come out of nowhere, with no clear mesorah, and certain problematic aspects, and it may not be eaten. Thus, each group is claiming that their chickens are the only kosher chickens.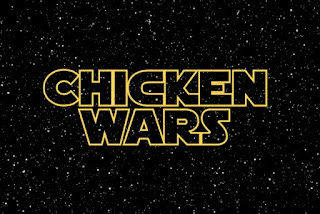 But what is the underlying source of this dispute? If you're skeptically inclined, it's hard to ignore the massive amounts of money at stake here. The Braekel Alliance is trying to bring down the entire poultry empire, including Empire. And the poultry empire is responding in kind, striking back with the claim that not only is the Braekel not the only kosher chicken - it isn't a kosher chicken at all. With so much money involved, it's hard not to have a bad feeling about this.

Still, there are definitely some halachic arguments being voiced. But they do not reflect a proper understanding of this topic. I was speaking this week with some major experts in kashrus who had some very harsh words to say about both sides, and their lack of understanding of chickens. I would like to explain why there are some fundamental mistakes being made.

Before doing so, a preface: I do acknowledge that halachic reality does not always concord with scientific reality. Rav Herzog and others were of the view that one may kill lice on Shabbos even though Chazal permitted this based upon the mistaken belief that they spontaneously generate. We define hilchos bishul in scientifically inaccurate terms of kli rishon and kli sheni rather than in terms of temperature and specific heat capacity. The halachos of mar'os for a niddah are determined by poskim and mesorah rather than chemical testing.

Nevertheless, it seems to me that none of that is relevant here. The prevalence of poskim prohibiting different breeds of chickens is due to a combination of a non-rationalist outlook with a lack of knowledge of ornithology in general and Biblical ornithology in particular. I find their arguments to be vague and unconvincing. There are two particular types of mistakes being made.

1. Chazal's Zoological Rules

(A) Chazal were familiar with the creatures in their part of the world, but not with species from other locales or from later times in history. Hence, rules such as "any animal without upper teeth is kosher, any animal with upper teeth is not kosher," and "any fish with scales has fins," and "any bird which spreads its toes in a two-two formation is not kosher," and "kosher eggs are pointed at one end and rounded at the other, non-kosher eggs are symmetrical," were merely based on examining the species in their time and place. (See Rambam, Commentary to the Mishnah, Niddah 6:9, Kapach translation)

(B) Many poskim do not appear to have realized/appreciated/agreed with this point. They believed that Chazal's statements were based upon Divine inspiration, or a tradition from Noach, and that they hold absolutely true for every species in the world.

(C) Thus, while many poskim say that a chicken that spreads its toes in a two-two formation is not kosher, because the Gemara says that "any bird which spreads its toes in a two-two formation is not kosher," this is based on a non-rationalist perspective. The Gemara never meant to disqualify a breed of chicken. It was talking about owls, which spread their toes in such a manner.

2. The Variability of Species and Minim

(A) Animals and birds of the same species can look very, very different. A chihuahua and a great Dane are both the same species. Often, tremendous variety can be produced in a few generations of selective breeding. Genetic mutations can easily trigger even features such as extra digits.

(B) The zoological definition of "species" is much, much narrower than the Torah definition of "min." There are only 24 minim of treif birds, but many, many more species of treif birds—over 400 species of raptors and owls alone! 

(C) It is possible to prove that birds are of the same or very similar species (which would be the same min – as above), even if they look very different, via hybridization, genetic studies, and other such techniques.

(D) In general, it seems that halachic authorities did and do not appreciate the aforementioned three points.

Putting all the above together, and reading the various responsa literature in light of it, it seems that many halachic authorities prohibited certain breeds of chicken because that they attributed too much significance to superficial differences, and not enough to more fundamental matters such as hybridization, genetic similarity, the history of the variety, and so on. Many people agree with me on this analysis. Unfortunately, they will not publicly say so; they are reticent to argue with famous rabbis, in case others find their lack of faith disturbing. I guess they are too... chicken.