Chicken Shtick
Question: Why did the chicken cross the road?
Answer: To ask the posek if he needs a mesorah.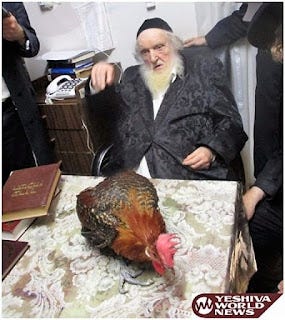 Many news outlets this week were reporting on the story of the Braekel chicken, an old breed from Belgium which has not historically been used for food. Some of the greatest charedi rabbinic authorities met this week and spent four hours discussing whether it is kosher. Rav Moshe Sternbuch said no, while Rav Nissim Karelitz said yes.

There are many people with great expertise in kashrus. And my friends Rabbi Dr. Ari Zivotofsky, Rabbi Chaim Loike and Moshe Rosenbaum are tremendous experts in the halachic history of unusual species of birds. However, it seems to me that nobody has yet studied the overall picture of Torah taxonomy, and how that impacts the evaluation of the kashrus status of different creatures.

I can't get into a full discussion here, but here are some brief points (and you can find extensive discussion in The Torah Encyclopedia of the Animal Kingdom). The Torah lists two dozen birds that are not kosher. Since we can't identify them with certainty, we only eat a bird if there is a mesorah that it is kosher. But how do you decide if a seemingly new bird is actually a new type, that is not covered within the existing mesorah?

There is no formal definition of min, the Torah term for "type." However, if we survey Torah classification in general, two things become clear. One is that min is generally a much broader classification than species. Another is that the more charedi you are, the broader the definition of min ought to be.

Allow me to explain. The Torah lists ten types of kosher land animals. There is a dispute in the Gemara as to whether this represents the sum total of kosher land animals. The generally accepted conclusion is that it does indeed represent the sum total. However, the modern science of zoology counts 172 species that are definitely kosher: thirty-eight species of deer, four species of musk deer, the giraffe and okapi, the pronghorn, twenty-four species of wild cattle, seventeen species of duiker, twenty-three species of grazing antelope, thirty-two species of gazelle and dwarf antelope, four species of chevrotain, and twenty-seven species of goat antelope. Can these all be included in the ten types mentioned in the Torah?

Most of these species, such as the deer, gazelles, antelope and cattle, can certainly be included in the Torah's list without difficulty, simply by saying that min includes different species in the same genus. But some are very different and are thus more difficult to include in these categories. Some identify the giraffe as one of the ten animals in the Torah's list, but then what about the okapi? Furthermore, it would seem difficult to classify the enormous, strange-looking moose, the tiny, tusked musk deer, and the even smaller chevrotain, as varieties of the types in the Torah's list.

Now, I personally am comfortable with saying that the Torah's list is either not exhaustive, or that the "world" of the Torah is limited to a very small region. However, it can be safely assumed that most charedim would reject those approaches (and indeed, some of the opposition to my book The Camel, The Hare And The Hyrax was due to my advancing such views). Thus, in order to encompass all 172 species within the Torah's ten types, they must be taking a very broad definition of min indeed. Similar arguments can be advanced for how they would include all camelids and lamoids, and all species of pig, amongst the four animals listed in the Torah as possessing one kosher sign. With birds, there is further evidence that the Torah in general, and the charedi approach in particular, would have a very broad definition of min; I plan to discuss this in a future post about the kashrus of kiwis.

Thus, when it comes to rating the kashrus of a variety of chicken, with which even according to zoology's narrow definition, they are all the same species, and they can all interbreed, and they are all descended from Indian jungle fowl - kal v'chomer ben beno shel kal v'chomer that they are all the same min!

So why do some people say otherwise? Partly because they have not undertaken a broader analysis of the topic, as discussed above. But there are also other reasons why people make a fuss about these things. It will distract the discussion if I mention them now, so I will leave them for a future post. Meanwhile, if you will be in Israel in October, and you are interested in kashrus, come join our Feast Of Exotic Curiosities!