Discover more from Rationalist Judaism
Exploring the legacy of the rationalist Rishonim (medieval sages), and various other notes, by Rabbi Dr. Natan Slifkin, director of The Biblical Museum of Natural History in Beit Shemesh. The views are those of the author, not the institution.
Over 4,000 subscribers
Can You Remain Silent About Spiritual Cancer?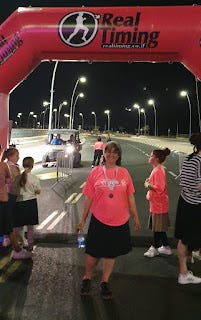 Beit Shemesh was on fire yesterdary. In all meanings of the term.
There's a lot of people in this wonderful city who love running - men, women, secular, charedi, dati-leumi. The city organizes an annual race/ marathon which many people join. But some charedi women felt uncomfortable running in such a mixed event, and so, after consulting their rabbonim, they asked the city to make a separate, women-only event. Mayor Aliza Bloch and Deputy Mayor Rena Hollander (pictured here) were glad to comply, and so a religious women-only race was arranged to take place today, on a remote road with no adjoining houses that would be closed to traffic.
Although this was an event requested by charedi women to accommodate their sensitivities, the zealots of the city responded angrily. A pashkevil (flyer) was circulated, condemning the event as pritzus and offensive to charedim. And Rav Elimelech Kornfeld, rabbi of a large Anglo-charedi community (the Gra shul) here in Ramat Beit Shemesh, sent out the following email to the Ramat Beit Shemesh email list: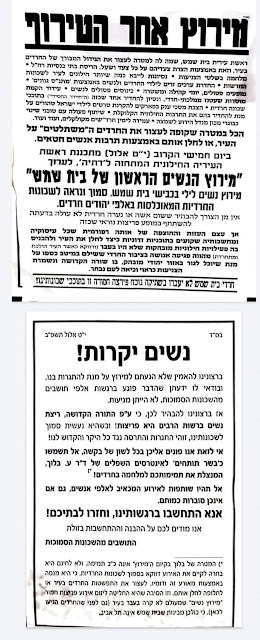 "Dear friends,

"We have made Israel our home, because we are proud of our Jewish values. Many of us have given up a lot of what we had in Chutz Laaretz so that we can live in an environment that is conducive to these values.

"While the above is vivid and true, we are still faced with numerous spiritual "made in Israel" challenges. Some of them are more blatant, others are subtle. Subtle issues are actually the ones we need to be more aware of their danger. They have a tendency to sneak without notice, plant their hidden roots and then develop from a small malignant cell, into a significant, life-threatening growth.

"Sometimes, allowing a "small" decline in the level of the majestic and refined manner of conduct in terms of the values of modesty and privacy of our women may seem to be minor, but this is truly comparable to the "subtle" changes of the founders of the Reform movement 200 years ago. If it wouldn't be for great people like the Vilna Gaon and the Noda B'yehuda, who recognized the dangerous nature of these changes there would be little left of our glorified Yiddishkeit.

"To this end, we cannot remain silent when our city "boasts" a public women's merutz (marathon) that is aimed also for religious women. Unfortunately, this kind of event is not fitting for our women of valor, running openly in public is in sharp contrast to standards of proper conduct of a royal Bas Yisroel.

"While it is certainly important to take care of one's physical needs, to make a public exposition of it is completely inappropriate. We are just a few days away from Rosh Hashana and are all looking forward to a new year that is full of Hashem's great Chesed Vrachamim. May our Chizzuk in our appreciation of our status as Hashem's beloved nation, bring us a year of good health, bracha and nachas from all our children.

"Byedidus,

"Elimelech Kornfeld and Rabbanai Hakehillos RBS"

Now, I'm also against running marathons, though only for myself. Are women's marathons immodest? Some furiously dismiss this view as being objectively ridiculous. But in my view, they are mistaken. There is no such thing as an objective definition of modesty. Everything is culturally conditioned. Just look at how standards of modesty in the non-Jewish world have changed over the last century! And in the Jewish world, it's no different. There are communities in which wearing a sheitel is considered modest, and there are communities where wearing a sheitel is considered immodest. We have no right to claim that our own standards of modesty are any more correct than anyone else's.

I would also say, contrary to the opinion expressed by many, that Rav Kornfeld is perfectly entitled - even obligated - to tell the women of his community what he expects them to do. They have accepted him as a particular type of rabbinic leader, and this is part of the package. This is no different from the opinion that he publicly expressed a few years ago, that people are not free to choose who to vote for, but must instead vote for whoever "Daas Torah" tells them to vote for. If you accept him as your authority, then this is what you have to do. (And if this sounds odd, wait until you hear his views about how voting must be done even though it doesn't inherently have any effect whatsoever).

But all this cuts both ways.
It's rather odd to make blanket statements about such things being immodest when there are plenty of religious and even charedi rabbonim who are perfectly fine with it. 
Furthermore, to describe the women's race with the metaphor of a "cancerous growth" goes beyond rhetorical flourish to being deeply offensive. 
And to say that it is "truly comparable" to the start of Reform is absurd.
In addition, while writing a letter to one's own community is one thing, the phraseology of this letter was making a statement both to and about the community at large - and the shul sent it to the general Ramat Beit Shemesh email list.

But perhaps the most bothersome part of Rav Kornfeld's letter is his statement about how he "cannot remain silent" in the face of such an event.
There are a number of things that Rav Kornfeld has been unable to be silent about, aside from women running. He signed a public letter against Mishpacha magazine being distributed. He opposed restaurants having seating areas. He fought against an attempt to have a charedi political party that would represent charedim who work.
But do you know what he has been able to be silent about? Religious extremism.
As is well known, Beit Shemesh has long been a focal points of religious extremism that has reached actual physical violence. Now, Rav Kornfeld himself is against such things (I have known him and his family for many years). and none of the Anglos in his community would ever be involved in it. However, he has never spoken out against it. Community activists who tried to get him to sign condemnations against religious violence have never been successful. Why is it that Rav Kornfeld is only unable to keep silent about the city not being as charedi as he would like, but he is able to keep silent about violence?
Meanwhile, religious zealots tried to sabotage the women's race. They scattered thousands of marbles on the road, to create a safety hazard. They shone laser pointers in the eyes of runners. They set fire to nearby fields.

Now, the zealots who did this are not followers of Rav Kornfeld, and nor would they care what he has to say. But, as I wrote in a post titled "Denying Extremism, Dismissing Hooliganism," there is a continuous spectrum ranging from rhetoric to verbal abuse to actual physical violence. Furthermore, while the people at each level do not agree with the level of hostility coming from people to their right, there is near-constant refusal to condemn it. And when people who are horrified by the violence nonetheless produce inflamed rhetoric about those who deviate from their religious ideals, this creates an atmosphere that allows the violence and contributes to it.
I wonder if Rav Kornfeld will be able to remain silent in the face of such zealous violence - a slippery slope which, unlike women running, actually historically led to the destruction of Jerusalem. Or is violence, unlike women running, not a cancerous growth?
If you'd like to subscribe to this blog via email, use the form on the right of the page, or send me an email and I will add you.