Discover more from Rationalist Judaism
Exploring the legacy of the rationalist Rishonim (medieval sages), and various other notes, by Rabbi Dr. Natan Slifkin, director of The Biblical Museum of Natural History in Beit Shemesh. The views are those of the author, not the institution.
Over 4,000 subscribers
Can You Do Mitzvos To Benefit Others?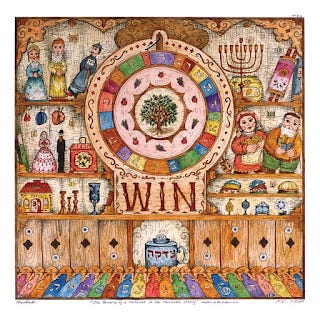 Can you do mitzvos in such a way that the merit for them will benefit other people? Can you designate them to receive the reward for your mitzvah in their mitzvah bank account, such that they receive more Divine favor?

A friend of mine recently forwarded to me a request on behalf of someone who is tragically unwell. The community was requested to pray for his recovery, which is certainly a time-honored Jewish response. But there was also a request to do mitzvos on his behalf, as a merit for God to heal him. My friend wanted to know if there was any classical Jewish basis for this.

In my essay "What Can One Do For Someone Who Has Passed Away?" I noted that classically, one's mitzvos are only a credit to those people who had a formative influence on you. One's mitzvos cannot help the souls of other people. Rashba cites a responsum from Rav Sherira Gaon on this:

"A person cannot merit someone else with reward; his elevation and greatness and pleasure from the radiance of the Divine Presence is only in accordance with his deeds." (Rashba, Responsa, Vol. 7 #539)
Maharam Alashkar cites Rav Hai Gaon who firmly rejects the notion that one can transfer the reward of a mitzvah to another person and explains why this is impossible:

"These concepts are nonsense and one should not rely upon them. How can one entertain the notion that the reward of good deeds performed by one person should go to another person? Surely the verse states, 'The righteousness of a righteous person is on him,' (Ezek. 18:20) and likewise it states, 'And the wickedness of a wicked person is upon him.' Just as nobody can be punished on account of somebody else's sin, so too nobody can merit the reward of someone else. How could one think that the reward for mitzvos is something that a person can carry around with him, such that he can transfer it to another person?" (Maharam Alashkar, Responsa #101) 
The same view is found explicitly and implicitly in other sources, as I noted in my essay. There is simply no mechanism to transfer the reward for one's own mitzvos to other people. It seems that only very recent mystical-based sources claim otherwise.

Now, I don't see any reason why there should be any difference if the person that one is trying to help is deceased or alive. Nor do I know of any source in classical rabbinic literature that one can do a mitzvah as a merit to help someone that is sick. Prayer, yes. And Tehillim are also a form of prayer (though it may depend upon which Tehillim are being recited). But I know of no classical source that one can honor one's parents or learn Torah or send away a mother bird as a merit for somebody else.

(The most common example of people attempting to do this may be the custom of women to separate challah on behalf of a sick person. Here too, though, it appears that the classical basis of this is not that the mitzvah of separating challah is crediting the sick person, but rather that the person separating the challah thereby has a special time of power/inspiration, which makes their prayer more powerful.)

If I'm wrong in any of the above, I'll be glad to see sources showing otherwise. But so far, I have found that while people are shocked when one challenges the notion that you can learn Torah on behalf of someone who is sick, nobody has yet actually come up with any classical sources demonstrating otherwise. Furthermore, if this indeed was a part of classical Judaism, we would certainly expect it to have prominent mention in the writings of Chazal and the Rishonim. We appear to have another situation of something widespread that is believed to be an integral and classical part of Judaism, and yet is actually a modern innovation that has no basis in classical Judaism whatsoever.