Discover more from Rationalist Judaism
Exploring the legacy of the rationalist Rishonim (medieval sages), and various other notes, by Rabbi Dr. Natan Slifkin, director of The Biblical Museum of Natural History in Beit Shemesh. The views are those of the author, not the institution.
Over 4,000 subscribers
Baby Steps with Burqa Babes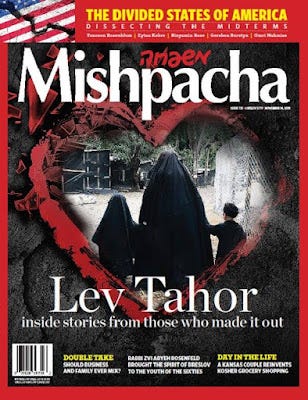 This week's Mishpacha magazine has a photo of burqa babes for its article about the dangerous Lev Tahor cult. Abe Paneth pithily points out the following:

The irony. Mishpacha magazine is using this image to illustrate how extreme Lev Tahor is. This is how a woman has to look like to be allowed in Lev Tahor's village. But this is also how a woman has to look like to be allowed onto Mishpacha's cover! 
Indeed!

However, let's be grateful for baby steps. In a 2015 Mishpacha article about burqas, they did not show any pictures of these women, instead showing numerous pictures of a doll draped in a burqa!

At the time, somebody sent me a letter that they wrote to Mishpacha regarding this:

Dear Editor, Thank you for reporting about women who misguidedly wear burka-type garments to cover over their form. They mistakenly believe that they can only be seen by others if they are totally covered. However it is interesting that Mishpocha Magazine goes further and feels that even fully covered they cannot be seen and hence no pictures of them in the article about them. Sincerely, Noson Yanofsky

As I wrote in my original blog post, in a society in which it is forbidden to show pictures of women, it is hardly surprising that women start to wear burqas. And if it's forbidden to show pictures of women even if they wear burquas, then the natural end result is that women will eventually see it as an ideal (and then an imposed standard) not to leave the house at all.

So, let's be grateful for baby steps. Yeshivish society has progressed from giving the impression that women cannot be seen under any circumstances, to giving the impression that they can only be seen if they are wearing burqas. Progress you can't deny!