Discover more from Rationalist Judaism
Exploring the legacy of the rationalist Rishonim (medieval sages), and various other notes, by Rabbi Dr. Natan Slifkin, director of The Biblical Museum of Natural History in Beit Shemesh. The views are those of the author, not the institution.
Over 4,000 subscribers
Attention Brooklynites and Five Towners!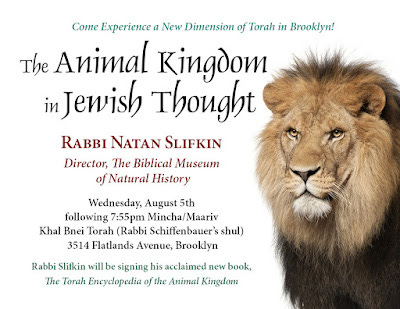 Tonight (Wednesday) I am speaking at Rabbi Schiffenbauer's shul in Marine Park, Brooklyn, on the topic of the animal kingdom in Jewish thought. I will have my new encyclopedia available for purchase.

Over Shabbos, I am speaking at Young Israel of Lawrence/Cedarhurst - I will be posting the exact schedule here soon. On Sunday morning I am doing a book signing there from 9am-10am.

There might also be a private get-together on Sunday evening for serious supporters of my work. If you are interested in attending, please write to me at zoorabbi@zootorah.com.