Discover more from Rationalist Judaism
Exploring the legacy of the rationalist Rishonim (medieval sages), and various other notes, by Rabbi Dr. Natan Slifkin, director of The Biblical Museum of Natural History in Beit Shemesh. The views are those of the author, not the institution.
Over 4,000 subscribers
Art By God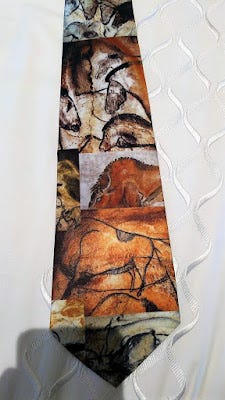 There's a terrific store in Miami which sells all kinds of beautiful artifacts from the natural world - minerals, weird bugs, taxidermy mounts, and so on. The store has a fabulous name: Art By God. What a great name! There's art that is created by human beings, but the natural world can be seen as art created by the Creator.

I was thinking of this name when contemplating a unique tie that my wife bought me, pictured here. Can you figure out what it's a collage of? (You might have to click on the picture to enlarge it.) I was very proud of my oldest children, who guessed it; fortunately, they attend a school that is not shy to teach such things.

My youngest, age five, was sitting on my lap this past Shabbos as we were singing Menucha v'simcha, and he pointed at one of the animals on my tie and asked me what it was. Incredibly (and this is enough to give a rationalist the shivers), at that precise second, we were singing the words v'chayas re'emim, which is exactly what the animal was. For the re'em, as readers of The Torah Encyclopedia of the Animal Kingdom will know, is the aurochs.


Skeleton of an aurochsAurochsen are the only animals in Tanach which are now extinct. They only became extinct about four hundred years ago, but the ones drawn in this picture on my tie are from long before that. Because this tie is a collage of pictures from the Lascaux Cave paintings in France, which are estimated to have been drawn around twenty thousand years ago.

A tie of paleolithic cave art! Now here's where it gets really interesting. According to some religious believers, the explanation for the world appearing to be millions of years old is that when God created it 5778 years ago, He created it fully formed, with the appearance of looking old. This approach, known as prochronic theory, has been advanced by people such as the Lubavitcher Rebbe, one of the commentators to the previous post, and in most detail by the the Christian preacher Phillip Henry Gosse in the 19th century. Thus, dinosaur fossils, for example, are not the remnants of creatures that once ruled the earth, but rather were created as fossils by God, for reasons unknown.

In my book The Challenge of Creation, I present a range of objections to this view. For example, was Adam created with memories of his non-existent childhood? Surely not. So would he have had scars from childhood injuries that never happened? Likewise, surely not. So then surely he would not have had a navel, from an umbilical cord that was never removed. And surely trees would not have had rings, from cycles of seasons that never happened. And surely the land would not have layers of sediment, accumulated from processes that never took place.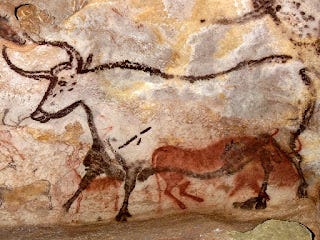 Thinking further about this approach reveals even more ramifications that are stretch credulity. If all the evidence of the world being more than 5778 years old is just how God made the world look, then it includes not only dinosaur fossils, but also artifacts of civilization from that period. Which means that the paintings of aurochsen and other animals in the Lascaux Caves were not painted by paleolithic cavemen, but were intead painted by God. Art by God!

So what do advocates of the prochronic approach think about such problems? I'll tell you the truth: they've never thought about them. One thing I will say in favor of Christian Young Earth Creationists is this: they have thought out their approach in detail. They might have crazy unscientific notions, but they've taken the time to think about exactly what they are proposing and to flesh it out. Contemporary Jewish advocates of non-scientific approaches have done no such thing. That's how Rabbi Moshe Meiselman can write an 800-page book on Torah and science which purports to be the definitive work on the topic, and yet he does not address the most basic of questions about when the dinosaurs lived.

As I've said before on several occasions, if people want to have such silly ideas or lack of ideas, it really doesn't bother me. And I don't think that it's going to greatly harm their lives. The only problem is when they attempt to delegitimize other people who do accept the scientific enterprise. And who are reasonable enough not to posit that the paintings on my tie, or the fossils on my bookshelf at home (not in the museum, Heaven forbid!), were created by God.


Remember that you can subscribe to this blog via email using the form on the right of this page. (Don't forget to look for the confirmation email in your inbox - it might go to the spam folder.)