Discover more from Rationalist Judaism
Exploring the legacy of the rationalist Rishonim (medieval sages), and various other notes, by Rabbi Dr. Natan Slifkin, director of The Biblical Museum of Natural History in Beit Shemesh. The views are those of the author, not the institution.
Over 4,000 subscribers
Armchair Commandos
(Apologies in advance if this post is too angry. I just arrived in Australia and I haven't slept much in the last two days.)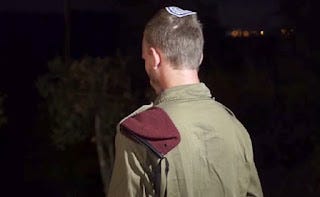 My nephew. A very sweet and sensitive young man.In the aftermath of the terrible slaughter of the Salomon family in Neve Tsuf, there have been all the expected reactions. But one reaction, from a surprisingly large number of people, is catching my family by surprise, and is extremely upsetting.

There are a lot of people criticizing my nephew for only stopping the terrorist and not killing him. I'm not talking about people innocently seeking to understand what happened; I am talking about people passing judgment on my nephew, and saying what he should have done instead.

It's hard to find the words to explain how foolish this is. In order to voice any such opinion, you'd have to (A) know what it means to be a soldier, (B) know the IDF rules of engagement, (C) understand the reasons for the rules of engagement (there are at least three good reasons not to kill wounded terrorists, and even more in this case), (D) know what it's like to suddenly run from your Shabbos table to find your neighbors being killed, and (E) know the precise details of what happened in Neve Tsuf, including the layout of the house and how the shot was taken. I'm pretty sure that all these people criticizing my nephew fail on most if not all of these.

People voicing these criticisms are not only being foolish; they are also causing a lot of distress to my family. Now, when I first spoke to my sister, right after Shabbos went out, and I told her how sorry I was for her, she replied, "It's not about me, it's about them." Of course, she was being her typically selfless self; the truth is that while nobody's suffering can compare to that of the Salomon family, my sister and her family are also suffering immensely. How people can add to that by criticizing the heroic actions of my nephew is beyond me.

The problem is that people do not realize that they do not understand that which they think they understand. And it's so easy to lecture other people as to what they should have done, when you're merely sitting at your computer, with no real knowledge of such situations. It's the same with people criticizing the government for not enacting wide-scale actions against the Palestinians as retribution. It's easy to say such things when you don't actually have to consider the potential consequences of such actions.

I understand that people feel tremendous grief and rage. But if you're giving voice to that, please try to express it appropriately. And if you don't understand why someone acted as they did - whether a soldier, a prime minister, or anyone - then try to find out and understand why they did what they did, before passing judgement. (This is an important lesson for lessening disputes in general. People are not usually "crazy." If someone does something that you see as deeply wrong or absurd, try to understand why they did it. There's usually a reason.)

And if you really want to help Neve Tsuf, please donate to help them install a more advanced security system, at this link.