Discover more from Rationalist Judaism
Exploring the legacy of the rationalist Rishonim (medieval sages), and various other notes, by Rabbi Dr. Natan Slifkin, director of The Biblical Museum of Natural History in Beit Shemesh. The views are those of the author, not the institution.
Over 4,000 subscribers
AntiVaxxers and Stormers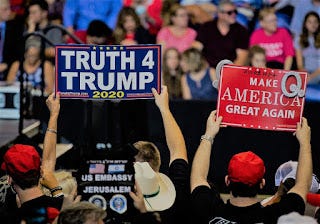 Several years BC (Before Covid), when the vaccine being debated was the measles vaccine, many accused antivaxxers of being murderers. I strongly felt that these condemnations were misplaced. Such condemnations should be used for those who want to kill or harm people. The antivaxxers don't want to do any such thing. From their (tragically mistaken) perspective, they believe that it is vaccines which harm or kill people, and they are desperately trying to save people from them. It's not their regard for human life that needs correcting; rather, they are making a cognitive error in falling for a conspiracy theory.
The same is true with those who support the storming of the Capitol (which, according to surveys, is a distressingly high number of people). Many are condemning them as being anti-democracy. Now, there are most certainly those who fall into that category, those who were simply seeking to use violence to subvert democracy and obtain their desired ends. There are horrifying videos of Stormers chanting "Hang Mike Pence," of attacking journalists.

But for many others it's not like that. They fervently believe in democratic elections; and they equally fervently believe that such free and fair elections did not take place! I think that if Trump were to now somehow circumvent the electoral process to steal the electoral victory from Biden - say, by staging a full coup - many Democrats would be in favor of storming the Capitol in order to rescue democracy from totalitarianism. That's how many of those who stormed the Capitol look at it!

So those Stormers don't necessarily need instruction in civics; their problem is not in opposing democracy. Rather, theirs is a cognitive error, just as with the antivaxxers. And it's the exact same cognitive error - falling for conspiracy theories. 
(Since there are many people reading this who are convinced that the election was indeed stolen, let me cite Trump's own campaigner and appointee, White House Director of Communication Alyssa Farah:

Dear MAGA- I am one of you. Before I worked for @realDonaldTrump, I worked for @MarkMeadows & @Jim_Jordan & the @freedomcaucus. I marched in the 2010 Tea Party rallies. I campaigned w/ Trump & voted for him. But I need you to hear me: the Election was NOT stolen. We lost.
There were cases of fraud that should be investigated. But the legitimate margins of victory for Biden are far too wide to change the outcome. You need to know that. I'm proud of many policy accomplishments the Trump Admin had. But we must accept these results.
If you believe that Alyssa Farah and Christopher Krebs and all the Republican officials who say that Trump lost are all part of some grand conspiracy to give victory to the Democrats, then all I can say is that I think that you are making a grave, grave mistake, and we have nothing further to discuss.)

Unsurprisingly, the overlap between antivaxxers and Stormers is very high. But, as my good friend Rabbi Scott Kahn pointed out to me, while there is a cognitive error here rather than a desire to harm people or harm democracy, it's not just a cognitive error.
Let's start with Trump himself, because he is extremely easy to psychoanalyze. It's not a matter of whether Trump really believes that the evidence is in favor of his having won the election. Trump, notwithstanding everything good that he has done for Israel, has a fragile ego and extraordinary narcissism. For such a person, it is extremely difficult to ever admit to having a flaw, or to having done something wrong, or even having made a mistake. Losing an election, which he would equate with being a "loser," is utterly impossible to admit to. So it must be that he really won, and it was stolen from him. He's not even making any assessment of the evidence. (That's why it's pointless to engage in endless re-checking of the results. There is no point at which he would ever say, "Okay, I guess I lost.")
His dedicated followers who support storming the Capitol might not share the same narcissism in their own personalities, but many of them are similarly incapable of accepting that their worldview - which includes Trump winning - could be wrong. One protester held a banner saying "Biden Will Never Be My President!" - making it pretty clear that she wouldn't accept this no matter how many times the votes were checked. It would be so terrible and unjust and wrong for Trump to lose, that it's pretty much impossible. It's much easier to believe that there was a widespread, coordinated conspiracy.

When you become so utterly convinced in the justice of your worldview that you refuse to countenance being mistaken - even if you are making an absolutely extraordinary, earth-shattering claim which is disputed by all experts and by people who share the same ideals and values as you, even when the consequences of your worldview are enormously severe to the extent of destroying vaccines or storming the Capitol - this becomes more than just a cognitive error. It's a personality flaw that needs addressing. 
(If you'd like to subscribe to this blog via email, use the form on the right of the page, or send me an email and I will add you.)