Discover more from Rationalist Judaism
Exploring the legacy of the rationalist Rishonim (medieval sages), and various other notes, by Rabbi Dr. Natan Slifkin, director of The Biblical Museum of Natural History in Beit Shemesh. The views are those of the author, not the institution.
Over 4,000 subscribers
Anne Samson – "Ema"

(Thanks to all those who wrote in with messages of support, as well as to those who wanted to but refrained out of sensitivity to my email overload. I was not able to reply to each message, nor to process comments for the previous post, but everything was read and appreciated.) 

Following is the text of the eulogy that I delivered in Israel. Shiva details appear in the previous post.

For those who don't know her background, Anne Samson was born Anne Katz in a Displaced Person's camp in Austria. As a small child, she moved to Los Angeles. Fifty years ago, when s
he was sixteen years of age, she and Lee Samson met in Bnei Akiva and became high school sweethearts. They were married three years later. After spending some time volunteering on a kibbutz, they settled back in Los Angeles. They became pillars of the community, involved in a wide range of projects and institutions in Israel as well as Los Angeles.

When I joined the Samson family, thirteen years ago, I was very nervous about meeting my mother-in-law to be. You hear a lot of jokes about mothers-in-law being dominating, interfering, and difficult. But I never got to understand what those jokes are about. Anne Samson – or Ema, as I called her – was never anything other than kind, loving, supportive and helpful. In thirteen years, the only time she was ever forceful with me was when I was once suffering from severe stomach pains. I had refused to go to a doctor, due to my having forgotten to take out travel insurance, and being convinced that it was nothing serious. Ema made an appointment for me with a specialist without my knowledge, and then talked me into going, whereupon the doctor rushed me to hospital to remove my ruptured appendix.

My wife, Tali, asked me to stress how Ema was the most selfless, generous, giving, helpful, kind person – there simply aren't adequate words to praise her. She never said "no." She was always smiling and full of warmth. Although she was blessed with a luxurious lifestyle, she was completely down-to-earth, with genuine modesty and no airs and graces.

Ema epitomized the mitzvah of hachnassas orchim. She constantly hosted large groups, for which she would cook up a storm. Her Shabbos meals would be like Yom Tov feasts, and her Yom Tov meals like banquets. Hashem granted her one last chance to fulfill the mitzvah of hachnassas orchim on the day of the tragic accident. A friend of Tali and Aliza was having a stressful visit to LA to help her elderly mother emigrate. Tali had invited her to come over and relax with her in her parents' pool. On Thursday, when she was available to come, Tali was not in the house. Nonetheless, Ema told her that she should come anyway. Not only did she welcome this stranger to her home, but according to our friend, Ema was the most gracious and friendly hostess, and this woman felt an instant warmth and connection. Tali's last conversation with her mother was when she called her that day. After a short while she said "I'm sorry Tali, I have to go, I was just with my guest and I don't want to keep her waiting." This was who she was: a warm, caring, happy and giving person, who opened her home and her heart whenever she was given the opportunity.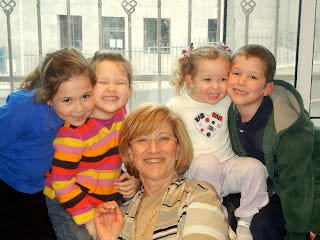 In Ema's final days in this world, she went out with her husband to a restaurant for a romantic dinner, she sat on the beach with my children and helped them build sandcastles, and she visited the new camp Moshava Malibu. This perfectly encapsulates the three major elements of her life – her loving relationship with her husband, her devotion to her family, and her involvement with the community and Eretz Yisrael.

Ema, we are going to miss you so much. We will especially miss your phone calls and Skype conversations, celebrating chagim and family events, spending summers together. We will miss your smile and contagious laughter, and we will miss seeing your happiness when you talk and play with your grandchildren. We love you and we will always remember you.