Discover more from Rationalist Judaism
Exploring the legacy of the rationalist Rishonim (medieval sages), and various other notes, by Rabbi Dr. Natan Slifkin, director of The Biblical Museum of Natural History in Beit Shemesh. The views are those of the author, not the institution.
Over 4,000 subscribers
"Ani Maamin" - Intriguing Insights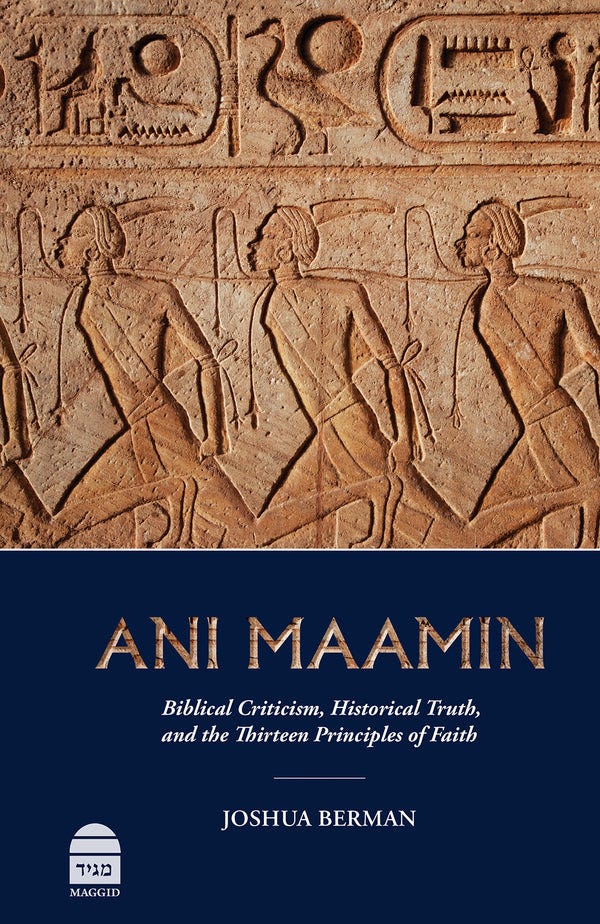 Readers of this forum will all be interested in a book that came out last year, Ani Maamin: Biblical Criticism, Historical Truth and the Thirteen Principles of Faith, by Rabbi Dr. Joshua Berman. It is groundbreaking in being the first English Orthodox Jewish book to deal with such issues. And while it falls short in some areas, it contains many tremendously important insights, in both academic scholarship and theology.
Originally I had planned to write a comprehensive review of the book, but I can't seem the find the time and focus. Instead, I will be referencing sections of the book in several posts. And as a preview to my conclusions, I will say this: Many people will feel that the book's rejoinders to various challenges from academic Bible scholarship are not sufficiently convincing. However, the book simultaneously provides various theological insights which, when considered carefully, often render the academic challenges rather moot. I will elaborate further in the relevant posts.
For now, here is a fascinating observation from the introduction of the book:
...Over years of discussing these issues I have discovered that looking at the same sources and the same evidence, Orthodox Jews in America speaking English and Israeli Orthodox Jews speaking Hebrew carry on different sorts of conversations about these issues...  there is much in common between the attitudes and theological proclivities of Centrist Orthodox authorities in the United States and Religious Zionist thinkers and leaders in Israel. Religious Zionism, however, never termed itself "Centrist" Orthodoxy. Indeed, within Israeli socio-religious landscape it occupies no "center" in the way Centrist Orthodoxy does in North America. Religious Zionist thinkers and leaders have no need to consider ideological threats from movements just to the right or just to the left. In Israel, there is practically no competition for adherents that equals the challenges facing Centrist Orthodoxy in North America. The result is that on a range of hot-button issues, Religious Zionist leaders and thinkers often entertain ideas and positions that would be non-starters in the English-speaking world.

There are many other insights in this book which are not only as fascinating as this, but are great importance. I urge everyone to get a copy!
(If you'd like to subscribe to this blog via email, use the form on the right of the page, or send me an email and I will add you.)