Discover more from Rationalist Judaism
Exploring the legacy of the rationalist Rishonim (medieval sages), and various other notes, by Rabbi Dr. Natan Slifkin, director of The Biblical Museum of Natural History in Beit Shemesh. The views are those of the author, not the institution.
Over 4,000 subscribers
An Inspirational Event?
There were several Siyumei HaShas in the last few weeks. Some of them created a lot of inspiration and received a lot of publicity. Others received somewhat less publicity, but are more deservedly a source of inspiration.

All the Siyumei HaShas are an incredibly testimony to the Jewish People's passion for Torah. It's simply incredible when many thousands of people get together to celebrate those who day in, day out make the time to study a difficult page of Gemara.

My father, of blessed memory, did not grow up in a religious home and did not have the benefit of a yeshivah education. While he became religious at a young age and always learned Torah in various settings, it was only when he moved to Israel and decided to plunge into Daf Yomi that his studies really took off. Every single day, for nearly twenty years, he walked a half-mile, no matter what the weather, to his Daf Yomi shiur. And there are countless thousands of people like him! Truly incredible.


But the Siyumim, as events, were also taken as being inspirational in another way. They are presented as examples of incredible achdus, unity. The tagline of the Agudas Yisrael Siyumim in the US and London was "One Nation, One Siyum." And they are also presented as a kiddush Hashem with regard to the decorum and good manners of everyone presented. There was a letter widely circulated from the operations manager of Wembley Arena, which hosted the London siyum, stating as such.

Alas, the truth is not so simple.

It's not that the letter from Wembley Arena is a fake, as some people thought. As far as I can ascertain, while Agudas Yisrael apologized to Wembley Arena for disseminating it, it was simply an unauthorized letter.

There's a different problem.

Yes, there was incredible decorum and good manners and unity at the London Siyum HaShas. But do you know why?

It's because the Chief Rabbi of Great Britain wasn't invited!


That's right. Chief Rabbi Ephraim Mirvis, was disinvited from the largest Torah event in Britain. Had he come, some other rabbis would have made trouble, and so Agudas Yisrael decided to disinvite the Chief Rabbi rather than stand up to the other rabbis.

Why? What was the Chief Rabbi's terrible crime?

In September 2018, Rabbi Mirvis backed LGBT sex education at Jewish schools in the UK. He published guidelines stating that despite prohibitions against the act of homosexuality, the Torah still demands "sensitivity to the feelings of everyone, including LGBT+ people" and there should be a zero-tolerance approach to either homophobic or transphobic bullying or disregard for the wellbeing of LGBTs as well. He also stated "Young LGBT+ people in the Jewish community often express feelings of deep isolation, loneliness and a sense that they can never be themselves. Many are living with the fear that if they share their struggles with anyone they will be expelled, ridiculed and even rejected by family and friends. They may even be struggling with a loss of emunah (faith, trust in God) and the fear of losing their place of acceptance and belonging in the Jewish community." So because he tries to help young people who are caught in a terrible situation, he is persona non grata in certain circles.

Now, at this point it might still be possible to judge his opponents favorably. Perhaps one could argue that they maintain such a strict and sacred approach to kedushas hamishpacha that they do not want to invite a high-profile person who is famously associated with dealing with non-Torah behavior in this regard.

But that defense falls flat on its face when you find out who was invited to sit at the dais and was featured with a photo in the official souvenir publication.

Rabbi Chaim Halpern.

For those who don't know, Rabbi Chaim Halpern was infamously arrested in 2013 on charges of exploiting around thirty women who were coming to him for "counseling" sessions. Ultimately the police did not find sufficient evidence to prosecute and the charges were dropped. But five senior rabbanim in London, including Dayan Chanoch Ehrentreu, conducted a personal investigation and wrote that "We are confident of our conclusion that the Rav concerned is not fit and proper to act in any rabbinic capacity. This unequivocal decision was taken after painstaking and extensive investigations, including interviews with alleged victims." (Incidentally, Dayan Ehrentreu, who is one of my personal heroes, pulled out of attending the London Siyum HaShas after discovering that the Chief Rabbi had been disinvited.)

You can put Rabbi Chaim Halpern on the dais and in the brochure, but not Chief Rabbi Mirvis?!

So, I don't think that the Agudas Yisrael Siyum HaShas in London is a great kiddush Hashem. And I know a similar, albeit somewhat less serious, story with the Siyum organized by Agudas Yisrael at the MetLife Stadium in New Jersey, but the victimized party personally asked me not to write about it.

However, this doesn't mean that one shouldn't draw inspiration from the Siyum HaShas. It's just that one should be contemplating a different siyum, one not organized by Agudas Yisrael.

During "Siyum Season" there were three Siyumim held in Jerusalem at Binyanei HaUmah. One, ran by my former mentor Rav Mordechai Kornfeld of Kollel Iyun HaDaf, was synchronized with the MetLife siyum. But there were also two other Siyumim held that week, which you won't read a word about in Ami Magazine or HaModia or Mishpachah.

At both of these other Siyumim, there were thousands of people present. There were outstanding, inspirational speakers of tremendous intellectual and moral stature. There was nobody disinvited because of their attempting to help people in need or because their haskafos don't fit within the narrowest of boundaries. These events were an inspirational Kiddush Hashem, through and through.

So why weren't they reported in the aforementioned publications? Simple. The first one was held by the Religious-Zionist community, and these publications try to avoid acknowledging the existence of Torah in communities other than their own (Mishpacha sometimes breaks from this policy). And the second was a siyum for women!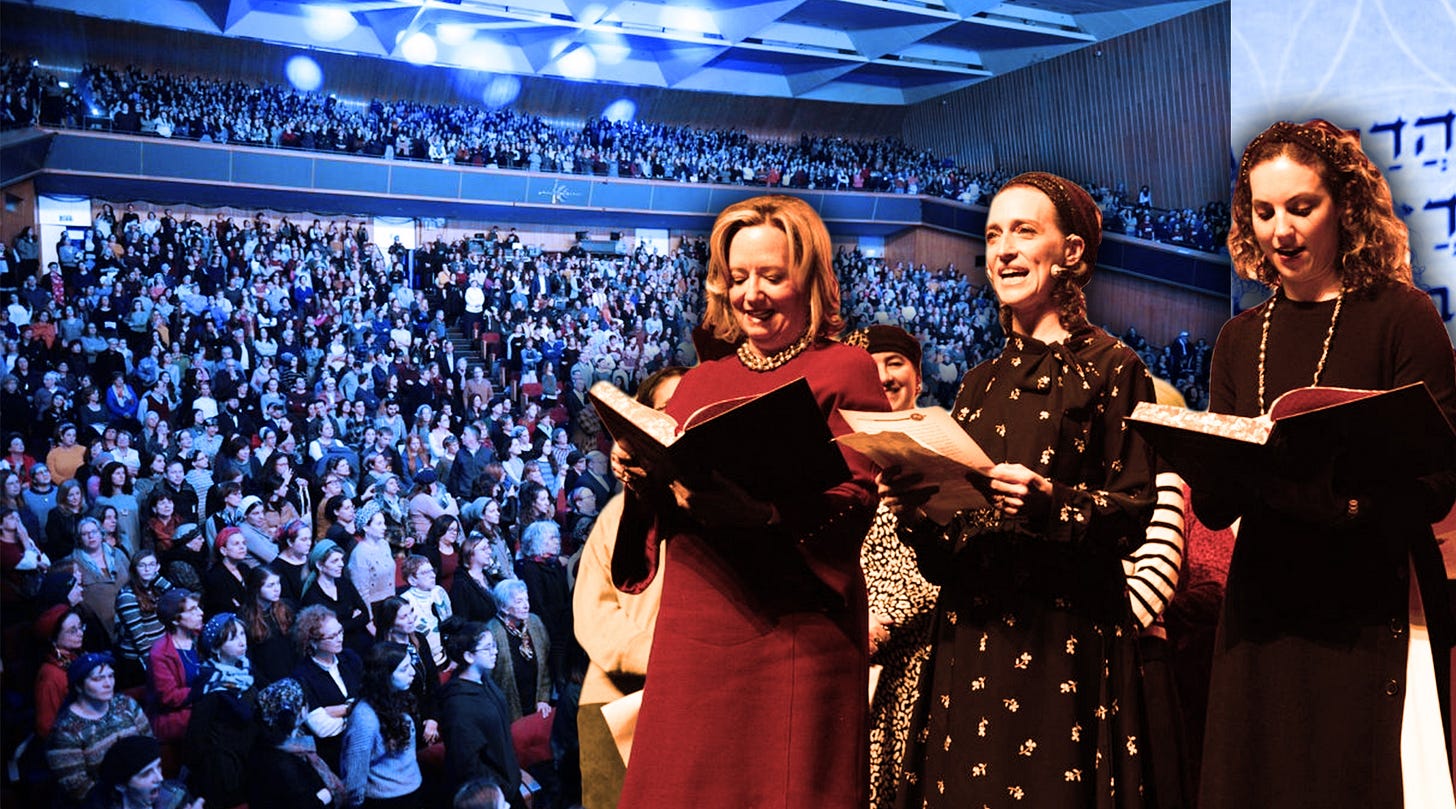 Yes, that's right. Thousands of people, mostly (but not entirely) women, crowded into Binyanei HaUmah to celebrate women that completed the entire Shas. (Read the articles here and here.) Just the idea of it gives many men the heebie-jeebies! And the youngest woman to finish Shas was a girl of 17, who started when she was ten years old!

Now that's something to be inspired by!