Discover more from Rationalist Judaism
Exploring the legacy of the rationalist Rishonim (medieval sages), and various other notes, by Rabbi Dr. Natan Slifkin, director of The Biblical Museum of Natural History in Beit Shemesh. The views are those of the author, not the institution.
Over 4,000 subscribers
An Event In Poor Taste
Earlier this week, in San Francisco, a number of rabbis and Jewish scholars attended a special banquet with a unique menu.

Everything was treife.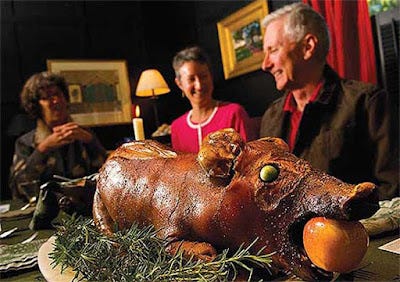 (picture is for illustrative purposes and is not from this event)I don't mean treife as in not having a Badatz hechsher. I don't mean treife like Braekel chicken or Cornish Rock. I don't mean treife like desert locusts, which no kashrus agency approves but which are certainly kosher. And I don't mean treife like peacocks, which virtually no Orthodox rabbi eats but which is undoubtedly a kosher bird. I mean straight-out treife - rabbit, bacon, lobsters, meat-and-milk, and so on.

The "Trefa Banquet 2.0" memorialized the infamous 1883 "Trefa Banquet," held in honor of the first graduating class of Hebrew Union College. At that meal, pork was not served (unlike in this week's event), but there was crab, shrimp, and frogs' legs. Along with the 1885 declaration of the Reform movement that kashrut is an "archaic practice," this led to a number of people leaving the Reform movement in disgust and creating the Conservative movement and the Jewish Theological Seminary.

An article about this week's event interviews Rabbi Camille Angel, whose father was ordained at Hebrew Union College, and who proudly identifies as a "second-generation lobster-eating rabbi." She reports that "My mother loved sending me to school during Passover with a lunch of matzah with ham and cheese." According to the interviewer, "this led to teasing from another Jewish classmate, who felt that this somehow diminished Angel's Jewish cred." You don't say! At the risk of pointing out the obvious, I would like to note that while you might have two generations of lobster-eating rabbis, it is highly unlikely that further generations of proudly discarding Jewish law and tradition will produce any rabbis or even any Jews.

Rabbi Sydney Mintz of Reform Congregation Emanu-El in San Francisco enjoyed eating the bacon, and declared, "I would rather eat food that's humanely and ethically raised than kosher." Now, it is indeed true that most kosher meat and chicken is not humanely or ethically raised (like all factory-farmed animals). And Rabbi Avi Shafran's recent disavowal of Kashrut agencies having any responsibility for this beyond government legislation is incorrect from a Torah perspective (not to mention that kashrus agencies are often particular about issues entirely unrelated to the actual kashrus of the food). And let's assume that Mintz's bacon was indeed ethically raised (although I do wonder if that was the case). But why on earth does she present it as a choice between the two? There are plenty of options available for eating food that is both humanely raised and kosher. Or, you can go vegetarian. What ethical principle is there that requires one to eat non-kosher food?

Event organizer Alix Wall "told the crowd that her mother was a child during the Holocaust, hidden with a family of Poles; she grew up eating what they ate, including plenty of pork. In this family, an essential 20th-century Jewish story of Holocaust survival is tied to pork. So for Wall, "keeping treyf" (if I may coin a phrase) connected her to her Jewish history, just as keeping kosher does for others." How bizarre. Following this logic, perhaps just as her mother was given away, she should give away her daughter to a non-Jewish family, to let her connect to Jewish history? Yes, there are people who were forced to survive the Holocaust by living as non-Jews, but living as a non-Jew is hardly a way to connect to Jewish history.

The journalist concludes his article by claiming that "Judaism — and history of the Reform movement in particular — is full of this: not a transgression of religion, but transgression as religion." Well, Reform Judaism may well be full of transgression as religion (and one wonders how, if that is the case, they expect full recognition in Israel), but it's hardly accurate to describe classical Judaism in that way.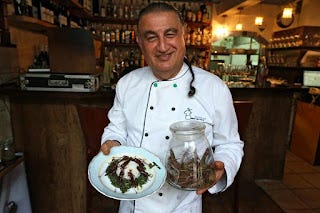 Moshe Basson, Chef for the Biblical Museum of
Natural History's special events, with a plate of locustsIt should be noted that for people who are desperate to taste non-kosher food, the Talmud states that for every non-kosher food there are kosher equivalents. These featured as part of the Feast of Exotic Curiosities held last year at The Biblical Museum of Natural History. We served kosher bacon (made from a certain type of seaweed), kosher oysters (made from certain mushrooms along with real oystershell, which is kosher), food that replicates the taste of meat with milk (udders), and non-shrimpian invertebrates (locusts).

There is no nutritional or ethical need to eat non-kosher food. And there are very good reasons to be loyal to Jewish law and tradition, even for Jews who do not believe that the laws of kashrut are divinely mandated. If people wish to ignore those reasons, well, it's a free society. But to promote it as something that is actually in the spirit of Jewish tradition is incorrect, and in very poor taste indeed.