A Time To Weep, A Time To Smile
Like many people, I was very depressed this week as a result of the massive chillul Hashem that was the Million-Man Prayer Rally. Here's a letter that I received from a friend:

My son did two years in Yeshiva AND THEN was a lone soldier for 3 years as a sniper, in much danger. Baruch Hashem he came to no physical harm, but having had to kill people very personally (as opposed to dropping bombs) who knows what psychological scars he has.
Since then he has started pre-medical school course at the age of 23, meaning that he won't qualify until aged 30, when his friends are done much earlier. This week, he has very important exams which will define where and if he can get into medical school proper. However, he has to forgo taking these exams as he has army reserve duty. This is the "hidden" burden that the Charedim are not sharing as well as the actual 2 or 3 years service.
I am sure this is a common scenario, but having now experienced it almost first hand and having seen the disruption this causes, it is not surprising that resentment of those shirking this responsibility is extremely high. 

In light of the rally in Jerusalem, the appalling video, and the forthcoming rally this Sunday in Manhattan, many people are in a sad, bad mood. So here's something to make you smile - a video produced in response to Kikar HaShabat's disgrace:


And here's a parody of the flyer for this Sunday's rally in Manhattan: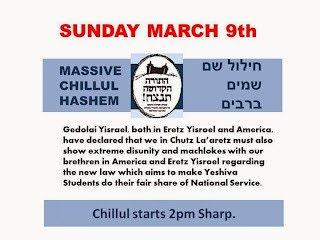 Of course, it's not true to say that the new law aims to make Yeshiva Students do their fair share of National Service. Even under the new law, charedim will be doing much, much less than everyone else.

UPDATE: I've just heard that there is a counter-rally planned. I don't know much about it - see this link.