Discover more from Rationalist Judaism
Exploring the legacy of the rationalist Rishonim (medieval sages), and various other notes, by Rabbi Dr. Natan Slifkin, director of The Biblical Museum of Natural History in Beit Shemesh. The views are those of the author, not the institution.
Over 4,000 subscribers
A Serious Charedi Halachic Responsum on Covid and Torah?
Over the last six months, there has been enormous criticism over the claims from Rav Chaim Kanievsky (may he have a refuah shelemah) that Torah protects from coronavirus, which was employed as justification for keeping yeshivos open against government recommendations. Still, as I wrote, while the criticism is justified, it must be remembered that Rav Chaim himself is very old and very out of things. His five-word answers, drawn out of him by his manipulative family members, are not a serious halachic responsum, and even plenty of people in the charedi world acknowledge that.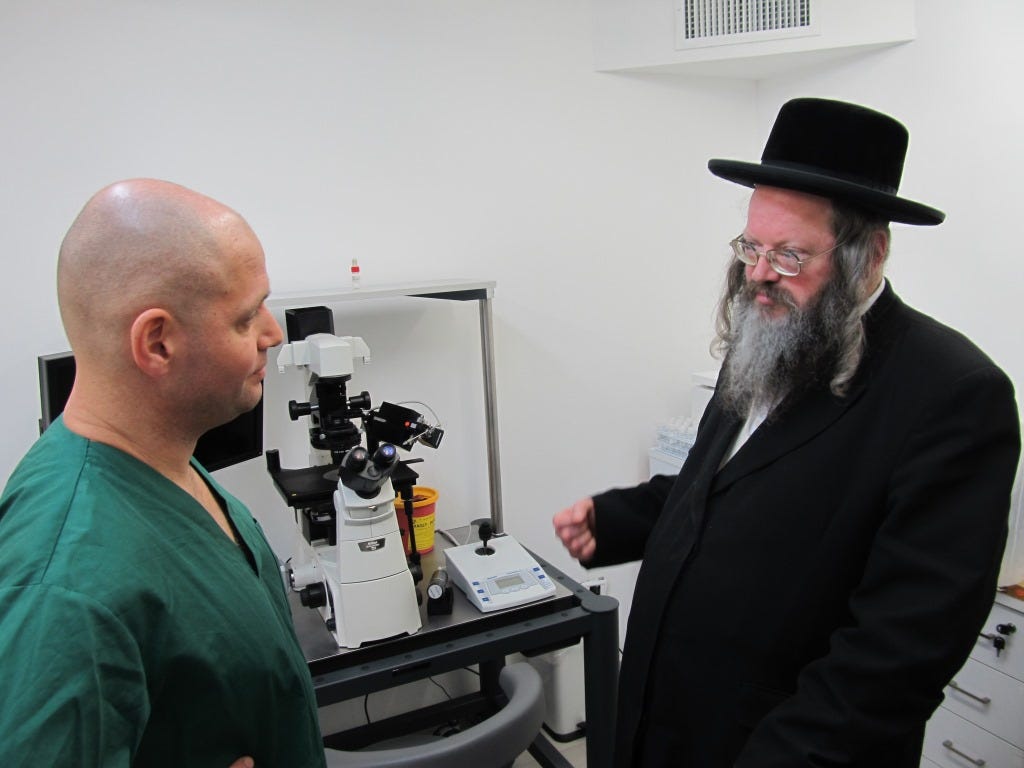 In light of that, it is especially significant that a serious halachic responsum, on the topic of how much Torah protects against coronavirus, has indeed been published (you can download it here). It was authored by Rav Moshe Shaul Klein, widely considered one of the leading (charedi) poskim in Israel today, and is a leading member of Rav Wosner's Beis Din. Particularly significantly, he is the nasi of the Moked Harav International Halachah-Medical Hotline. An article in HaModia about the Halachah-Medical Hotline states that "Rav Klein is one of the foremost poskim today, and his knowledge in the medical field is amazing. He was a very close talmid of Harav Wosner, zt"l, and is known for his achrayus in psak." And so, while the charedi world is certainly not monolithic with regard to its approach to coronavirus, Rav Klein's responsum is extremely significant.

Rav Klein's lengthy responsum was published a few weeks ago, and begins by acknowledging the many, many people who have died of Covid. He notes that in general one must be very careful to engage in all precautions, and not to belittle them. But for praying in shuls and learning in yeshivos, things are very different.
Rav Klein's responsum primarily focuses on the application of the principle that shluchei mitzvah einam nizokim, "emissaries for a mitzvah are not harmed," and the related principle of shomer patayim Hashem, "God protects the naive." In traditional Talmudic style, these principles have questions raised against them from various scenarios, and distinctions are then drawn, such as that they don't apply when shechiyach hezekah, the source of harm is readily found.  After Rav Klein weaves his way through various Talmudic discussions which involve these principles, he concludes the first part of responsum by stating as follows:
"It appears that according to the situation that we see with the coronavirus, that at least 120,000 people in Israel were infected by it, and around 800 people died from it, and most of those who died were already sick (with other conditions) to the extent that any harm would disturb their health, and of the others who recovered, the the majority recovered completely, and only a small minority remained weak - this is certainly called lo shechiyach hezeka (no readily found harm). And there is therefore an obligation to open the synagogues and study halls and the yeshivos and kollels, for with such things it is said that shluchei mitzvah einam nizokim."
It is important to note that while arguments can be made about whether the costs of restrictions and closures (which are especially high to the charedi lifestyle) are justified by the low fatality rate of coronavirus, this is not the point being discussed in this responsum (at least, not overtly). Rav Klein is not arguing that the low danger of Covid is outweighed by the great importance of maintaining the shuls and yeshivos. Rather, he is saying that the danger of Covid, for people in shuls and yeshivos, is non-existent, because of shluchei mitzvah einam nizokim and other principles that we will later discuss.

Now, Rav Klein's claim that the situation is to be classified as lo shechiyach hezeka can be strongly disputed. His dismissal of the deaths of people with pre-existing conditions is deeply problematic, as is his dismissal of those who are sick but do not die. The Gemara (Yoma 11a) considers even mere financial cost to be hezeka. Certainly grave illness, let alone death, would be rated as hezeka.
But there's another point upon which I would like to focus, which involves three related questions:

1) What does shluchei mitzvah einam nizokim actually mean? 
2) What does Rav Klein think that it means? 
3) Has Rav Klein, who is using this concept to resolve a matter of life and death, ever thought about what it actually means?
Let's begin with the first question. What does shluchei mitzvah einam nizokim actually mean? Does it mean that someone involved in a mitzvah is never harmed? Does it mean that they are less likely to be harmed (and if so, how much less likely - 10%, 50%, or 90%)? Does it mean that they will be unharmed, unless they contravene conditions X, Y and Z - and if so what are X, Y and Z? Does it have any clear meaning at all?
As noted, the Gemara itself qualifies the concept, by stating that shluchei mitzvah einam nizokim does not apply in circumstances of clear and present danger. Rav Klein thereby concludes that where there is no significant present danger (which he considers to be the situation with Covid), then it does apply.
But what on earth does that mean?  Does Rav Klein believe that people learning in yeshivah or davening in shul are not harmed by coronavirus? Clearly, the evidence is otherwise! (And let's not forget about other lethal harm which befell people in the middle of Torah or prayer, in the Merkaz HaRav yeshivah and in the Har Nof shul massacre.) How on earth does he completely fail to at least address this question?!

In the same way as the Gemara comes up with the qualification that it doesn't apply when there is a clear and present danger, other people have come with all kinds of other ways to get around it. None other than Rav Chaim Kanievsky writes that if it's the person's time to die anyway, then he will die! He explains shluchei mitzvah einam nizokim to mean that the mitzvah itself won't be the cause of the person's death - it will only be the apparent proximate cause, not the ultimate actual cause.
In other words, if a person is learning in yeshivah and contracts a fatal case of Covid, or if he is davening and is suddenly shot by a terrorist, then it was not these things that led to his death in any way; rather, God decided that his already-preordained time to die should occur in this way. In Derech Sicha (vol. 1 pp. 99-100), Rav Chaim goes even further and claims that God does it as a particular merit for a tzaddik that his death comes about via the seeming cause of his doing a mitzvah, so that he can be said to have died being moser nefesh for a mitzvah. (This is odd, because according to Rav Chaim he was not actually moser nefesh for the mitzvah.)

Yet this explanation is deeply problematic. If people who seemingly die of Covid contracted while learning or praying did not actually do so, but are rather dying at their preordained time, then what of the people who contracted Covid while doing other activities? Are they not dying at their preordained time? There's a level where we say that things happen for ultimate, divine reasons. At that level, it can be said that we don't know the true reason why anyone dies. But there's also the real-world scenario (in which halacha operates), where people die due to accidents, murder, disease, and so on etc. Trying to selectively mix the two just doesn't work. 
Whatever qualification or rationalization is employed to explain why shluchei mitzvah einam nizokim does not apply in various cases, the bottom line, the facts on the ground, are that people engaged in a mitzvah are not harmed, except when they are. Do people not realize that the principle of shluchei mitzvah einam nizokim is something with absolutely zero effective significance? It's a nice aggadic concept, and one can create interesting aggadic questions and reconciliations with it, but it's not something that has practical effect which can be used in a halachic calculation to guarantee that people will not suffer harm.
Now, you might say, "But the Gemara uses this principle!" And the perhaps-surprising answer to that is that no, it doesn't. The Gemara never uses the principle of shluchei mitzvah einam nizokim to argue that people should engage in potentially risky endeavors. Every instance of this principle in the Gemara is the same: The Gemara mentions how people should not engage in certain actions which are risky; the Gemara then asks "But isn't it said that shluchei mitzvah einam nizokim?" And the Gemara answers that it doesn't apply in those cases, because there is a realistic risk. We have no idea when or even if the Gemara would ever actually apply it.
(It is true that at the end of Iggeret Teiman, Rambam invokes shluchei mitzvah einam nizokim when he urges that his letter be sent around despite the risks. But it is important to bear in mind that Rambam believed that his letter itself was urgently necessary to protect the Jews from dangerous persecution, and his invocation of shluchei mitzvah einam nizokim should probably taken as serving to convince his audience to distribute his letter.)

Later in the responsum, Rav Klein justifies his approach by invoking other Talmudic principles, such as that maan de'lo kapid, lo kapdinan - "if one does not take note of it, it does not take note of him." He notes that there were many things which historically were considered dangerous, and with which today we do not exercise caution, and the reason is the Talmudic justification (Pesachim 110b) of "if one does not take note of them, they do not take note of him." But the Gemara is talking about how in the Land of Israel, they were not concerned about the superstitious fears prevalent in Bavel! It's used as an excuse to explain why we don't care about demons or any of the dangers spoken about in the Talmud, in the light of the observable fact that no such harm from these things actually exists. It doesn't mean that when observable facts of danger do exist, one can immunize oneself from it by not caring about it!
In the penultimate paragraph of the responsum, Rav Klein addresses the issue of masks. He begins by stating that there is debate in the medical community as to their efficacy, and that in any case there is no empirical data showing that mask-wearing communities have lower rates of infection. He then adds that wearing masks has the downside of causing psychological harm from coronavirus anxiety, whereas those who don't wear masks merit divine protection (shomer patayim Hashem, ma'an delo kapid lo kapdinan), and if they are learning Torah, they are also protected via shluchei mitzvah einam nizokim. 
In his final paragraph, Rav Klein bemoans the spiritual harm caused by the shuls and yeshivos being closed. He urges everyone to strengthen themselves and return to mass-studying in the yeshivos, and to davven in shuls rather than outside. Astonishingly, he invokes the Talmudic principle of "Torah does not survive except in one who kills oneself for it." This traditionally meant that one should symbolically kill oneself, i.e. exert tremendous effort, to learn Torah. But he seems to be employing it non-traditionally and entirely literally! After all, he's not saying that one should exert tremendous effort to maintain Torah study while obeying restrictions - he is saying that one should go back the yeshivos, and literally take the chance of killing oneself! (And then, he proceeds to completely contradict this by saying that the Torah will protect people anyway.)
In any case, the final paragraph makes the real story clear. Rav Klein believes that the precautions for coronavirus - from closing yeshivos to even wearing masks - are so harmful to the charedi way of life that they should be disregarded. He doesn't believe that the dangers of coronavirus are serious enough to outweigh this, and so he devises a way to halachically back up that foregone conclusion. And his way of doing so requires him to make claims that he probably himself doesn't believe.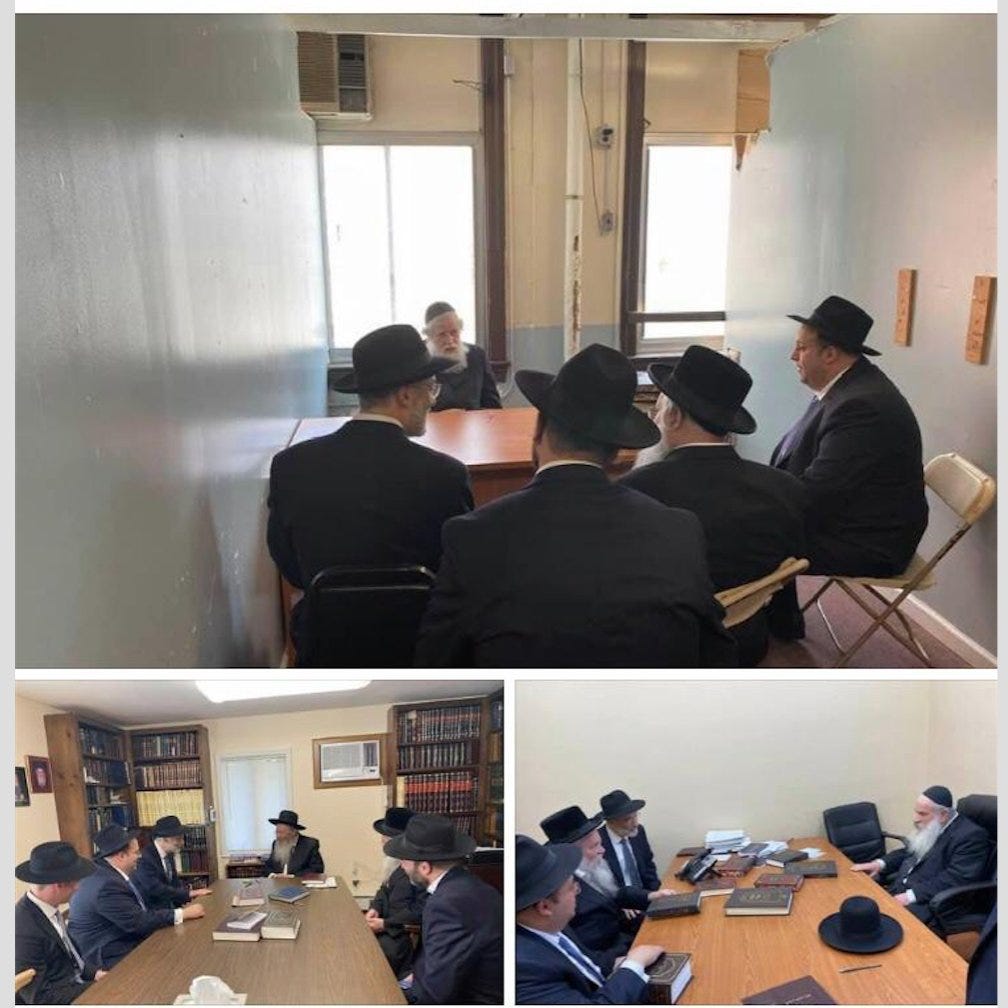 There are two points that I'd like to make about all of this (and probably many more that could be made). One is that this responsum, written by a senior posek occupying an important role with regard to Torah and medicine, shows that while there are respected rabbinic voices in the charedi world (such as Rav Asher Weiss and Rav Yitzchak Berkovits) who call for a cautious approach, and there are plenty of people in the charedi world who follow all precautions, there is certainly a significant problem of charedi rabbis justifying disregarding the risks and not taking precautions. The picture on the right shows meetings between Lakewood roshei yeshivah and Agudah officers, discussing how to fight the coronavirus restrictions - while meeting indoors, without distancing or masks.

The second point to be noted is that a lengthy and purportedly serious responsum, by someone considered one of the foremost poskim in the charedi world, and a particular expert in Torah-medical issues, is very, very problematic. It's one thing to be a non-rationalist with regard to issues of no practical significance, such as with regard to writing drush, or considering questions regarding the age of the universe. It's very different to be a non-rationalist when one is making actual practical decisions regarding life and death. To blithely employ principles about people engaged in mitzvot not being harmed, without dealing with the fact that this is observably not true, is appalling.  
(If you'd like to subscribe to this blog via email, use the form on the right of the page, or send me an email and I will add you.)