Discover more from Rationalist Judaism
Exploring the legacy of the rationalist Rishonim (medieval sages), and various other notes, by Rabbi Dr. Natan Slifkin, director of The Biblical Museum of Natural History in Beit Shemesh. The views are those of the author, not the institution.
Over 4,000 subscribers
A Question For American Charedi Olim
Here's a question for all the American charedim, or charedi wannabees, who have made aliyah: Name five recent or current American charedi great Torah scholars. They can be charedi gedolim, but they don't have to be.

There's plenty to choose from. Rav Shmuel Kamenetzky, Rav Leff, the Novominsker Rebbe, Rav Yitzchok Sheiner, Rav Aharon Feldman. Or, you can go for the local younger generation in Beit Shemesh: Rav Chaim Malinowitz, Rav Elimelech Kornfeld. And in terms of recently deceased, there's also plenty of examples; Rav Nosson Tzvi Finkel, etc. Think of anyone that you want.

Now, I have another question for you: What do all these five Torah scholars have in common?

The answer is: They all went to high school.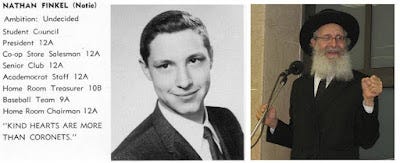 (And, depending on whom you thought of, they might well have all gone to college, too.)

I mention this because there are numerous American charedi families in Israel who want to educate their children within a charedi framework, but instead of choosing one of the many options of charedi high schools which offer secular education and matriculation (bagruyot), they choose to send their boys to yeshivah ketana, which offers zero secular education. In some cases, the reason for this is that they want their children to become Great Torah Scholars. But, as the list of established Great Torah Scholars shows, it's perfectly possible to become a great Torah scholar even with a high school education!

There are further reasons to send your kids to a high school. You have the advantage that if the great Torah scholar career doesn't work out (as many people in such an intense system suffer burnout), or if it doesn't put bread on the table (as it often doesn't), then there are fallback options. And it's in line with Chazal's requirement that the duty of parents is to ensure that their children are capable of earning a living.

Plus, if you send him to a regular charedi high school and he decides to become a great Torah scholar, he'll do so with ease. Having grown up here, he'll already have a head start over the Torah scholars listed above. He won't resent your not having sent him to yeshiva ketanah. But if you send him to yeshivah ketanah, and he doesn't end up as a great Torah scholar who can make a living, he may well end up resenting you for not giving him the educational tools necessary to get a proper job.

Giving your child a few extra hours of Torah study each day, on top of the numerous hours that all yeshivah high schools do, is not going to be the determining factor in making him a great Torah scholar. It might even reduce his chances. But it will certainly reduce his chances of being able to support his family. It goes against Chazal's requirements, and it just doesn't make sense.