Discover more from Rationalist Judaism
Exploring the legacy of the rationalist Rishonim (medieval sages), and various other notes, by Rabbi Dr. Natan Slifkin, director of The Biblical Museum of Natural History in Beit Shemesh. The views are those of the author, not the institution.
Over 4,000 subscribers
A Miraculous Transformation
Several weeks ago, The Biblical Museum of Natural History received a gift from an entomologist friend of ours: a cluster of eggs. They were absolutely tiny, each one smaller than a sesame seed. After a few days, the eggs hatched into spiky green caterpillars. These ate and ate and ate and grew and grew and grew until they were the size of my pinky finger. Then they spun silk cocoons around themselves. Today, the very first moth emerged from its cocoon: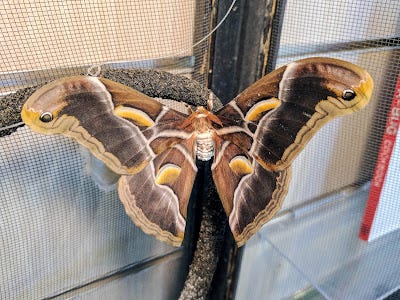 Spectacular, isn't it? Here are the photos of the earlier stages. Note how tiny the eggs are!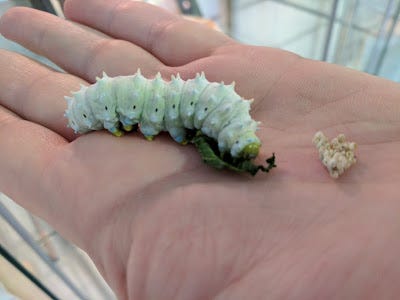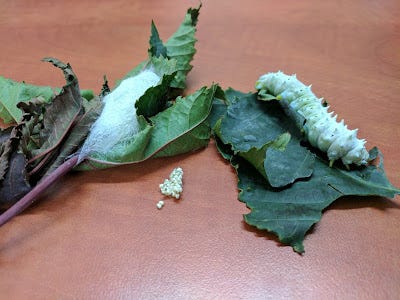 This beautiful moth is an eri silkmoth, and it couldn't be more different from the caterpillar that it came from. And I'm not just talking about its wings and its completely different appearance and form. While the caterpillar was an eating machine, the silkmoth has no mouthparts and cannot eat or drink; it now lives only to mate and lay eggs. 

Eri silkmoths have two indirect connections to the Torah. One is that silk is a material mentioned in Tanach, and the other is that this particular species feeds on the deathly poisonous castor bean plant, which many identify as the kikayon - the tree that shaded Jonah. 

But perhaps the most powerful religious aspect of this creature is the sheer inspirational wonder of it! It's just amazing to see how a tiny speck turned into one amazing creature and then into an entirely different amazing creature!

There are two interrelated theological points that I would like to make here. One is that, while I do not believe (and I don't think anyone else does either) that there was any divine supernatural intervention involved in these transformations, I still think that it is reasonable to describe them as miraculous and as demonstrations (not proofs!) of the Creator's greatness. A universe in which such things take place is a very special universe!

The second point is as follows. Even the most religious and non-rationalist of people will agree that God did not use miracles to turn the egg into a caterpillar and to turn the caterpillar into a radically different creature. So why are they so insistent that there is no possible scientific explanation for the much less complicated transformation of one species into a slightly different species? Why are they so resistant to the notion that God, just as He used natural means to turn a caterpillar into a silkmoth, could have used natural means to evolve one species into another?

Meanwhile, the rest of our cocoons should be hatching over the next few days, but the moths don't have a long lifespan. So now is a good time to book a tour at The Biblical Museum of Natural History!