Discover more from Rationalist Judaism
Exploring the legacy of the rationalist Rishonim (medieval sages), and various other notes, by Rabbi Dr. Natan Slifkin, director of The Biblical Museum of Natural History in Beit Shemesh. The views are those of the author, not the institution.
Over 4,000 subscribers
A Historic Danger for Britain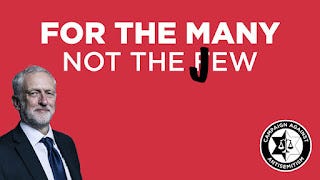 We have reached a truly astonishing junction in history. In a few days, millions of British citizens are going to vote for a man who hates the West and who befriends those that wish to destroy it. It beggars belief.

All this is quite aside from the fact of Corbyn having enabled, according to the Simon Wiesenthal Center, the greatest rise in legitimization of antisemitism worldwide. This has been documented in a mass of cases, especially in the recently leaked dossier by the Jewish Labor Movement. Perhaps the most damning indictment of Corbyn personally was after Islamic jihadists killed Egyptian forces, when Corbyn suggested that the "hand of Israel" was behind it in a secret Zionist conspiracy.

Incredibly, there are still many people denying that Corbyn has fomented antisemitic conspiracy theories about Jews/ Zionists being an evil group secretly plotting to harm society. They further claim that nobody could possibly reasonably believe such a thing, and that it's a defamatory campaign funded by an evil Zionist conspiracy! I'm serious; there are countless people making this claim, and they don't even see the irony in it. There is an article about Labor Blaming Accusations of Anti-Semitism on Global Jewish Conspiracy which was intended to be a satirical article, but Corbyn supporters actually really do that!

Perhaps even more remarkably, there are many Jews who are voting for Corbyn. And there are other Jews who, while acknowledging the problems with him and not voting for him, cannot bring themselves to vote for Boris Johnson. They say that Johnson is Islamophobic as well as a liar and buffoon, and that Brexit and the Tory party is greatly harmful for the UK.

But let's say that this is true. There is still not the slightest comparison between Johnson and Corbyn, and no moral grounds for avoiding doing everything to keep Corbyn out of power - even if that means voting for Johnson.

I'm going to quote some paragraphs that I saw written by Pete Newbon, a former Labor voter who put it in crystal clear terms. Jeremy Corbyn is an antisemite who has spent the entirety of his inglorious - and hitherto insignificant - career cosying up to people who kill Jews, or try to kill Jews, or say Jews eat children, or that Jews did 9/11, or that Jews invented the Holocaust, or that Hitler didn't go far enough - and we need a bigger Holocaust.

Jeremy Corbyn invited into parliament a man who said Jews eat babies. He spent a decade hanging out with a man who literally describes himself as a proud Holocaust denier. He laid a wreath for men who kidnapped, castrated and murdered unarmed Jewish athletes. He campaigned to have released two terrorists who tried to blow up the embassy of the world's only Jewish state. He called a terrorist who planted a bomb in a cafe, killing twelve innocent people, his "brother."

And that antisemite, if he rises to power, will continue to place in positions of power other antisemites. They will welcome into the party a hoard of antisemites. And these antisemites will abuse Jews. They will share antisemitic conspiracies, cartoons, memes, video clips. They will call Jews 'baby killers'. They will accuse them of dual loyalties, and of treachery, and of lying and scheming against socialism and against The People. And every time some fresh squalor is exposed, people - people who may once have been good people - will twist themselves into unseemly contortions to prove that nothing untoward has happened, and that to even think there is something amiss only reveals the extent of the treachery. You want to know how evil gets power? This is how.

Yes, the Conservative Party has problems. Serious problems. But the Labor Party under Jeremy Corbyn is the only party in British history to be undergoing a full investigation by the Equalities and Human Rights Commission. Doesn't that tell you something?

Every British citizen, even someone who doesn't know or care about Jews, has a moral obligation to do everything possible to avoid the election of a man who adores oppressive regimes and who hates free democracies. But for Jews, there's a special obligation.