Discover more from Rationalist Judaism
Exploring the legacy of the rationalist Rishonim (medieval sages), and various other notes, by Rabbi Dr. Natan Slifkin, director of The Biblical Museum of Natural History in Beit Shemesh. The views are those of the author, not the institution.
Over 4,000 subscribers
A Giant Among Rabbis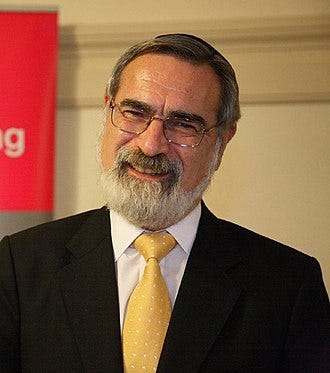 Rabbi Lord Jonathan Sacks has passed away.
The loss is absolutely incalculable. Rabbi Sacks was only 72, and still had so much to give. I do not believe that it is an exaggeration to say that he was one of the most important rabbis of our generation. I don't mean that he was the greatest Talmudist or the greatest halachic authority or had the most disciples. I mean that in terms of teaching Judaism, and furthering the national interests of the Jewish People, his accomplishments, qualities and influence were unmatched. He was a leader and teacher and ambassador for the Jewish People in the path of great figures in our history such as Hasdai Ibn Shaprut, Rambam, and Ramban.

It was nearly thirty years ago in 1991, when he was appointed Chief Rabbi of the United Kingdom, that I (and many others) first heard of him. Back then, I was living in Manchester, and he came to speak on several occasions. He was a masterful orator, and it was clear that his appointment to this prestigious position was superbly appropriate.
Being Chief Rabbi of the UK is not an easy position. It requires delicate maneuvering between diverse communities, including charedim, traditional Orthodox, and non-Orthodox sectors, as well as representing the Jewish community to the outside world. It's impossible to do so without ruffling any feathers, but Rabbi Sacks managed to ruffle very, very few. He spoke at my ultra-charedi former yeshivah, Shaarei Torah, and to non-Jewish audiences with more than a few people who harbored antisemitic attitudes. How many rabbis would be able to speak to both audiences?!

Rabbi Sacks promoted and defended Orthodox Judaism with dignity. He was knighted and appointed to the House of Lords. He was the ambassador of the Jewish people to governments and leaders worldwide - and was amazingly good at it. England is rife with distaste for Jews, but Rabbi Sacks earned enormous great respect. He had great dislike for getting involved with politics, and so when he made a rare exception to criticize Jeremy Corbyn, it had important impact.

Rabbi Sacks authored twenty-five bestselling works on Judaism, as well as translations of the siddur and machzorim. His books are not mere vortlach - they are profound insights, reflective of deep thought. This past Sukkot, I read his essay on Kohelet in Ceremony and Celebration, and it blew me away in how it tied together all the themes of Sukkot with incredible perspectives on human nature. It boggles the mind that he was able to produce so much material of such high quality. 
One of Rabbi Sacks' lesser-known but highly important works is his brilliant essay, "Creativity and Innovation in Halakhah," published in the critically important Orthodox Forum publication Rabbinic Authority and Personal Autonomy (Aaronson 1992). The essay attests to his profound understanding of the halachic process and its application to modern society. I very much hope that it will be made available online, but meanwhile, here is the penultimate paragraph: 
"To my mind the most serious issues confronting contemporary halakhah is not lack of creativity, but the sociological divorce between the centers of pesak - nowadays, largely the yeshivot - and the centers of congregational life. Pesak involves applying Torah in its unchanging totality to Jewish life in its present specificity. A law-interpreter, no less than a law-maker, must have a clear objective understanding of the lives he is called on to instruct. R. Joshua once suggested that Rabban Gamliel's capacity to lead the Jewish community was compromised by his ignorance of the economic conditions in which they lived (Berakhot 28a). The same surely would be true of a posek who was ignorant of their intellectual and cultural circumstances."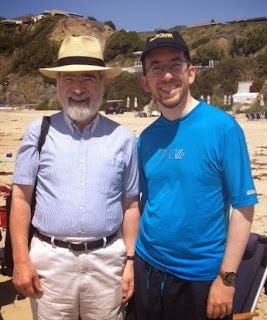 On a personal note, I was privileged to spend Pesach together with Rabbi Sacks a few years ago. (Note that his rabbinic beach-wear was much more respectable than mine!). He was incredibly gracious; he was telling my wife about how bad he feels for wives who have to suffer their husband's books being banned, and he added that if we are ever feeling down, we should just write to him and he will call and offer whatever chizzuk he can! He also graciously recorded a blessing for the Biblical Museum of Natural History. 
Rabbi Sacks' sudden passing from cancer came as a great shock, but it was actually not the first time that he battled this illness. Here is an extract from an article about Rabbi Sacks by Yair Rosenberg that was published in Tablet magazine, several years ago:
"Though he seldom mentions it, Sacks battled cancer twice, once in his 30s, and later in his 50s. Yet unlike many other rabbis and scholars of religion, from Rabbi David Wolpe to James Kugel, who incorporated their bouts with cancer into their theological reflections, Sacks makes no reference to it in his voluminous output. I asked why.
"It's very simple," he said. "I saw my late father in his 80s go through four, five major operations. This was not cancer, it was hip replacements and those things. And when you have operations in your 80s, they sap your strength. He got weaker and weaker as the decade passed. He was walking on crutches at my induction—he was alive for my induction, and that was very important to me."
"Now, my late father, alav ha-shalom, didn't have much Jewish education, but he had enormous emunah [faith]," Sacks continued. "I used to watch him saying Tehillim in the hospital, and I could see him getting stronger. It seemed to me that his mental attitude was 'I'm leaving this to Hashem. If he sees that it's time for me to go, then it's time for me to go. And if he still needs me to do things here, he'll look after me.'"
"And I adopted exactly that attitude. So on both occasions I felt, if this is the time Hashem needs me up there, thank you very much indeed for my time down here; I've enjoyed every day and feel very blessed. And if he wants me to stay and there's still work for me to do, then he is going to be part of the refu'ah [healing] and I put my trust in him. So there was no test of faith at any point—just these simple moments at which to say, 'b'yado afkid ruchi' ['In his hand, I place my soul']. That was my thought. And since we say that every day in Adon Olam, I didn't feel the need to write a book about it. It was for me not a theological dilemma at all."
"I had faith," said Sacks, "full stop."

Our nation was blessed to have had such a rare gem. Rabbi Sacks' many works will be inspiring and educating both Jews and non-Jews for centuries to come. He will be sorely missed. 
(If you'd like to subscribe to this blog via email, use the form on the right of the page, or send me an email and I will add you.)